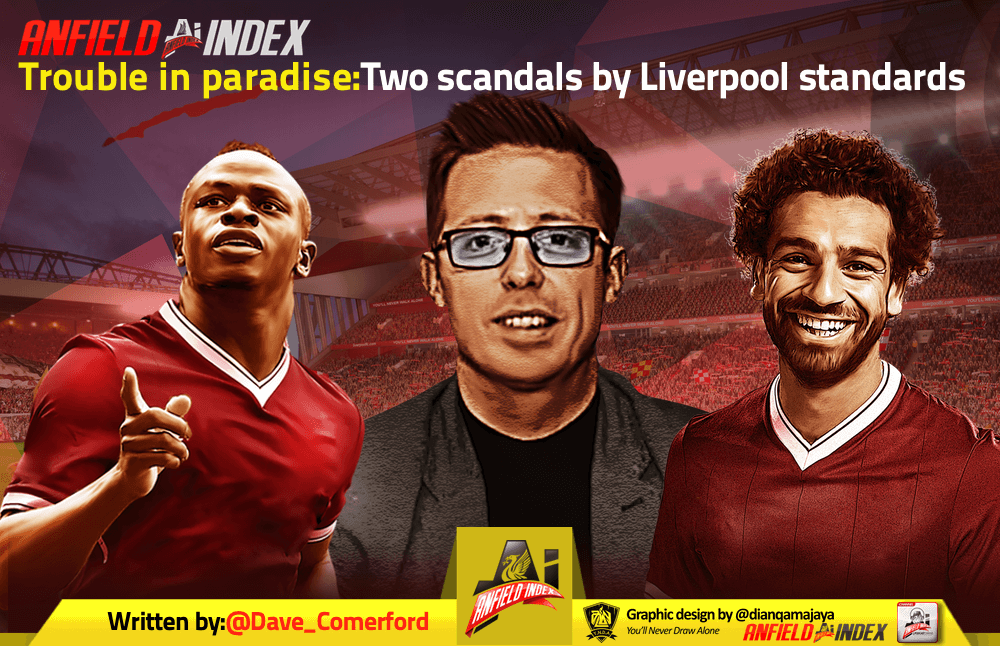 Trouble in paradise: Two scandals by Liverpool standards

We've reached the first international break, and so it's time to reflect on the first action of the season. The Reds have rattled off four Premier League wins from four and added another continental crown to their cabinet, but there's also been a rare dose of drama.
First, we had the acrimonious departure of Anfield star-in-waiting Bobby Duncan, and then came Sadio Mane's outburst, directed at Mohamed Salah, after being substituted at Burnley.
So let's take some time to discuss those incidents, the reaction and why, ultimately, they're not a cause for us to be concerned.
First, the Duncan debacle: a story made much more important than it would otherwise have been by a truly unique set of circumstances.
Duncan's relation to Steven Gerrard is the foremost factor intensifying the scrutiny. That close connection with an Anfield icon only heightened the supposed inevitability of his ascension to a match-winning role in the first team.
Then there's the remarkable situation surrounding Duncan's agent. His frankly appalling attitude set him against Liverpool's social media army, who proceeded to unearth a dossier of disconcerting material from his past. Choosing to take on Jamie Carragher in the public domain only stirred the pot.
You also have to consider the serious accusations levelled at the club in that extraordinary statement. The suggestion that we have been neglecting the mental health of our players isn't to be taken lightly and it conferred a broader significance on the dispute.
So what you had was the combination of a hot prospect with regal lineage, a publicity-magnet of an agent and an assault on the very character of the club. The press seizing on it was frustratingly inevitable.
Their extensive investigations would even uncover tales of a training session in the early part of the summer during which Duncan was said to have incurred Andrew Robertson's wrath.
The sheer volume of coverage is remarkable when you step back and remind yourself of the basic facts. Yes, Duncan is a serious talent – his goals were instrumental in firing Liverpool to the FA Youth Cup – and he might go onto achieve great things elsewhere, but he had never played in a competitive match for the club, and his only goal at a senior level came in a 6-0 win against Tranmere.
He had only just begun on the path to the starting role to which he seemingly felt entitled, and who knows which obstacles may have cropped up along the way?
Ultimately, Liverpool sold an untested 18-year-old for less than two million pounds. This won't in any away affect our first-team fortunes this season, or next season, or even the season after that.
It was easy to get enveloped in this saga and lose sight of the realities. Duncan is a loss and it was disappointing that things turned sour so abruptly, but had it been anybody else from last season's U18 group, would we really have batted an eyelid?
On now to Mane's expression of fury at Turf Moor. Maybe we shouldn't totally dismiss this – after all, it was an alarmingly uncharacteristic and fervent display of emotion – but it's the messages from within the Liverpool camp we have to listen to rather than the noises from outside.
Klopp and Jordan Henderson have already put it down to a healthy competitive spirit and neither Salah nor Mane could contain their amusement as Roberto Firmino hilariously noted the awkwardness and James Milner attributed the outburst to his lack of involvement from the bench.
Strangely, that Firmino expression was the most reassuring of all. It showed he wasn't at all anxious about any tension between his strike partners and sensed it would be a flash in the pan.
Denying Mane's frustration with Salah would constitute willful ignorance, but we should welcome his evident hunger for the Golden Boot as a marker of the relentless appetite for success within our ranks.
They've both been gunning for that top scorer mantle for a while now, and it's done us very little harm. As many were quick to point out, Salah may be the most greedy but his creative contribution has been greater than his fellow wingers. When the game is won, as it realistically was at Turf Moor, you can excuse, if begrudgingly, any selfishness.
With Duncan, the sheer volume of the press was notable, but in this case, it was also the nature of the response.
The respective players' adoring fans turned on one another on social media, Ian Wright spoke of a 'deep' rift, talkSPORT were compelled to run an article titled 'Six sets of team-mates who absolutely hated each other' while the Express wrote of a 'feud'.
Those are admittedly far from the most reputable outlets, but they should be taken as indicative what was, in some quarters, a sensational reaction.
It's interesting to note that Sergio Aguero's confrontation with Pep Guardiola after being withdrawn against Spurs was barely discussed in comparison (perhaps owing to an ostensible apology prompted by what they thought was a winner).
Overall, there's little reason to fear any tangible consequences to a Mane/Salah rivalry. We've raved for so long about Klopp's peerless capacity for man-management, so let's trust him to forcefully and effectively intervene if he senses any debilitating entity.
These instances of manufactured drama should actually give us perspective. You need only look at results to observe the absolute and unwavering cohesion in this squad. Liverpool are on the longest winning streak in their league history, and they can attribute those results not principally to their quality, but to their impeccable attitude.
The footballing media, having collectively blown two incidents wildly out of proportion for a variety of reasons, won't get the soap opera content they crave out of this group of players.
There's no hostility at Melwood; instead, there's unity and ever-growing ambition. You needn't be an insider for that to be patently clear.
Klopp made only slight alterations to his roster over the summer because he's a built a near-perfect winning machine.
And it'll take a lot more than an academy prospect's noisy exit and a single flash of frustration to rain on that parade.