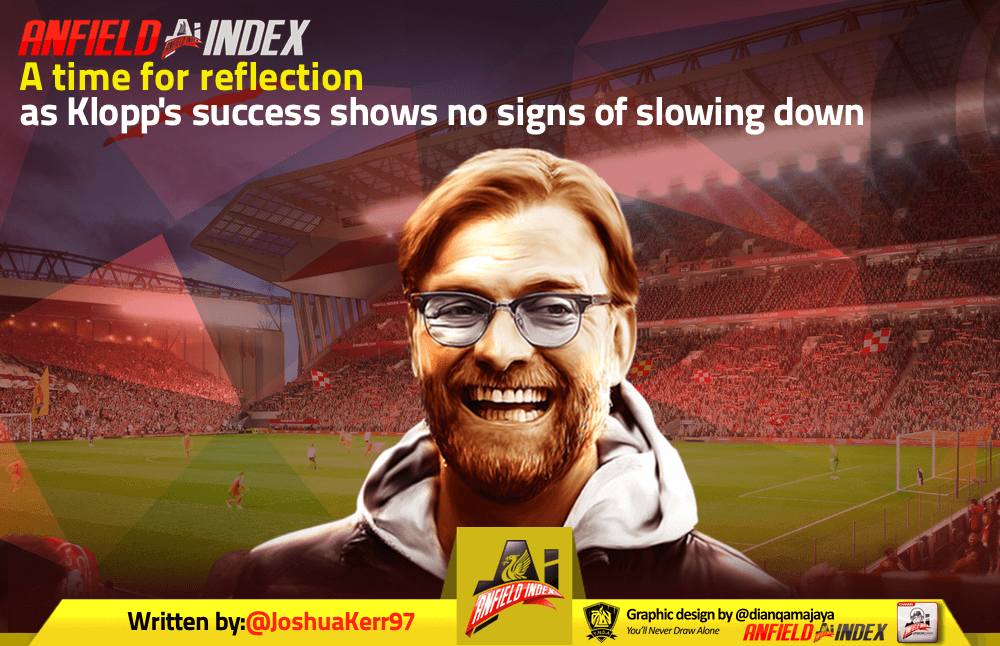 A time for reflection as Klopp's success shows no signs of slowing down

During a time where Jurgen Klopp and his backroom staff will be enjoying some well deserved time off following the Reds' 100 per cent start to the Premier League campaign, it represents a perfect opportunity for reflection.
Reflection on how a certain German manager was able to transform a squad of nearly-men to kings of Europe. Reflection on how this oiled winning machine of a team were able to surpass and achieve a club record of 13 consecutive league wins and simultaneously set up a two-horse race for the league title despite only being seven days into September.
The word reflection can be defined as a serious thought or consideration following significant events. Quite significant that this Reds team were able to banish the demons of Kyiv to reign supreme in Madrid one year later bares the notion of giving some thought to just how that was deemed possible.
Two players that epitomise this theme of reflection are surprisingly two men whose services are currently being used outside of Anfield. At a time where Philippe Coutinho and Emre Can are looking to rediscover the form that initially attracted the attention of several European heavyweights, Klopp's side have moved on to establish a dynasty of their own and one that has left the talents of two former Merseyside heroes swiftly behind.
It's been over 20 months since Coutinho departed the club to achieve a 'boyhood dream' by securing a move to Barcelona for a fee of £142 million. Since then, despite claiming the silverware he never had the fortune of claiming at Liverpool, Coutinho's 'boyhood dream' can instead be depicted as somewhat of a nightmare.
609 days where it has become unequivocally apparent that the grass isn't always greener when you depart the shores of Merseyside. Cast aside by Barcelona, humiliated at his former home and already dealt a new club. The prospects for the two parties since both agreed to part ways couldn't be more conflicting since the Brazilian was unveiled at the Camp Nou back in January 2018.
The same can be said for Can, who departed Liverpool as a free agent in the summer of 2018 and secured a move to Serie A champions Juventus. However, recent revelations that left the German international out of Maurizio Sarri's Champions League squad once again painted the picture of a sorry tale yearning for the success of former days.
It's no secret that Anfield has become somewhat of a home that players never seem to quite get over. The recent Twitter storm engulfed by Michael Owen this week perfectly demonstrates how some never seem to get the famous old stadium out of their system.
Reports from the Athletic show that Owen's torrid time on Tyneside with Newcastle United was largely influenced by the Englishman's burning desire to return to his boyhood club despite a move back to Liverpool never presenting itself after leaving the club for Real Madrid back in the summer of 2004.
Liverpool have developed a notion for leaving the past in the past and recent success only provides validity that no player could ever be bigger than the club. Since the departure of their two most notable outgoings, the Reds have evolved, reconstructed and innovated a model of their own that is being touted by other Premier League clubs as the blueprints to success.
It's no wonder Manchester United are on the verge of a gargantuan clear out process to dispose of the poison that has hindered the club since the departure of legendary club-manager Sir Alex Ferguson. It's no wonder Arsenal are building window by window rather than expecting immediate success as Unai Emery approaches the point where judgement will be passed on his behalf.
The Reds have demonstrated that nothing happens overnight and that patience can be their deadliest weapon. While others have risen and fallen, Liverpool have been waiting in the dark binding their time to unleash themselves once again to the world.
It can be difficult to appreciate something until its gone and the international break has presented the perfect time for reflection of what seemed impossible only a few years ago. Champions League success, a record-breaking 97 point shattering Premier League season and a cult of club icons, for some intangible reason, this Liverpool team has created a feeling like something that has never been felt before.
This carefully crafted juggernaut is here to stay and is why the past will remain only as a memory. It's important to reflect the overriding aspects of the journey but this team doesn't have time to lament over former heroes. There is a title race to be fought, a European crown to be defended, a legacy to be upheld, but, in the rare time off, it's paramount to consider what was and is significant to how they got there.