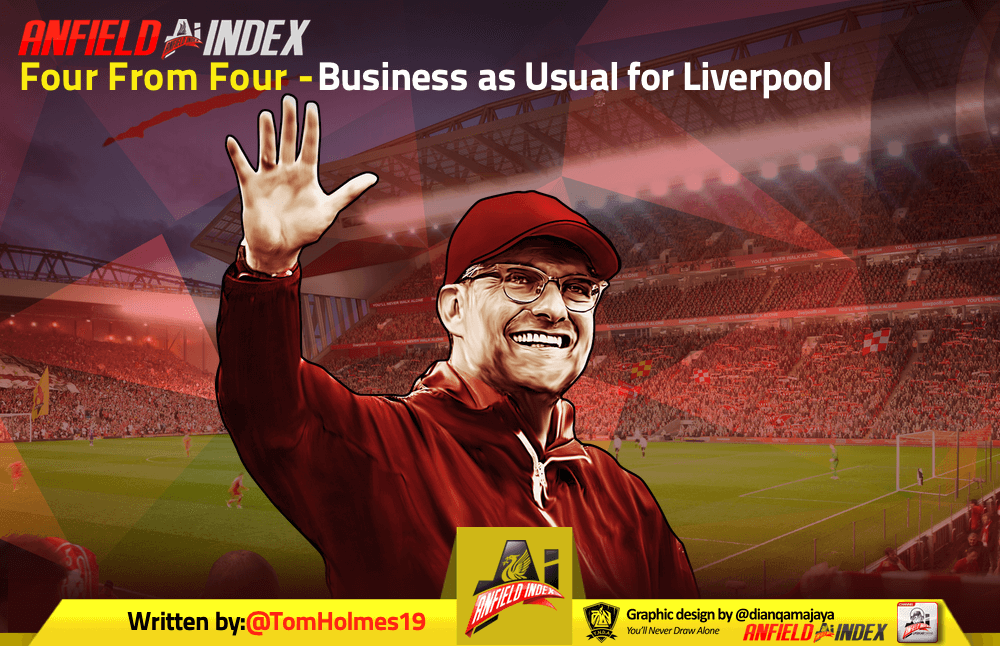 Four From Four - Business as Usual for Liverpool
We are four games into the Premier League season, so naturally, it's time for an irritating international break. International breaks, of course, have their benefits: being able to focus on the Ashes, the slight increase in quality in David Squires' cartoons, managing to go a whole weekend without having some sort of stress-induced heart attack, and for those of us that actually enjoy it, the prospect of seeing your national team play.
There are some benefits for Liverpool and its fans too, even if they are outweighed by the simple fact that we didn't get to see Salah, Firmino and Mané score for fun this weekend. The first is that two of that front three, which had long summers of playing football, are getting a couple of weeks off, since neither Mo nor Sadio are playing for their countries this break, with the likes of Milner, Matip and Adrian are all back at Melwood too.
The other benefit I can think of is that international breaks are a good opportunity to sit back and take stock of the small portion of the season that has already gotten underway, and what the situation looks like for the Reds.

The importance of how you start cannot be understated in the Premier League. Whilst there is a validity to the argument that there's no point looking at the table until at least October and November, Liverpool will be acutely aware that they are up against a side that will not let up for 38 games and every fixture matters if the Reds are to win the Premier League. They cannot ease their way into the season, at least not in terms of results.
And the good news is that they haven't. Despite mixed success in the two cup finals played so far, losing to Man City but beating Chelsea, both on penalties, the Premier League in August was an outright success for Liverpool, who won all four Premier League games before the first international break, scoring 12 goals in four games, and conceding just three along the way.
To compare to last year, again Liverpool won their first four fixtures before the international break – albeit without the added frustration of a nasty European trip in the middle – scoring nine goals and conceding just once.
And comparing last season's start to this one I think gives you a rather good idea of where Liverpool are at right now. Last season, a lot of the conversation was about Liverpool's shiny new goalkeeper Alisson Becker and how £75m Virgil Van Dijk would fit in together in their first full season at the heart of the Reds' defence, and Klopp leant hard on that side of the game in the front half of last season especially, turning in only one really explosive attacking performance before the international break, against a very poor West Ham side.
This season, however, all three of Liverpool's attacking talismans are fit and firing and have started the season like a house on fire, scoring seven and assisting five of Liverpool's 12 league goals. That has been partly why Klopp has also experimented slightly with his defence, which has led to Liverpool shipping more chances and more goals.
Liverpool's strong, solid start to the season has absolutely been fuelled by the strength of their attack, as Bobby Firmino has been the best player in the team in almost every game he's played, Mo Salah single-handedly took apart Arsenal, and Sadio Mané has kept the vital goal-scoring run he has been on since Christmas going.
I mentioned earlier on, however, that there wasn't room for Liverpool to start slowly and ease their way into the season, but I had to caveat that with the qualification that that was in terms of results. I believe, truthfully, that this Liverpool team are so good that there is an absolute ton of scope for them to ease their way into the season, and moreover that that's exactly what they've done.
A quick look at the underlying numbers illustrates that Liverpool have been nowhere near their best just yet, despite firing their way to four straight PL wins. Last season, their expected goals after four games was 10.20 (compared to nine scored) and their expected goals against was 2.27 (compared to one conceded). So their xG difference after four games was 7.93 and their actual goal difference was eight. In other words, Liverpool's early wins last season were wholly indicative of their performances.
But this season, there has been a huge element of luck (or over-performance, call it whichever you prefer) in Liverpool's start to the season. Liverpool's current xG is 7.74, whilst they have scored 12 goals. Their xGA is 4.59, and they've conceded three. To put that into stark terms, their xG difference so far this season is 3.15, and their actual goal difference is nine.
A few things to note here. The first thing to note is that own goals are a big factor. Liverpool have benefited from two own goals already this season, which factors into how they're over-performing in attack by such a long way. They benefited from just three in the whole of last season.
The second thing is to note that in terms of results, for the most part, it's the scale of the victory that seems to be exaggerated, rather than the results themselves. Liverpool "won" the xG in three of the four games, with the only "lucky" result the 2-1 win over Southampton, which came off the back of a brutal 120 minutes against Chelsea in Istanbul.
And just moving away from the stats for a minute, because although they're a useful rough guide to performance, a sample size of four is tiny and largely insignificant in the scheme of things, that largely fits how you would say Liverpool have played this season.
Against Norwich, we were clinical and a tad lucky in the first half and took our foot off the gas for a comfortable win. Against Southampton, we were poor in the first half and lucky not to be behind, let alone in front, then took them apart for most of the second half, before nearly capitulating late on. It was an absolutely bizarre game, but as I mentioned above, was played against the backdrop of a huge game a few days beforehand. And then in their last two games, with a week to prepare for each, Liverpool were very good in both, comprehensively taking apart both Arsenal and Burnley.
The real test, of course, will come for Liverpool in the next few weeks, as they have five games in the two weeks that remain of September, including a nasty double-header of away games against Napoli on Tuesday, followed by Chelsea on the Sunday. Truthfully though, that's the only big test for the Reds before the next international break, with home games against Newcastle, Leicester and Salzburg accompanied by a Carabao Cup game against MK Dons and a trip to Sheffield United. Draws in the two big games, with wins in every other match should be a satisfying few weeks for Liverpool.
And to secure those results, there will need to be an improvement. Leicester are a strong team this season and were the only team other than Man City to take points off Liverpool at Anfield last season, whilst Newcastle gave the Reds a big run around in May and Sheffield United surprised Chelsea last time out, scoring twice to secure a draw at Stamford Bridge.
All that being said, Liverpool remain in a really solid place. Four games in and four wins, through a combination of skill, mental strength and luck, and most importantly, room for improvement. There's every reason to think that Liverpool can get the results to take them into a strong position in the Premier League and Europe before the next international break, ahead of a tricky end to October/start of November.
The most important thing about this start for me though has been the continuity. Off the back of a Champions League win and 97 point season, the question wasn't whether Liverpool could succeed under Jürgen Klopp, but whether they could keep their feet on the accelerator and become a team capable of challenging on multiple fronts over multiple seasons.
There was little doubt amongst Liverpool fans and if we're being honest amongst pundits too that Liverpool would be strong again this season, but all of that pre-season confidence would mean absolutely nothing if Liverpool didn't get off to a strong start.
Tottenham, widely considered to be the team most likely to challenge Man City and Liverpool for silverware this season, face an uphill battle already, having picked up just five points so far, leaving them seven points behind the Reds already.
So, basically, it's business as usual then. Liverpool are winning matches, winning trophies and are going absolutely nowhere. There's still work to be done, but for every problem that this Liverpool side have right now, there seems to be a positive to outweigh it. Alisson Becker will undoubtedly improve the defence when he returns from injury, as will Naby Keita the midfield when he returns, and both are hopefully back in contention by the end of the month.
The front three look very good, there's a swagger about the side, Oxlade-Chamberlain is getting better week on week, and ultimately, we're on a 100% record with a decent Champions League draw to contend with.
Let's hope the next month of the season is as strong as the first, and if so, Liverpool will be in a very good position come the next chance to sit back, reflect, and weep at the fact we're not watching them play. Sometimes, it's good just to catch our breath and admire what Klopp has done after all.