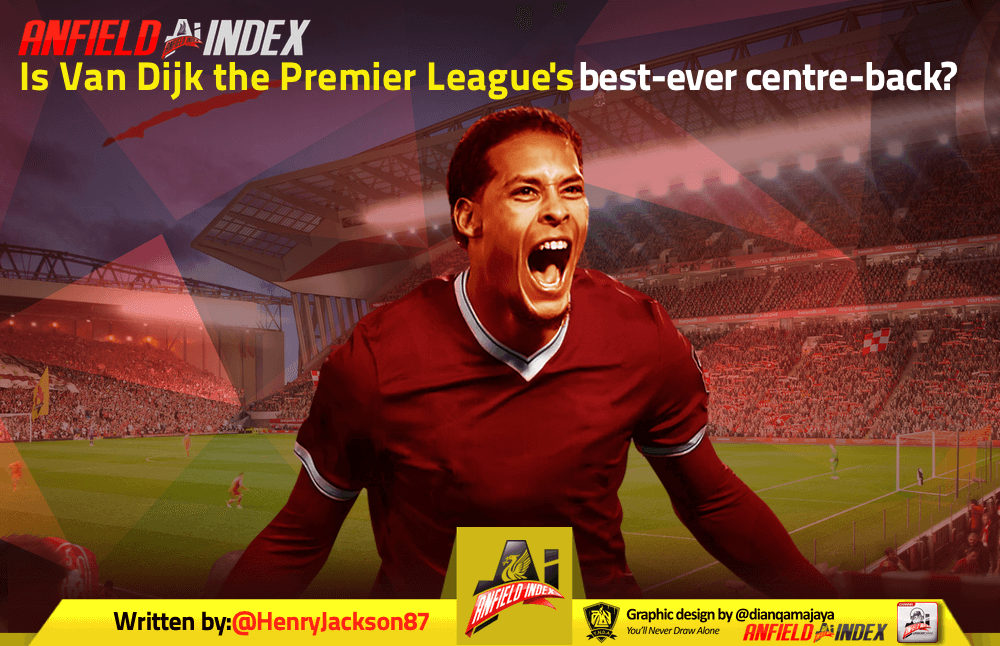 Is Van Dijk the Premier League's best-ever centre-back?
Has a Liverpool player ever received as much endless praise over a sustained period than Virgil van Dijk?
The Dutchman has been an almost godlike figure at Anfield from the moment he arrived in January 2018, powering home a header in front of the Kop on his debut, against Everton no less.
Since then, Van Dijk has transformed a leaky defence that used to concede comical goals into one of Europe's most solid back-lines.

With the 28-year-old in the team, and with the obvious help of several others – Alisson, Andy Robertson and Fabinho, to name but a few – Liverpool are now a perfectly-oiled defensive machine.
They clinched Champions League glory last season largely because of it and also amassed a record-breaking 97 points in the Premier League, keeping 26 clean sheets in all competitions.
Van Dijk was the key to all of this, which is why various individual award wins this year have been no surprise, as will be the case with his likely Ballon d'Or triumph in December.
Should he win football's most prestigious individual award over Lionel Messi and Cristiano Ronaldo, it will only enhance his legend further.
On Wednesday, Vincent Kompany paid Van Dijk a huge compliment, telling reporters that he is the best defender in Premier League history:
"I would bring it back to Virgil van Dijk, he's not been on the scene as long as Terry, Ferdinand who have been around for a long time but the signs he's shown in the last few years.

"He's shown if he had been around longer he'd have been at the top for a long time. The Liverpool before Van Dijk and after are a completely different setup. I'll give him that one."
Considering how many world-class centre-backs have plied their trade in the division since its inception in 1992, that is quite a statement from somebody whose intelligence and standing in the game both merit great respect.
Man City supporters predictably blew a gasket at reading their hero's comments, which is always nice, but the Belgian has a point.
The subjective nature of football means supporters will disagree on the topic, but Van Dijk has to be in the reckoning.
Assuming Kompany was talking about centre-backs – Ashley Cole would be in the running if it was defenders in general, for example – there are probably only a handful who deserve to be mentioned in the same breath as Van Dijk.
John Terry, for all his off-field issues and on-pitch berating of referees, was a fantastic player in his prime, spearheading Chelsea's era of dominance in the mid-2000s.
Although not blessed with lightning pace, Terry had world-class positional sense and he put his body on the line for his team, winning endless trophies along the way.
Nemanja Vidic was a similar style of player at Man United, playing at an infuriatingly consistent level for several years and proving colossal under Alex Ferguson.
If you wanted any Premier League defender to go into battle with, Terry and Vidic would be right at the top of the list, although Jamie Carragher wasn't too shabby, either.
Rio Ferdinand was more like Van Dijk is style – elegant, deceptively quick and never ruffled – and he was the cliched Rolls Royce of a defender who would be worth close to £100 million in today's game.
The partnership he built with Vidic could be best the Premier League has been and he was the premier centre-back in the world in and around the 2002 World Cup.
Kompany himself has to go down as a great of the English game, having eventually hobbled his way through a stunning City career.
A true captain, who like Terry was the leader of his side's money-aided dominance, he was almost impossible to get the better of at his peak, before injuries started taking an edge off his game.
Jaap Stam was another formidable presence who fortunately fell out with Ferguson and disappeared to Lazio, while the likes of Sol Campbell, Tony Adams, Marcel Desailly, Ricardo Carvalho and Liverpool's very own Sami Hyypia are also more than worthy of a mention.
But then there's Van Dijk – this immaculate figure who has made a bigger difference to the Reds than any player since Steven Gerrard.
It is no exaggeration to say he doesn't have a single weakness – he is dominant in the air, stylish in possession, never out of position, lightning fast, a leader, a goalscorer and the definition of consistent.
But is he the best defender we've seen in the Premier League?
In the 27 years since the old First Division made way for the Premier League, no player has performed with quite this level of imperiousness.
The fact that it took an almost unfathomable 50 matches for Van Dijk to even be dribbled past speaks volumes and he is genuinely yet to have anything worse than an average game for Liverpool.
Sure, there has been the odd switch-off here and there, most notably giving a penalty away at home to City last season, but footballers aren't robots, they will make the odd error.
As far as centre-backs go, this has been 20 months of perfection from Van Dijk at Liverpool, and while many others help make this Reds side possibly the best in the club's history, he is the glue that holds it together.
A sudden long-term injury would likely end Liverpool's title chances in an instant – that's how important he is.
Those mentioned above all had a huge influence in their own right, and deserve every bit of praise that comes their way, but none felt quite so indispensable.
Longevity is clearly the main thing working against Liverpool's No.4, considering he hasn't yet been at Anfield for two years.
It is an understandable argument from those who don't agree with Kompany's take, but there is nothing to suggest he won't keep playing to somewhere close to this level for the next five years.
At 28 and with few injury problems in the past, his powers shouldn't diminish for at least three or four years, during which time he will remain the main man for Jurgen Klopp, fitness permitting.
Perhaps it's recency bias – perhaps it's just bias in general – but Van Dijk is the best defender the Premier League has seen. He will go on to cement that further over time.