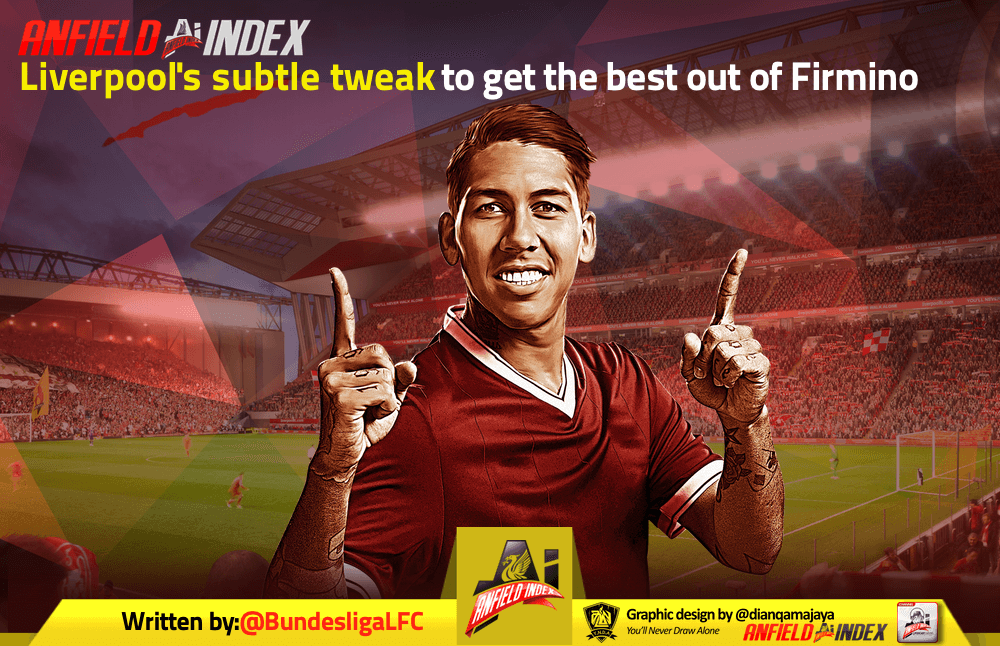 Liverpool's subtle tweak to get the best out of Firmino
Liverpool's exceptional start to the season has meant a number of things have gone under the radar. It's understandable, too. There's a lot to process with the Reds winning four from four as well as triumphing in the Super Cup. 
Roberto Firmino, Mohamed Salah and Sadio Mane have all started in fine form, Trent Alexander-Arnold is chipping in with assists down the right side of the pitch and a comfortable 3-0 win over Burnley shows Jurgen Klopp's side have the steel needed to bully even the toughest of opposition. 
A lot of the focus has been on Firmino. The Brazilian looks like he's stepped it up a gear and the sluggish start usually associated with him wasn't on show as the new campaign got underway. Likewise, Salah has hit the ground running this year. He was at his electric best against Norwich and Arsenal and his performances earned him the club's Player of the Month award. 
Mane may have scored both goals against Chelsea as well as netting against Southampton and Burnley but his early-season exploits appear to have been overshadowed by his strike partners. The narrative is that Firmino changed the game in the Super Cup while the Liverpool No.11 has already those two-season wonder shouts look foolish. 
Following the win over Burnley, the topic of conversation centred around whether or not Salah was selfish after Mane reacted angrily after being substituted just moments after the Egyptian opted to not play a simple pass to him to make it 4-0. 
As I said, there's been a lot to process. 
But hidden amongst all of that happens to be the improvement in Mane's overall game. The Liverpool No.10 has flip-flopped over the past couple of seasons between being a creative force and being a goalscorer. 
Last season he claimed a surprising Golden Boot after netting 22 goals in the Premier League. He finished the campaign with a single assist, though his expected assists came in at 5.12. On a per 90 basis, that worked out at around the 0.15 mark – his lowest average since the switch to England. 
It was quite the drop-off. 
From January 2018 to the end of the 2017/18 season, Mane's expected assists average was 0.35. He stepped up to replace the creative void left by Philippe Coutinho's departure. However, with Klopp experimenting with a 4-2-3-1 shape at times it was Firmino tasked with being the creator last season with Salah shouldering a lot of the burden as ever. 
We're only four games into the new campaign and in Mane's case it's only three given he didn't appear against Norwich so the sample size isn't the largest to read into but there's been a change. His expected assists average is 0.42 while his expected goals average is 0.35. 
He's taking fewer shots in general but that ties in with the fact Firmino is taking more. Again, the fact it's a tiny sample size needs to be reiterated but this is definitely something to watch out for. With teams geared up to pay extra attention to Mane and Salah, has Klopp tweaked the way Liverpool attack so that it's now his No.9 who is now tasked with taking on more goalscoring responsibility? 
His expected goals average of 0.55 is the highest it's ever been while his expected assists average of 0.18 is the lowest it's been for Liverpool. It's all little changes but they'll make a big difference to how the Reds operate in the final third. If the attack is geared towards getting Firmino into better positions then Klopp's decision to use Salah and Mane as more traditional wingers at times is starting to make a lot more sense. It's one to keep an eye on. If it works as planned, Liverpool's versatility will make them near impossible to stop. Three potent goalscorers coupled with different systems to get the best out of each of them.