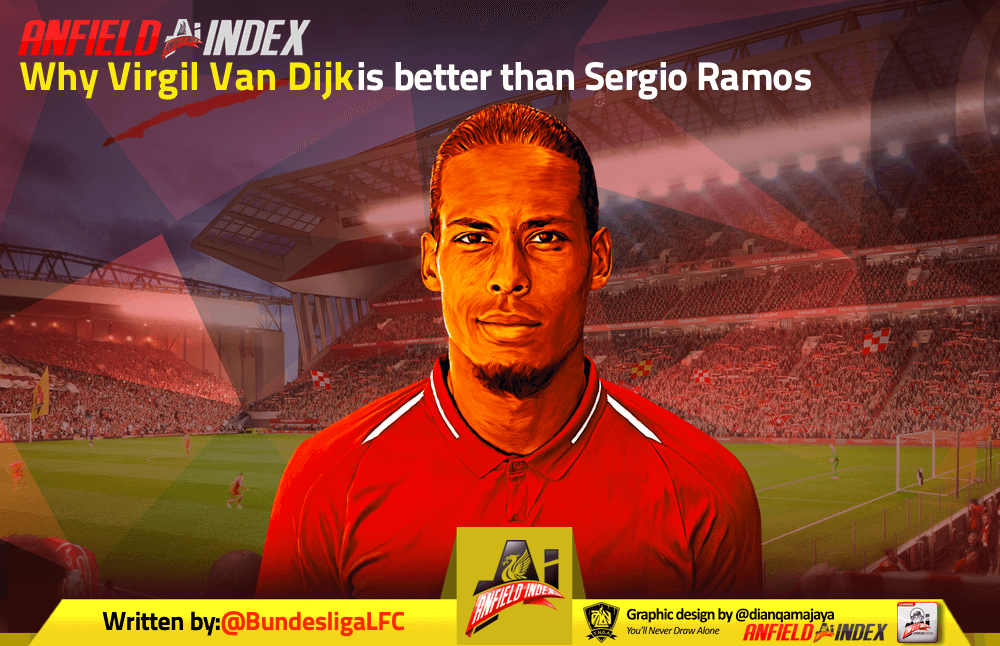 Why Virgil Van Dijk is better than Sergio Ramos
Twitter can be a strange place. In the past, it was a place to share opinions. Now the majority use it as a platform to ridicule them. Football Twitter has seeped into normal, everyday Twitter. People want to either trigger you or they stick on a mask and start looking for easy retweets and likes for the win.
Because of this, and the FUT generation, there's a lot of revisionism. Goalposts are generally moved to suit agendas, arguments or narratives.
One of the big talking points recently was when someone dared question Sergio Ramos as a defender after a Spanish journalist queried Virgil Van Dijk's inclusion in the Ballon d'Or chatter. The Liverpool fan called the Real Madrid man an 'average defender'. Not an average player. Not an average leader. But an average defender.

Since then, threads have been made detailing exactly why this is such a bad opinion with many citing the goals he's scored and the trophies he's won throughout his career. All valid points but all missing the original point that Ramos is an average defender.
Granted, he's far from an average defender but by the same token, he isn't one of the all-time greats. Not even close. He's a Real Madrid great. He's a legend in Spain. He's perhaps one of the best leaders of this era. But he's not a great defender and he can't be dressed up as one no matter what angle you look at it from.
Over the past three seasons in La Liga, Real Madrid have averaged 44 goals against. Those who are pro-Ramos claim he's lining up alongside players who simply just can't defend. But these are the same players who helped the Spanish side with three back to back Champions Leagues. Now if Los Blancos weren't good in the defensive third, they surely would've been found out over a period of three years? It's not something you can hide really.
Then you look at his disciplinary record. He's been sent off 25 times during his career. It's kind of an unwritten law that good defenders aren't reckless, don't lose their heads and tend to avoid picking up bookings. Because, well, you need to be on the pitch if you're to stop the opposition scoring. So that goes against him, and rightly so.
His clutch moments and big goals are always at the forefront of the discussions when Ramos' name is mentioned. In that sense, there are very few like him. He delivers and it's been invaluable for Real Madrid over the years. But that should be seen as a luxury, a really good one to have, and not one of the key arguments as to why he's an all-time great. No doubt it's a positive trait to have, it shouldn't muddy the waters when looking at him as a defender.
Of course, this Ramos debate turned to Virgil van Dijk. Why wouldn't it? If you're a Liverpool fan then your opinion is automatically bias and all you want to do is talk about the Dutch centre-back, apparently.
Just a day after Vincent Kompany called him the Premier League's best defender, rival fans on Twitter looked to basically downplay the Liverpool No.4. He's only had one good season. He's never won the Premier League. He's not won as many trophies as Ramos so isn't in his league. 
This is where the goalposts tend to be moved.
Prior to the Champions League triumph, the argument was that Van Dijk couldn't be considered as one of the best because he'd not won a trophy. Yet all of a sudden, more trophies are needed to legitimise him as an individual. But the majority of honours are team awards and it's hard to weigh the impact a single player has on these achievements. However, the fact Van Dijk is in the Ballon d'Or conversation shows he's doing something different to all of the other centre-backs. Ramos, despite winning everything a player can win, was never in contention.
This should never have been a Ramos vs Van Dijk debate but given Liverpool fans have to go above and beyond to justify every opinion it's what it quickly turned into. As far as defenders go, there's only one winner when the two are compared.