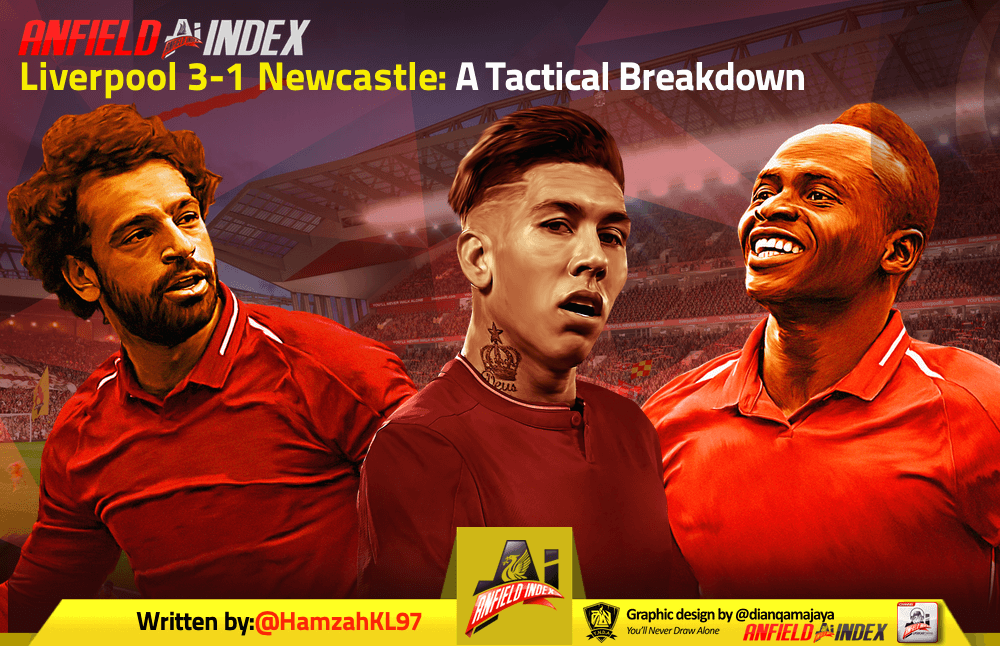 Liverpool 3-1 Newcastle: A Tactical Breakdown
International breaks can often pose a challenge for teams on a winning streak, with an unnecessary interruption to the rhythm of the side. Against Newcastle, for the opening 15-20 minutes at least, it seemed that was the case. Newcastle opted to launch balls into the wide channels, and fight for second balls, but it was an uncharacteristic mistake by the Liverpool defensive line, in an attempt to play Newcastle offside, which was then followed by an individual mistake by Alexander-Arnold, as he allowed Willems inside which led to the goal.
Without Firmino, Liverpool looked a little short of ideas. Both Salah and Mané found themselves surrounded by Newcastle's low block, whilst Origi was ineffectual on the left, likely a product of the ankle injury which eventually forced a premature end to his game.
Nonetheless, the Liverpool tactical setup was largely the same as what we've seen both in this season and the previous one. However, the qualitative discrepancy between Mané and Firmino is immediately apparent, especially when Liverpool are either attempting to press or trying to break down a low block. Without Firmino, both Salah and Mané struggled with getting service, especially as Oxlade-Chamberlain could not break into space – as he likes to do – thereby committing men, and creating space for Salah and Mané, because of the low block in front of him.

In an attempt to restrict service into both Salah and Mané, Newcastle tried to double up on Liverpool's fullbacks, when they received the ball. For the opening 20 minutes, this ploy worked fairly well, but the tactic left Newcastle susceptible to a quick switch of play and a subsequent exposing of space on the opposite side to which they were pressing one of the fullbacks.
This was exactly what happened when Liverpool scored their opener. Alexander-Arnold passed the ball quickly to Van Dijk, who immediately pushed it forward to Robertson, who was given a rare opportunity to take on the Newcastle wingback. In breaking past him, Robertson finally had space to operate in, and his proximity to Mané meant they were able to generate a 2 on 1 situation, in which Mané peeled off in order to make space for a shot.
This is one of the few occasions this season in which Liverpool's first goal has been a product of open play, which is extremely significant. In previous games, set pieces and own goals altered the game state, in order to force opposing teams to push up, and leave space for Liverpool to attack – which is far easier, and exactly what Liverpool thrive at exploiting. But getting the game to a position where Liverpool can force the opposition to push up, is more important than being able to exploit it, and this is the first proper example this season of Liverpool breaking down an opposing team's tactical plan in open play.
From this point, Newcastle's plan shifted. Initially, through just playing long balls, Newcastle reduced the opportunity for Liverpool to press, and then after scoring simply sat back, but once Liverpool equalised, Newcastle stepped up slightly. To compound this issue for Newcastle, Roberto Firmino was brought on, and his presence fundamentally changed the game.
We see this in how Newcastle, when sensing a counter attacking opportunity, commit a number of men forwards, in anticipation of a potential attack. However, Matip and Firmino press together, and are able to turn the ball over, and break into space – where both Mané and Salah are positioned up against the Newcastle defence, with space to run into, and space for Firmino to pass into too. From here, an error from Dubravka allows Mané to score, but the change in approach from Newcastle from a tactical perspective, and the effective pressing and tackling of Firmino and Matip is what actually produces the chance.
From here onwards, Firmino utterly ran the show. By playing deeper, he pulled the Newcastle centre-backs out of position, thereby creating space in behind them. This in itself is normal for Firmino to do, but how Mané and Salah reacted to this is really interesting. Rather than sitting up against their opposite centre backs, they saw that the space to run into would be more effectively accessed by taking up a position deeper than Firmino. So both Mané and Salah would start their runs from a deep position, where they would not be marked, and play passes into Firmino, looking for a return pass, which would allow them to break into the space in behind far more effectively than if they were simply positioned against the centre backs, and the on ball impetus would have to come from Liverpool's midfielders. This is an example of the forwards taking onus and responsibility against what can be a frustrating tactical setup by the opposition. By running from deep, Liverpool's forwards became harder to track, harder to defend against, and were able to run at pace, utilising all of their best assets.
This dominance shone through in the match statistics with Liverpool recording an xG of around 3 according to the BBC, Caley and Understat models. Similarly, the creation of 5 big chances, and a staggering 559 more passes than Newcastle, of which 218 were played in the attacking third tells the story of a game in which Liverpool utterly dominated, and that was after a surprisingly slow and limp start.
The only concern for Liverpool should be how on earth the side can possibly cope without Firmino who not only plays a fundamental part in how Liverpool attack, but also how Liverpool press and defend – with the example of Liverpool's lack of compactness and defensive flimsiness against Chelsea in the Super Cup a prime example of how the side struggles without Firmino. Nonetheless, hopefully, that is a concern that Liverpool may not have to face, should Firmino be fortunate with any potential injuries.
Given the gap between performance levels and results in the first few games of the season, it's extremely pleasing to see the performance levels finally improve and reach a level somewhat similar to what we saw over the course of last season, however, with a number of much more challenging fixtures to come, the question is very much whether Liverpool can maintain this level.