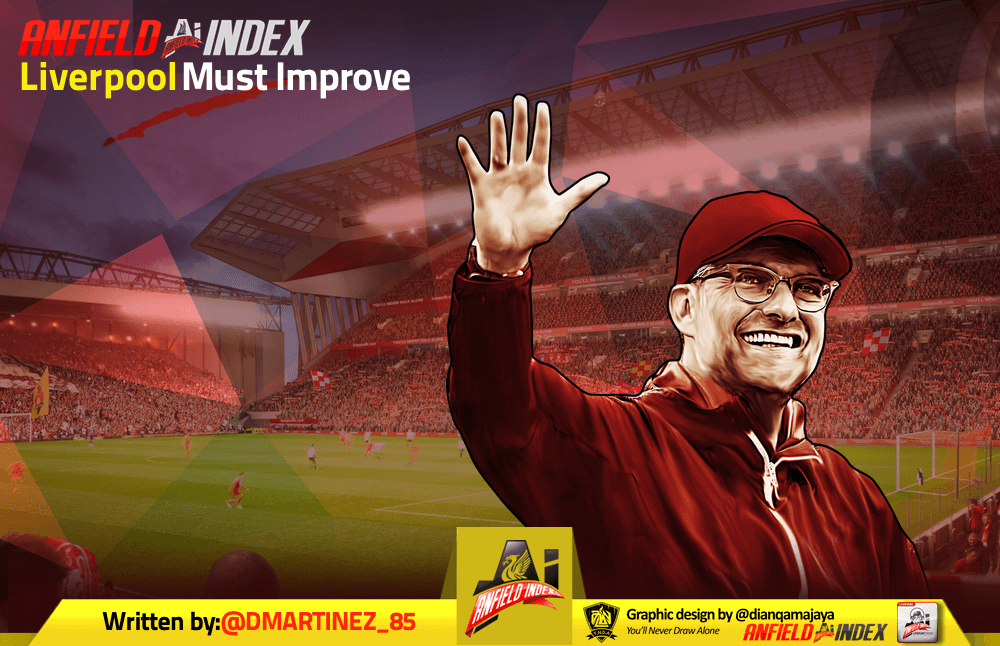 Liverpool Must Improve
Absurd title, isn't it? Allow me to explain…
Every Premier League game these days feels like a 'must win' for Liverpool Football Club. Such is life when you're effectively chasing perfection and trying to outdo this Manchester City outfit.
The opening five (admittedly kind) league matches have been expertly navigated by Jürgen Klopp, yielding the perfect 15 point return that Liverpool fans dreamed of when the season began.
Now though, as summer ebbs away and the Champions League kicks off in earnest once more, the season is ready to kick into another gear. Every team has had their little five game warm up and got that absurdly scheduled first international break out of the way (although the spectre of another one sadly looms large in the near distance). The decks have been cleared and it's time for the real work to begin. Games are set to come thick and fast as the nights draw in.

The Top Seven & The Next Five
Chelsea, Leicester City, Manchester United and Tottenham are widely expected to be jockeying with each other for position in the top seven of the Premier League by the time this season reaches its crescendo next May. Indeed, at the moment they already occupy the third, fourth, fifth and sixth positions in the embryonic 2019/20 table. These sides all lie in wait for the Reds over the next six weeks with only Sheffield United providing any domestic 'respite' from presumed 'top seven' opponents for Jürgen Klopp's team between now and November.
So what would a good return from those four demanding upcoming clashes look like? It's a question I've asked myself a number of times since the curtain came down on Roberto Firmino's glistening solo expressive art exhibition on Saturday afternoon. The answer my mind keeps returning to is simply this:
Improvement.
Not improvement on recent results or form necessarily, but an improvement on the results of 2018/19. Chelsea are first up out of that the aforementioned quartet of 'top seven' (Is that a thing now? I think it might be a thing. Either way, I'm running with it.) opponents.
The last trip Liverpool took down to Stamford Bridge required what sadly turned out to be the final truly iconic moment of Daniel Sturridge's Anfield career to rescue a point at the death. There will be no Sturridge this coming Sunday, though mercifully there will be no Eden Hazard to torment Liverpool as he so often did, either. Chelsea look fun to watch under Frank Lampard, but they also appear to be extremely vulnerable without the ball. Truthfully, they're a team that Liverpool should be beating these days. One suspects that a point – even if it were to be earned by another last gasp wonder goal – would not be celebrated in quite the same gleeful manner as last season's draw in West London was. Make no mistake, this time out a stalemate would represent two points dropped rather than one earned.
When Liverpool go to Chelsea this weekend, they must improve.
Following the next dreary international break, Liverpool will host Leicester City who took a point home with them after travelling up to L4 back in January. They could easily have ended that night empty-handed, but they might also have nicked a win on the break.
Weird game that one, wasn't it? Snow, half a team playing with the flu, stuttering, laboured football. Nothing seemed quite right about the whole affair aside from Sadio Mane's customarily precise early finish and Liverpool being denied yet another nailed on penalty at the Kop End. It was a bit like a fever dream or an episode of Black Mirror set in the very near future. Everything you saw was recognisable, but just felt off somehow. It was a game that passed everyone by. A game that just happened. Well, that can't happen again. Brendan Rodgers leaving Anfield with a share of the spoils this season wouldn't be okay, okay?
Talking about games that seemed to just pass by, does anyone out there actually recollect Liverpool playing a football match against Manchester United at Old Trafford last season? As far as I can recall, the two teams walked onto the pitch, rolled around picking up injuries for half an hour and then the game was abandoned and replaced with 70,000 United fans performing a woefully rushed and out of tune, impromptu Stone Roses karaoke session for an hour.
*As an aside, I love the Roses and I do kind of miss hearing that bastardised version of Waterfall being belted out by the Stretford End. It didn't even last as long as Ian, John, Reni and Mani's reunion tour. I wonder why it stopped? Ole's still at the wheel but I guess it just doesn't actually feel that good anymore. Shame.*
Anyway, back to reality. Liverpool were absolutely terrible at United last season. Utterly wretched from start to finish. The game meandered to a goalless draw and it was the most nil-nil game of all the nil-nil games you've ever had the misfortune to clap your nil-nil hating eyes on.
'Fucking Hell, what a shit game!' Jürgen Klopp exclaimed to Ole Gunnar Solskjær on the touchline after the final whistle had mercifully been blown. He was right. Liverpool just weren't good enough, as has regrettably so often been the case at Old Trafford down the years. It can't be allowed to happen again when they meet on October 20th. It's high time Klopp registered his first league win away from home against United.
Once again, Liverpool must improve.
In total, Liverpool managed to take six points from the four upcoming fixtures against these 'top seven' clubs last season. A vital win secured against Spurs at the end of March provided the sole victory against our upcoming gaggle of opponents and even that was largely down to a monumental last minute Hugo Lloris blunder that saw us (and the ball) squirm over the line in rather fortuitous fashion.
Six points from these four games last time out, then. I hate to say it, but that's not going to be good enough.
I know, I know. Labelling three draws and a win against four of the best seven sides in the league as 'not good enough' is beyond harsh. I'm an ungrateful, impossible to please bastard writing an article titled 'Liverpool Must Improve' about the reigning Champions of Europe who currently sit five points clear at the top of the table after amassing a 97 point total last season.
I'm acutely aware of how ludicrous this all sounds.
But it's also the truth. Because we live in ludicrous times. This is just where we are now and it's time to accept it if you somehow haven't already.
Like it or not, Liverpool are probably going to require a century of points this season if they want to finally secure that elusive Premier League title. 100 points. One Hundred.
Like I said, ludicrous times.
If the Reds 'only' match last season's results and end up dropping six points against Chelsea, Leicester, Spurs and United over the next few weeks then Liverpool's Everest grows even more steep. Liverpool can't afford that. They've done brilliantly thus far but they've only just arrived at base camp. The real slog still lies ahead.
Man City. Always Man City. Endless Man City.
These next few weeks look decidedly more treacherous on paper for Liverpool than Manchester City. While the Reds have a challenging run of games against more than decent opposition, our title rivals will face bottom of the table Watford, an inconsistent Everton, a Wolves team who aren't coping at all well with their newly added European exertions, Roy Hodgson's Crystal Palace and Aston Villa over the same time period.
Perhaps five wins on the spin for City might not be quite the formality it would have looked before Aymeric Laporte's unfortunate injury and last Saturday's latest Pukki Party, but it still seems extremely likely. Pep Guardiola will understandably be expecting his team to add 15 points to their league total before November arrives, and he's unlikely to be disappointed. The Reds are going to have to go some to stay out in front.
As a result, the pressure will be on Liverpool during this very demanding period.
While it will be hard to ignore the ever present menace that is City, this next crucial period is something Liverpool should really be relishing, for it offers a rare opportunity.
There aren't going to be many games this season where this team can pick up points that were squandered in 18/19, but these next few weeks offer three such openings against Chelsea, Leicester and United. Daunting fixtures they may be, but they're also opportunities.
It's of paramount importance that they are exploited to the fullest.
The current five point cushion held over City would likely be transformed into a one point deficit by the end of October if Liverpool replicate their results of last season against Chelsea, Leicester, United and Spurs (and manage to beat Sheffield United).
I don't know about you, but I've had my fill of one point deficits after last season. I don't want to see Manchester City at the top of the table when the clocks go back. I don't want to have to rationalise that situation and reassure myself that City's opening ten games have been easier than Liverpool's. I don't want to be a point behind Manchester City again. I lived that for three long months last season and it wasn't fun. It was stressful, it was soul-destroying at times (Cheers, Vincent) and it was ultimately futile.
There's only one way for the Reds to guarantee that they aren't playing catch up again when winter rolls in:
They must improve.