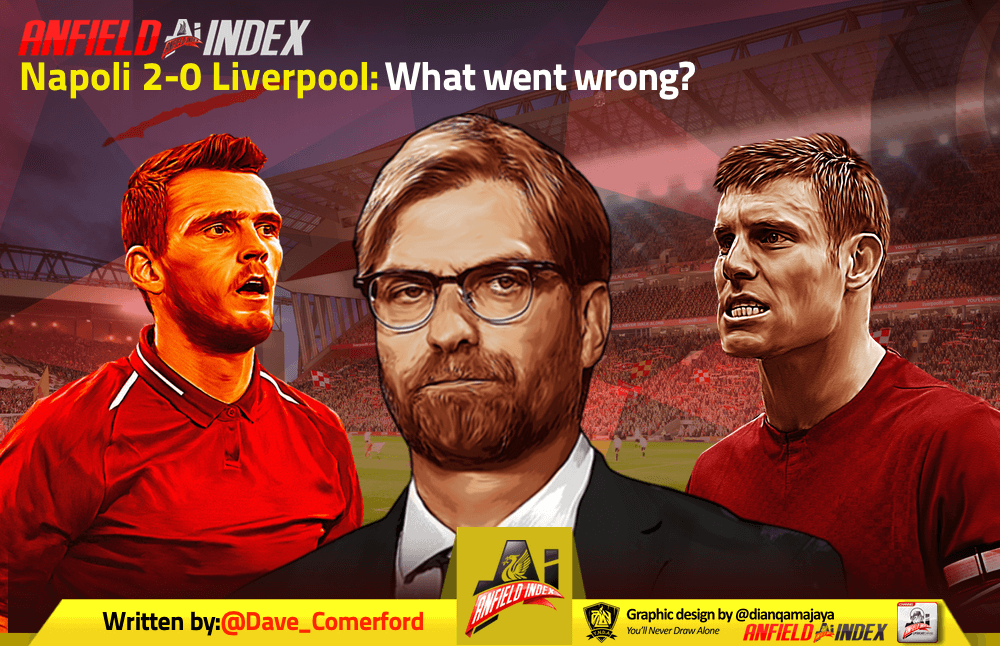 Napoli 2-0 Liverpool: What went wrong?
This is the second year in succession that I'm sitting down to ponder how Liverpool were beaten at the Stadio San Paolo, but the circumstances feel different.
Last season, it was more or less a case of a wretched team performance, but on the whole the Reds turned in a decent display at this time, even if their attacking bluntness returned.
They only had themselves to blame in 2018, yet this time around they can legitimately feel hard done by in some respects.

Front three out of sorts
For large portions of this game, it felt as if a brilliant three points were there for the taking. But our usually clinical frontline wasn't able to grasp the opportunity to send out a booming statement.
Mohamed Salah was the least culpable – plenty of endeavour brought few clearcut openings. Sadio Mane, though, squandered our best opportunity by almost inexplicably overhitting a square ball to his opposite winger at the end of a two-versus-one counter. If you could craft the ideal Liverpool chance, it would have been something close to that.
Roberto Firmino, meanwhile, has been raking in the plaudits for some majestic Premier League displays but fell way, way short of his best in Naples. Instead of making the attack tick he too often proved its undoing.
On the whole, Liverpool were pretty good until they approached the opposing penalty area. It will be no more than a blip for the best attacking trio on the planet, but in the short term it's a source of great frustration.
VARce
All that said, we would have come away with a very good point had it not been for the latest in a series of mounting VAR failures.
Andrew Robertson's challenge was arguably tired and clumsy but Jose Callejon's effort to craft a penalty from it verged on laughable.
'Clear and obvious' is the VAR refrain but you wonder just how ludicrously high that bar has been set. In blunt terms, Callejon dived and got away with it. It was a decisive bit of conartistry, which is exactly what this technology should be preventing.
Mertens then stepped-up and scored, though Adrian got big enough a hand on the ball to have saved it. He could have been our hero once again, having produced an absolutely monumental save earlier in the game.
After that, Liverpool were finished. To concede in such circumstances after controlling the second half was too big a blow from which to recover in the short time that remained.
More European away day woes
We may be the holders, but that's now four defeats in our last six European away days. We set a road trip benchmark for ourselves in the games in Munich and in Porto last season – solid at the back and ruthless at the other end.
That combination has failed to materialise too often in recent history. We should sweep past Genk and Salzburg both home away but Jurgen Klopp will know that away performances must be more consistent if we're to maintain that unbeaten knockout record.
This setback should of course be brushed off in the coming games. If we somehow fail to progress it won't be because we lost our hardest fixture. Overall, given our sloppiness in the final third and the timing of their goals, it was just a frustrating watch.
We go again.