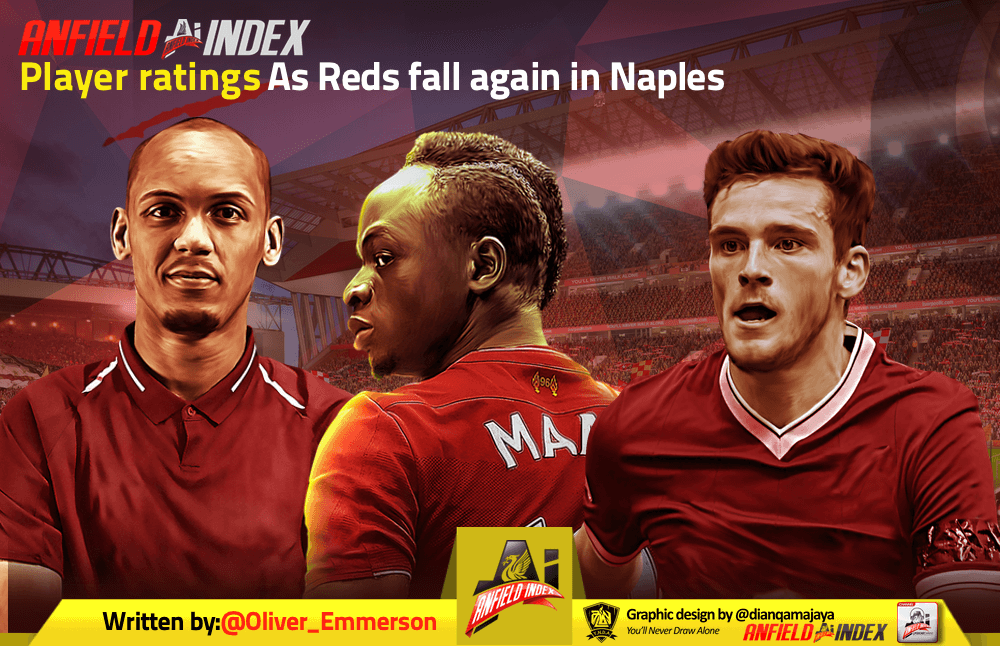 Player ratings as Reds fall again in Naples
VAR. Going great, isn't it? I honestly didn't think we'd do particularly well tonight but I thought we'd at least have the VAR on our side after Saturday's debacle. 
Never mind. Chelsea on Saturday etc, we move on.
Just one more thing before the ratings – Peter Walton is a big weirdo. 

Adriannnnn, like Rocky!
Adrian (8): That's an amazing save, you know the one I mean. Genuinely, Roy of the Rovers stuff. Does his best with the penalty. 
TAA (7): Thought he was really good. Defensively assured and composed going forward, a number of intelligent switches that opened up the pitch. 
Joel Matip (8): The best defender on the pitch, which says a lot when you look at the line ups. In the first half, in particular, he impressed, fending off attack after attack with perfection. 
Virgil van Dijk (6): Does his usual '7/10 I'm better than you' think before proving he is indeed human with a stoppage-time mistake to let Lorentz in. 
Andy Robertson (7): Get to Stockley Park for a dirty protest, Robbo! Fuck the VAR. Genuinely, how the fuck have they given that. How isn't it clear and obvious? My head has gone. 
Fabinho class, Milner trash
Fabinho (9): Imperious in the middle of midfield. Get him a 900-year contract because I didn't know I needed him in my life so much until he arrived. Won the ball back in every area of the pitch, constantly. Passing good too. Love you Fab.
James Milner (5): Are we sure his legs still work?
Jordan Henderson (6): Did his bit, hustled and harried when Liverpool were on top just before conceding. Ultimately lacked anything meaningful. 
No luck for the front three
Mohamed Salah (6): Seems that Koulibaly gets lots of credit for his games against Salah despite being sat down by the Egyptian 3 times per game. Shows how good Mo is. Forces their goalie into one dead good save.
Roberto Firmino (6): Still saucy as fuck, just didn't get the luck. 
Sadio Mane (5): You can't kick off about people not passing and then pass like that, mate.