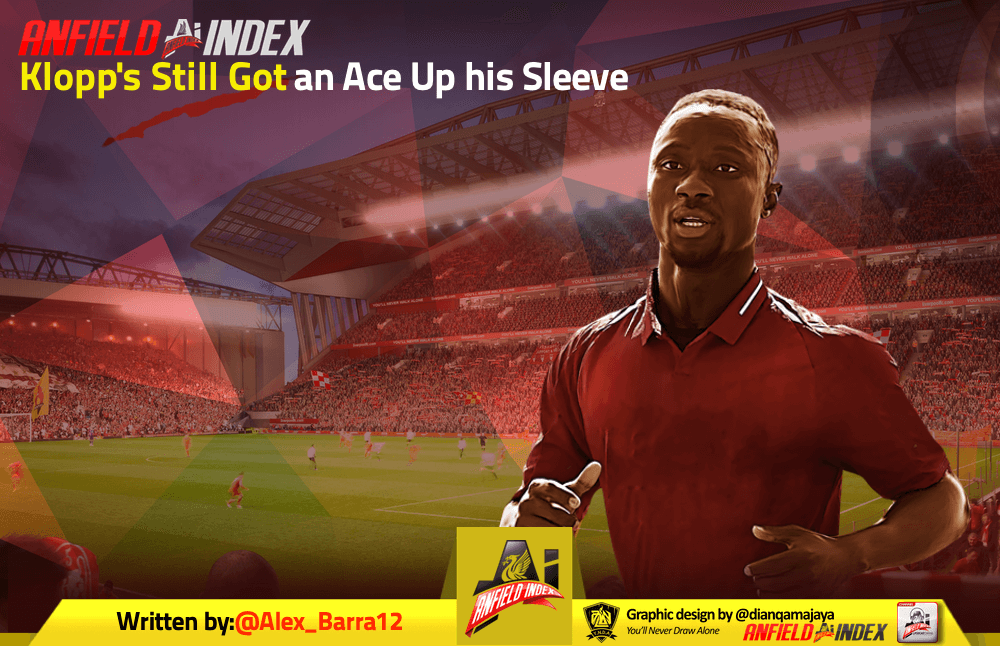 Klopp's Still Got an Ace Up his Sleeve
It's cliché to say it. It really is.
"Player (x) returning from injury, he's practically a new signing!"
It's tired, it's worn out, it's ostensibly untrue and it's essentially trying to justify, rightly or wrongly, inactivity.

Yet, it sort of does feel like Naby Keita is a whole new signing.
Not in the conventional sense, because Liverpool fans have been eagerly anticipating the arrival of Naby Keita for a long, long time. Since he was first announced – a season before he stepped foot on a Premier League pitch – as a Red, fans were frothing at the mouth considering the potential combination play between a genius, pacey front three and the inventive ball-magnet from Guinea.
Then last season came, and fans realised though they had been waiting for Naby to arrive for a season, he wouldn't come in guns ablaze and start tearing through midfields because they willed it. Klopp was tentative – as he was with Andy Robertson, Alex Oxlade-Chamberlain and Fabinho – to deploy his new firebrand straight away. And when he did, disaster struck in the form of unfortunate injuries.
Overall, Keita missed 89 days through injury last season. Which was frustrating, because Liverpool fans saw his true arrival at Turf Moor; he was the best player on the pitch against a rugged, physical Burnley side. He was winning the ball back, dribbling past players, and had four shots – all of which were on target. Then he started scoring – including one in the Champions League and two in the Premier League – and fans readied themselves to see their diminutive dynamo unleashed.
And, of course, right as Liverpool stormed towards their sixth Champions League final, Naby Keita suffered another injury. This time, a high grade adductor injury that kept him out for two months. It should've kept him out of the Guinea squad for AFCON too, except a negligent manager opted to play him against all advice and, low and behold, he was injured again. Agony for him, and for the fans who were finally ready to see the spark their midfield needed.
Fast forward to this season, and Liverpool's perfect start to the season has largely come via the most brilliant front three in world football, and the face most people are running out of superlatives to describe them.
But, as was seen in Liverpool's loss in Naples, when the front three aren't sparkling like normal, the midfield suddenly turns from immense pressing machine to a blunt instrument.
Fabinho was, once again, elite at the base of midfield, but the lack of thrust was noticeable in its repetitiveness. Even in the Champions League final they won, Klopp's midfield was set up to stifle, not to stimulate.
The one thing missing from this season's perfect start? The one thing missing from a midfield which has contributed one assist out of thirteen goals scored? A spark like Naby Keita.
When Alex Oxlade-Chamberlain started against Newcastle, it was clear that the ideas were there: what was lacking was execution. The ability to have someone dribble through the opponent's midfield and get to the box, allowing the front three to all make their own movements and occupy their own defenders, that was something Klopp missed.
"That's very important to us and for Naby of course. He looks completely different; this pre-season looks completely different. He was now only the last two weeks in but you could see already that he's much more settled in the team: completely different body language and everything is different. We expect a lot and he expects a lot and rightly so."
Klopp said of his star midfielder, signed for £60 million a summer ago.
With the news that Keita will be back in training by the fixture against Chelsea, Keita's dynamism and urgency could be reintroduced sooner rather than later.
What do Liverpool fans expect? Well, this is the midfielder that averages more than 1.4 key passes per game at Leipzig. This is the midfielder that dribbled past players at an average of 2.6 times per game at Leipzig (and 4.8 times in their inaugural Champions League campaign.) The key word? Leipzig.
Naby needs a string of games to weave together, Naby needs time and most of all, Naby needs confidence. These were things that became clear in the early months of last season, when everyone was waiting for the midfielder to dominate games as he used to.
Then, he did. He became one of Liverpool's focal points in the early months of 2019, he became everything Liverpool fans wanted, even within the more restrictive tethers of Klopp's midfield. He won the ball, he dribbled past players, he stood out as the one in the team that could link the back to the front through the middle. When Liverpool's fullbacks are nullified, it's up to the front three to carve out some magic of their own. When that fails, Liverpool have nothing.
Or, they would. Except when fit, Keita provides something else. A presence in and around the box, the kind that adds danger to the little pockets of space inside a defence. An ace in the pocket.
It won't happen instantly. But when it does happen, everyone will suddenly realise the waiting was worth it.