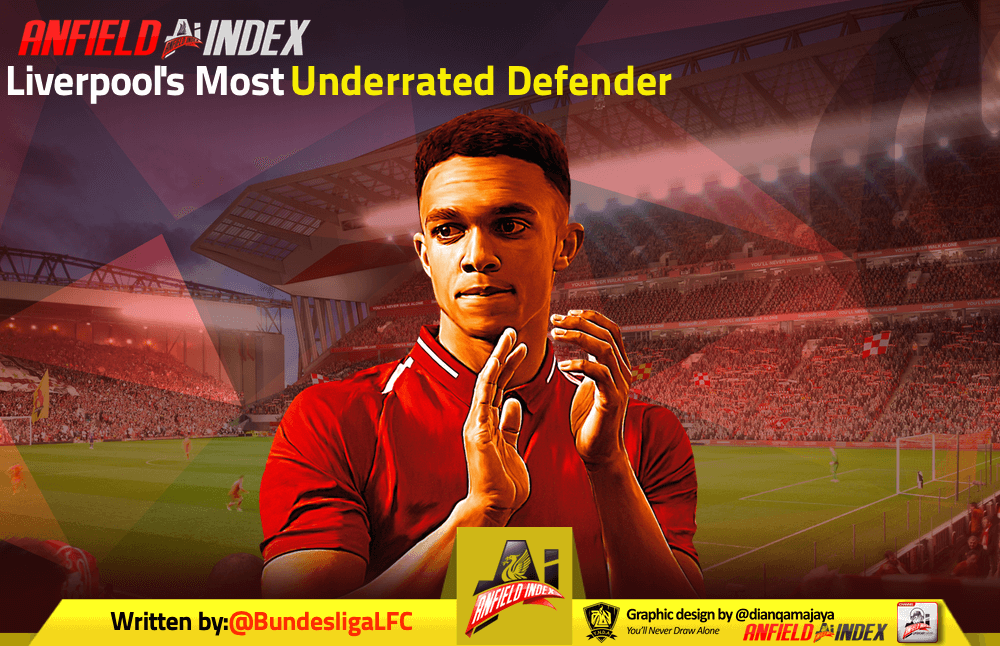 Liverpool's Most Underrated Defender
Trent Alexander-Arnold is known for a lot of things but defending isn't one of them. The Liverpool right-back is often pinpointed as a weak link in the backline. Pundits and fans of rival clubs cite the time Marcus Rashford terrorised him during the 2017/18 campaign. 
They'll bring up the times Burnley's Dwight McNeil and Cardiff City's Nathaniel Mendez-Laing caused him problems down the right flank. He's viewed by the masses as an attacking full-back with a number of defensive flaws. They act as though he'd be viewed differently if he was playing for a team under the cosh a lot more than the Reds are. 
It's a lazy assumption. One that simply isn't true. 

It's true that Alexander-Arnold isn't perfect but at 20 he doesn't have to be. He's obviously doing something right though as he's played in back to back Champions League finals. The Liverpool No.66 was also a key part of the side to amass 97 points in the Premier League last term while only conceding 22 goals in the process. 
The likes of Fabinho, Virgil van Dijk and Alisson no doubt help the cause but an obvious weak link would be exposed. The three aforementioned players are reserved for special praise when the Reds put in a monstrous defensive performance but, on occasion, the best player on the pitch for Liverpool has been Alexander-Arnold. 
He's praised for his offensive contributions. He's an assist machine and chief creator for Klopp's team despite playing as a right-back. However, it's far from a traditional full-back role. He's a right-back-cum-centre-midfield. On paper, it's a strange hybrid position but his particular skill set just suits that unique role he's tasked with filling. 
He's, rightly, lauded for his performances. But, strangely, he's also underrated. 
Defensively, his job is as basic as they come. He's there to stop crosses getting into the area and he's expected to cover the right-sided centre-back. It's this side of his game that people tend to overlook. 
Against Napoli, he was arguably the best defender for the Reds on the night. The Italian's ran out 2-0 victors in the end but had it not been for Alexander-Arnold that scoreline could've been much worse. He read the game well, put fires out, tracked runners and did his very best to defend against the overloads down his side on the night. 
In all honesty, it should come as no surprise. The youngster always delivers when it matters most for the Reds. He's managed to shackle Leroy Sane, Cristiano Ronaldo and Philippe Coutinho over recent seasons. 
He played in every knockout game in the Champions League last season apart from the 3-0 loss to Barcelona. Alexander-Arnold was part of the team to beat Paris Saint-Germain at Anfield and Bayern Munich in Bavaria. He kept tabs on Eden Hazard during the 2-0 victory over Chelsea, too. 
The narrative surrounding the Liverpool right-back is an odd one. Because he doesn't make countless tackles like Aaron Wan-Bissaka and he isn't making last gasp blocks all the time the impression is he simply isn't a good defender. Yet when called upon in the big games, the England international is assured and reliable more often than not. You rarely come away from a big game thinking he's had a bad game defensively. He can, at times, be sloppy in possession as he was in Naples. But that comes with the territory of being a playmaker. He's attempting risky passes and they don't always come off. 
The idea that he's not a good defender, however, needs to be put to bed. He's not just a brilliant attacking full-back, he's one of the most well-rounded ones in the current game. Very few can rival him as a right-back in general and he's almost peerless going forward. The scary thing is, the 20-year-old is only going to improve and he's nowhere near his peak just yet.