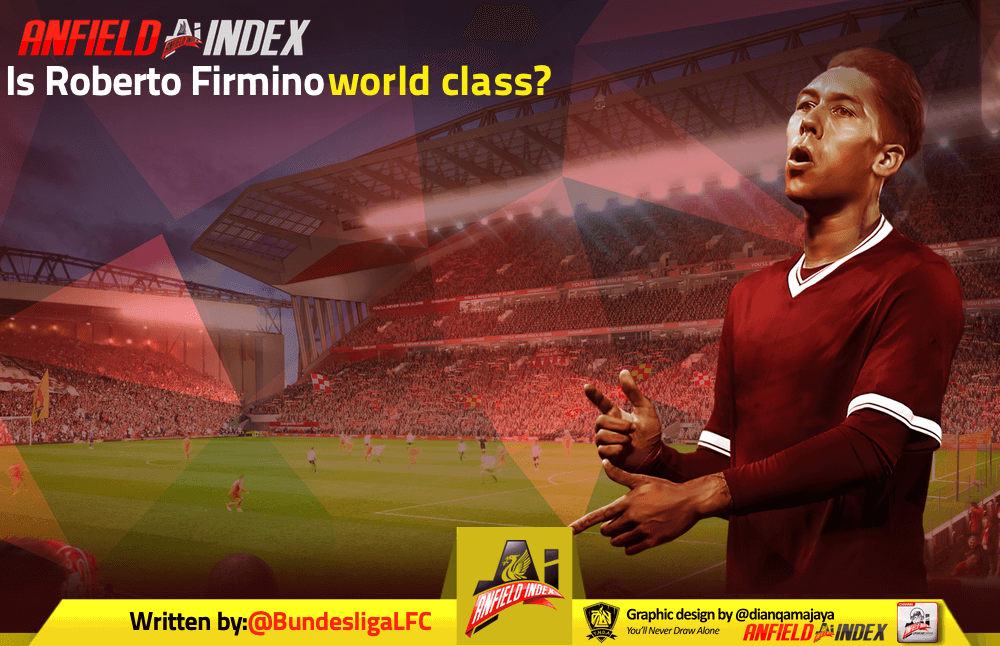 Is Roberto Firmino world class?
Very few players in world football have positions named after them. Only a handful do and they're usually individuals who transformed that role. Andrea Pirlo wasn't the first playmaker to be deployed in the defensive midfield role but he certainly enjoyed the most success there and that quarterback position was soon christened the Pirlo role.
Philipp Lahm probably wasn't the first inverted full-back but he was the most memorable. Without him, it's unlikely we ever get to see Trent Alexander-Arnold playing the right-back-cum-centre-midfielder position he's now made his own. Manuel Neuer is the poster boy for the sweeper-keeper movement.
Lionel Messi was the first 'false-9'. Pep Guardiola used him there for a spell while at Barcelona but the Argentine maestro returned to his wide forward role before dabbling in other positions. He could've made it his own but he never. That left the door ajar for another player to claim that position as his own. And Roberto Firmino didn't waste that opportunity.

Thomas Muller was described as a Raumdeuter. Its meaning is generally given as "space interpreter" or "space investigator". Firmino's role could be described as that as well as a false-9. But the Brazilian added to it to make it different. He wasn't just there to make space for others, even though he does that, and he wasn't simply exploiting space. He did that and then some.
Firstly, the Samba star didn't shirk his defensive duties. He was the first line of the defence for the Reds. The former Hoffenheim man added goals to his game, too, averaging 22 per season over the last two campaigns.
The 27-year-old scored goals. He assisted them. He'd press from the front and he'd drop into midfield to help there when needed. He was able to hold the ball up and link play while also running the channels. Firmino was doing everything a No.9 should be doing but then he'd cover off what was expected from a No.10. People initially described him as a false-9. Then he was called a nine and a half. Slowly but surely, however, the role occupied by the fleet-footed maestro began to be called the Firmino role.
The Liverpool forward was doing so much it just became easier to use his name as a way to describe what was expected as opposed to reeling off the demands for that role.
Manchester City apparently needed a Firmino to lead the line. Gabriel Jesus was supposed to be that man but Sergio Aguero tweaked his game. Instead of perishing like other Guardiola forwards have in the past, he adapted.
It was then claimed that Manchester United needed a Firmino to help get the best out of Marcus Rashford, Paul Pogba and Anthony Martial. The latter has been used as a false-9 this season but he's yet to really nail down the selfless movement required to play the role the Brazilian occupies.
When Arsenal parted with a club-record fee to sign Nicolas Pepe, the talk surrounding his arrival was of how Alexandre Lacazette would have to tweak his game to be more like Firmino in order for Unai Emery to get the best out of his the former Lille man and Pierre Emerick-Aubameyang.
The closest player to Firmino is perhaps Luis Suarez but the Barcelona No.9 isn't as busy defensively as Firmino. Yes, he's a nuisance in the final third but you rarely see him dropping into midfield like Liverpool's favourite Brazilian. He's selfless but there's that striker's selfishness in him which can sometimes take control. It's sometimes used as a criticism against the Liverpool No.9 but he lacks that selfish streak and it's the reason he's so effective. He didn't start life as a forward and that is evident in his play. He was a defensive midfielder in Brazil before the switch to playing as an attacking midfielder. Despite the positional change, his mindset remained the same. His end goal was to always do what is best for the team and not himself.
Of course, he will occasionally indulge himself with an outrageous effort from a ridiculous angle. He's only human. For the most part, however, Firmino is always looking to play the ball to a team-mate in a better position. It's this unique blend of traits; the selflessness mixed with the samba flair and defensive diligence, which helped him claim a position all for himself. Many will try to replicate what he does but very few will come close to being able to achieve it. He's world class purely because there's nobody else in the world who can do what he does.