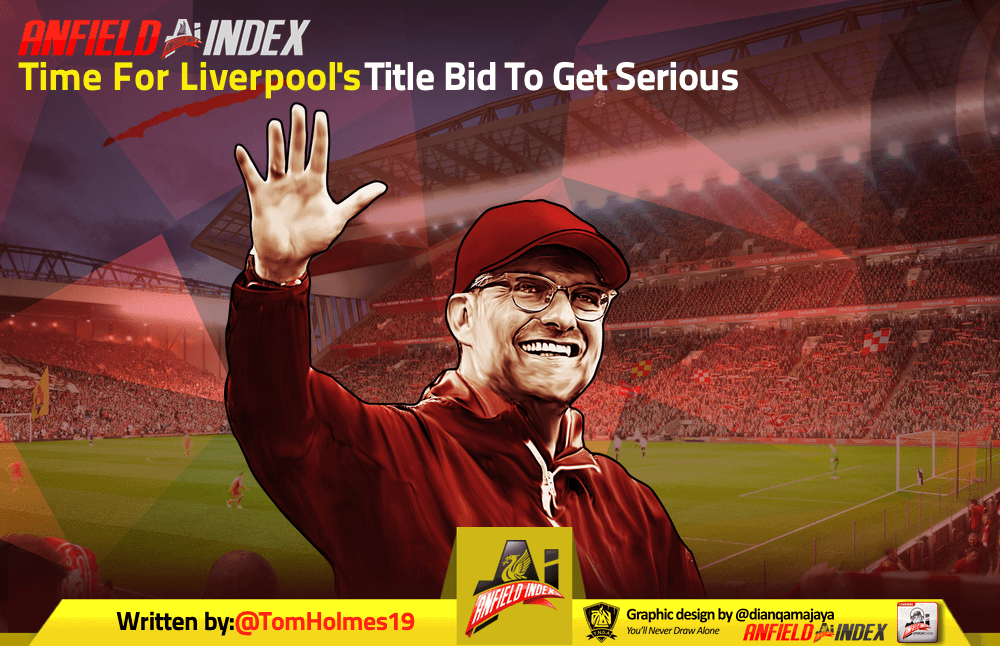 Time For Liverpool's Title Bid To Get Serious
Liverpool are off to a good start in the Premier League, having won their opening five games to open up a five point lead at the top of the league. However, this is where the hard work really begins. Liverpool's trickiest game on paper so far has been at Anfield, where they hosted an Arsenal side that have really struggled against the Reds in recent years. Away trips to Burnley and Southampton are always testy, but they simply aren't difficult games, at least not compared to the calibre of opposition that Liverpool have coming up.
Because in the next two months, between now and the third international break of the season on 10th November, Liverpool play seven Premier League games, and face the other five members of the current top six – the remaining four members of the so-called "top six" and the team most likely to break into that six this season, Leicester City.
The Reds' fixture list in the PL is as follows:
Chelsea (A) – Sunday 4:30pm

Sheffield United (A) – Saturday 28/9 12:30pm
Leicester (H) – Saturday 5/10 3pm
Man United (A) – Sunday 20/10 4:30pm
Spurs (H) – Sunday 27/10 4:30pm
Aston Villa (A) – Saturday 2/11 3pm
Man City (H) – Sunday 10/11 4:30pm
So that's a whopper. I would definitely go so to far as to say that the next seven PL games over the next two months will be season-defining for Liverpool, and very possibly title-deciding. It's easy to ridicule the notion of the title being won or lost before Christmas, but every game is as important as every other game.
When Chelsea won the league in 2017, their closest challengers Spurs stumbled in October and November, and were playing catch-up ever since. Moreover, when we consider last season, when Liverpool secured 97 points and that still wasn't enough to win the league, then dropping even six or seven points over this seven game spell could have a significant impact on the title race.
Simply put, for me, if Liverpool can come out of this tricky spell, especially considering the injury problems that City have, with a lead in the title race, then that will be critical. Realistically, to do that, the Reds will have to get a result against City at home, and probably win at least one of the other games against top six opposition, whilst draws in two of the other games would be fine.
Moreover, if you look at the games, four of the seven games that Liverpool drew last season are in this cluster, including both of the home games where the Reds failed to pick up maximum points. You would have to say that 13 points from these seven games wouldn't be a horrendous result, but you also sense that it might not be good enough, and Liverpool have an opportunity to put their foot down.
It all of course starts on Sunday, when Liverpool are at a slight disadvantage, having travelled all the way to Naples on Tuesday, whilst Chelsea were at home. Nevertheless, Klopp will be aware that there hasn't been a weaker Chelsea side in almost his entire tenure as LFC boss, and will be looking to capitalise on that, especially with an injury to Mason Mount.
Similarly, Man United are in theory there for the taking, but as Liverpool found out the hard way in February, there's never an easy game against your arch-rivals, especially at Old Trafford, and whilst it's easy on paper to say that it's a must-win game for the visitors, a point at Old Trafford remains at worst a decent result.
Spurs are a tricky team to try and assess at the moment, because there's an inherent assumption that in a month or two they'll look like a much better side than they do right now, but nevertheless, having beaten them three times in the last twelve months or so, albeit with huge chunks of luck, Liverpool should be looking to beat them at Anfield.
Games against Sheffield United and Aston Villa away will not be givens for the Reds, but they are both games that Liverpool simply have to win. Last season only Leicester at Anfield, Everton at Goodison and West Ham at the London Stadium took points off Klopp's team from outside the top six, and that excellent record against the lesser sides will need to be replicated if Liverpool are to win the title.
And then there's Leicester themselves. Leicester are a strong team, and with Brendan Rodgers at the helm there is some history there, but again, this is a game that, at Anfield, Liverpool simply have to be looking at as three points, even with a midweek Champions League game beforehand, given that that game is at Anfield.
Speaking of midweek games beforehand, this is where Liverpool will have an advantage going into their colossal game against Man City, as the Citizens have to travel to Atalanta before travelling to Anfield, whilst Liverpool are at home with an extra day's rest. Against big opposition, the small advantages can make a big difference.
Overall, with five huge Premier League games coming up in their next seven, the Champions League qualification to be sorted out and big games coming thick and fast, we will have a much clearer idea of Liverpool's title ambitions, and where they stand, sooner than many might think. If Liverpool are serious about competing for the title again this year, then the next seven weeks will be absolutely critical.