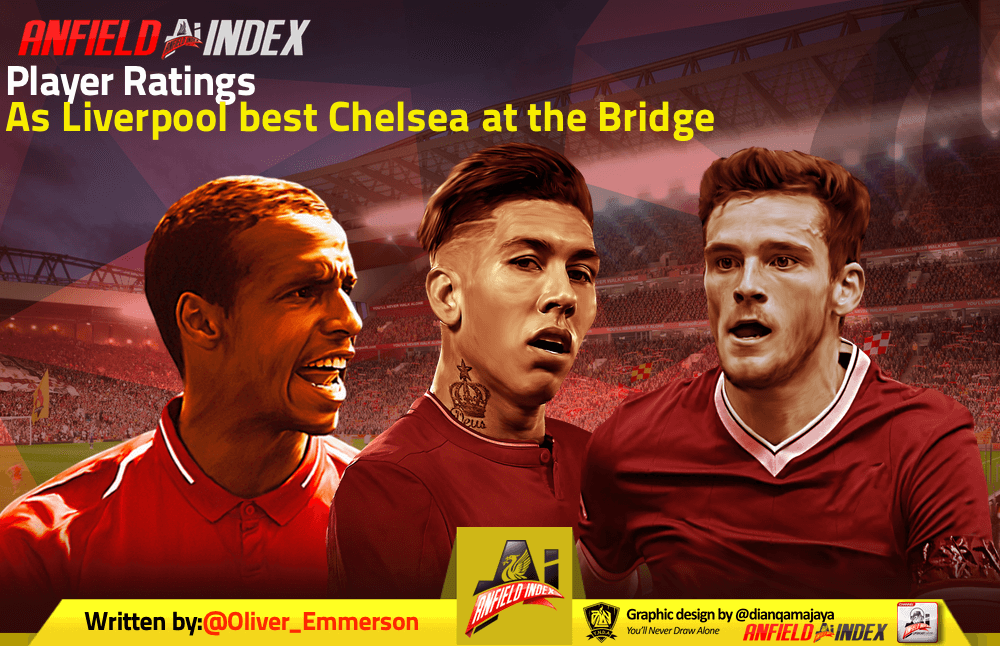 Player Ratings as Liverpool best Chelsea at the Bridge

Six in a row, 15 in a row, five points clear and all the jazz that comes with it. 'Lucky Liverpool' were at it again, the whole winning thing, at Stamford Bridge on Sunday.
First-half goals from Trent Alexander-Arnold and Roberto Firmino giving the Reds enough room to hold off a Chelsea fightback in the second-half, N'Golo Kante's superb strike proving a consolation.
Trying to distract myself from *that* Eden Hazard banner, here's your ratings…
Adrian proves his worth once more
Adrian (8): We're not pushing 'Alisson can't come back in' agendas yet, but bloody hell the Spaniard is earning his wage at the moment. A gargantuan upgrade on Simon Mignolet, Liverpool's new number two was at it once again today. A great save from Abraham in the first half was the highlight in a game where he dominated aerially, letting nothing phase him and quickly grabbing the only ball he dared to drop. Can do nothing for N'Golo Messi's goal.
TAA (8): Really, really good. That is a Beckham-esque strike for the free-kick, in terms of astonishing technique. Nice celebration too lad, game of FIFA on Friday? His defending is coming on leaps and bounds too, which is actually a concern as the rest of the team now seem quite content to leave him to do it all on his own.
Joel Matip (9): The most credit I can give Matip is that he's equalling or outperforming the best defender in the world every week. Continuing his starring form, he was imposing once more today, with a number of key duels at the end of the game going his way.
Virgil van Dijk (8): Very physical, very good. Not as much to do as Matip which does make sense, teams just aren't bothering even trying with him any more.
Andy Robertson (7): Was dead set on giving him a six and then he went on another big long run at the end, peak City 4-3 vibes from early 2018.
A mixed midfield performance
Fabinho (8): There's a moment early on in the game where he could go in for a big challenge but leaves it, leaving my accompanying friend screaming 'just take him out!'. Then he gets a beautifully cynical yellow card after 70-something minutes, allowing me to turn to my mate and grin eagerly as I ask if he was still an idiot for not taking out Mount (or whoever it was) with ten minutes on the clock. Bosses the midfield, one particularly good moment where he wins the ball, beats two and slips it into Mane, who wins the free-kick from which TAA scores.
Jordan Henderson (6): Enjoyed some of his forward play, really enjoyed him getting in the referee's ear at any given opportunity. However, he did let Trent down with some of his backtracking, or lack of. Seemed to let the game get away from him a little.
Georginio Wijnaldum (5): Doesn't let the game get away from him, mainly because he doesn't get to it at all. Defensive work was fine but he's so good on the ball that when Liverpool are crying out for some possession I just want him to show up and take control, but he doesn't and didn't again today.
Salah leaves his touch behind
Mohamed Salah (5): Wasn't his game today, which is alright. He can't win us every match and he did well to get in certain areas, but the touch just wasn't there. Tends to be the first thing to go before a player gets injured as a result of overplaying, so let's give him a rest yeah? Probably leave him out of Sheffield United, and if any of the front three get a minute against MK Dons then Klopp should be sacked.
Roberto Firmino (7): Lovely little piece of movement and header for the goal. He's been playing such beautiful football this season that he deserved to simply nod one in from a free-kick. Sometimes he plucks the ball out of the sky with such ease I wonder if it ever actually went in the air in the first place.
Sadio Mane (6): Similar to Salah attacking wise but I was impressed with the amount of tracking back he did to cover Robertson.
Adam Lallana…
Adam Lallana (5): Honestly. Giving him a 5/10 because he didn't actually do anything catastrophic, but what is the point of him? Bar MK Dons and any other lower league fodder we face in the cups, it's going to take a hell of an argument to convince me that there's any reason for him to play for us again. He's just not of any use. At all.
James Milner (5): Not on Lallana's level yet but going that way after another poor cameo. Gives away a stupid free-kick with a tackle that would indicate his legs have indeed turned into concrete, the soft kind.
Joe Gomez (N/A): Nice to see him, to see him nice.