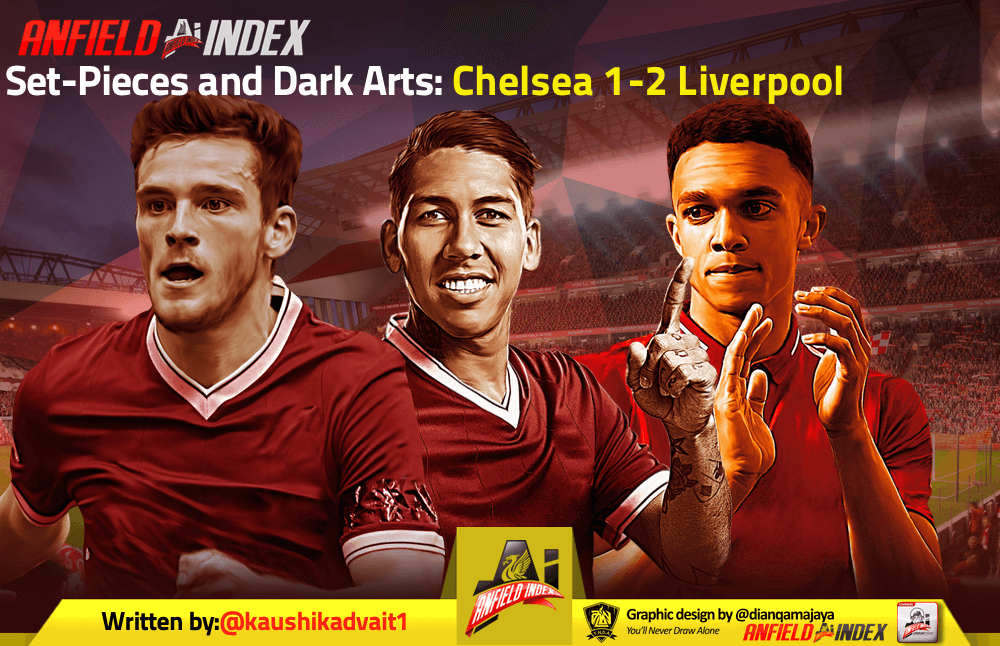 Set-Pieces and Dark Arts: Chelsea 1-2 Liverpool
Liverpool managed to extend their 100% record with a win over Chelsea on Sunday, and while the result deserves praise, the Reds were quite poor with and without the ball. It seemed obvious amidst the second half that Liverpool were shattered, both mentally and physically. Loose passes and leggy ground covering showed that the trip to Naples had taken its toll. What's important, though, is that Liverpool managed to pick up 3 points in a fixture that ended the very same 100% record they extended now.
Set-Pieces
Jurgen Klopp hasn't kept a secret of the fact that Liverpool work extensively on set pieces. In fact, as Opta pointed out, Liverpool have scored 34 goals from set-piece situations since the start of last season, at least 7 more than any other side. For direct goals from set-pieces, the number last season was 22, 6 more than their closest competitors Burnley, and is already at 4 this season, behind to only Bournemouth, and well above the league average of 1.55 (Fantasy Football Scout).

What's interesting isn't just that Liverpool score a lot from set-pieces, which, in the case for some teams, can be attributed to many physically imposing players dominating aerial duels. Liverpool have also created a number of high-quality chances from set-pieces. Their expected goals (xG) from set-pieces this season of 2.52 (BTP) ranks 3rd in the Premier League, an indicator of how their off-the-field training has proven increasingly handy. In fact, this is a trend that has continued from last season: they were the 3rd highest chance creator's from set-pieces in terms of xG (14.41), per Fantasy Football Scout.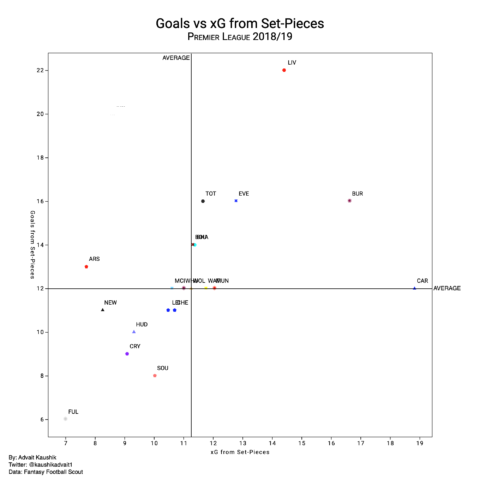 The graph above compares goals scored and expected goals from set-pieces in the Premier League in 2018/19, clearly showcasing Liverpool's superiority.
So why is this important? Well, it was pretty much the reason Liverpool won. They were shockingly poor in open play, creating just 2 shots with an expected goals tally of 0.10, well below their average (1.07), and worse, significantly lower than Chelsea (1.31). (BTP) In fact, the Reds managed just 5 passes within 20 yards of goal (Understat), showcasing their inability to pick passes in the final third courtesy of an organised display from the Blues. This meant that 86% of Liverpool's xG was generated via set-pieces, way higher than the average of 33%. Pep Lijnders and Peter Kraweitz deserve credit and then some.
The Dark Arts TM
Liverpool aren't a team known for practicing the much spoken of "dark arts" in football, the euphemism for tactical fouling, time wasting and anything else in the spectrum of anti-football, as purists would say. In fact, they've ranked top of the Fair Play table for three seasons in a row now. However, any Reds fan would willingly swap that top spot for the one they're in now, and the key to this might just be the ruthlessness they seemed to have developed. They ranked lowest in terms of fouls per game (8.3) in the Premier League in 2018/19, but have increased that number by 15% this season, showcasing a greater willingness to stop play in the case of quick transitions against them. What's even more interesting is that in this game, their total was at 13 (WhoScored), their highest of the season thus far, and well above their now higher average (9.5). (WhoScored)
However, this wasn't the only tactic the Reds employed to disrupt Chelsea's rhythm in the second half, with both fullbacks and Adrian noticeably taking longer to re-start play in the case of throw-ins and goal-kicks, which Michael Oliver's booking to Trent was testament to. The irony wasn't lost on Liverpool fans though, amidst the boos at the Bridge, given Mourinho's Chelsea famously derailed the Reds title challenge in 2013/14 using the exact same means. Klopp, though, has now lost an excuse in case of a draw or defeat, since this game will no doubt be pointed out to him in case he offers it sometime soon.
Though I'm not quite sure he'll care too much, since he, and the Reds, are still 5 points clear at the summit. Long may that continue.