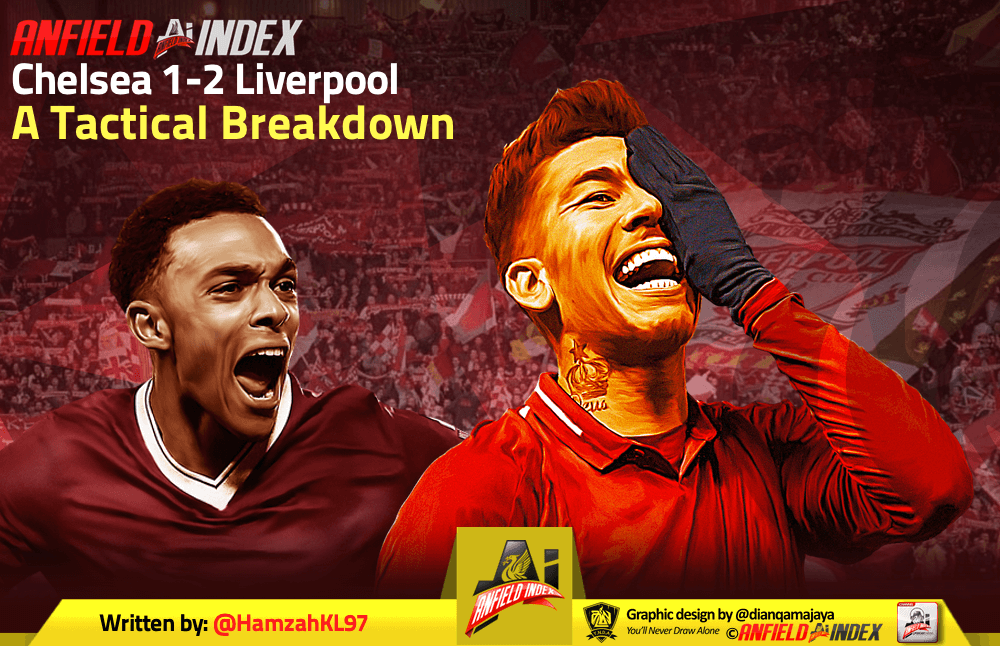 Chelsea 1-2 Liverpool: A Tactical Breakdown

After a series of relatively soft fixtures, a Champions League game away to Napoli followed by a match at Stamford Bridge five days later stood out as a particularly sticky and potentially troublesome duo.
Yet Liverpool are still flying high, having won their opening six league games, but questions about their performance levels remain.
Liverpool's first-half saw a strong performance, underpinned by two set-pieces which ultimately proved the differential between both sides. But tactically, the first half saw Liverpool press high and hard. Jorginho and Kovacic, both known for their technical ability and press resistance were harried and pressured, as was Chelsea's defensive line.
Much like the Napoli game, Liverpool looked to expose the oppositions left-sided centre back. When the opposition pushed forward, Jordan Henderson would clip through balls into the channel outside of the centre backs for Mo Salah to run onto. Unfortunately for Liverpool, a number of early attempts were cut out, whilst those successful ones were wasted by Salah, who was unable to break beyond the centre back and shoot on goal.
Nonetheless, despite this inefficiency in exploiting Chelsea's left-backs (Alonso was brought on for Emerson after the latter suffered an injury), Liverpool had other goal-scoring methods to draw upon.
In a number of league games this season, Liverpool have opened their scoring through either own goals or set pieces.
For Liverpool, taking the lead in a game is of paramount importance. Once Liverpool does take the lead, opposition teams, irrespective of their setup, are compelled to commit players forward in order to equalise. In doing so, they make themselves much more vulnerable in transition, as when they break from a defensive shape to an offensive one, Liverpool can counter-press, win the ball back and create high-value goal scoring opportunities. Similarly, when an opposing team is chasing an equaliser and in their in-possession system, they have likely pushed their forwards up the field, their fullbacks wide, and their centre backs up towards the halfway line. As they do this, Liverpool's forwards get the precise situations they thrive in: opportunities to run at pace either into space or against centre backs in one on one situations. From here, creating high-quality chances and goal-scoring ones is almost natural.
The key to allowing this change of game state, so that Liverpool are able to utilise their best qualities most effectively has been over the last six league games both own goals and set pieces, as highlighted. In some ways, this belies the team struggling to score in open play when scores are level, and the game state does not entice opposition teams to commit players forward, and hence Liverpool cannot play their preferred game. But at the same time, it also illustrates an elite level of efficiency in utilising and exploiting set pieces, which are an under-appreciated aspect of football matches, often with set-piece speciality being seen as emblematic of an agricultural, unsophisticated style.
It was set pieces that fundamentally shaped how the game developed in a tactical sense, especially in the first half. However, in the second half, Liverpool dropped off significantly, surrendered space and reduced their pressing output. In doing so, and looking to simply exploit Chelsea on the counterattack, Liverpool offered Chelsea an opportunity to impose themselves on the game – a product of dropping too deep and reducing their pressing by too much. Of course, both dropping off in positional and pressing terms is perfectly acceptable when leading, but to do so by such a significant extent, especially in the central areas, allowed Chelsea a sizeable amount of time and space on the ball in a threatening area.
With their two-goal lead, Liverpool generated some good chances, with one cross into Firmino saved well by Kepa, and another chance, created by a low Alexander-Arnold cross was cleared away off the line.
However, as the game went on, Liverpool looked fatigued, perhaps a product of the Napoli fixture, and as such, the side dropped deeper and pressed less. Eventually, this culminated in N'golo Kante breaking directly through the middle of the pitch and getting a shot away.
Adrian, despite his excellent performance, was unable to save it, with Fabinho & Liverpool's centre backs culpable.
From this point, Liverpool receded and surrendered territory easily. However, the offensive outlet still remained, but was both underused and on the occasion, it was utilised, it was done so ineffectively, thereby handing Chelsea the advantage. From the 72nd minute onwards, Chelsea dominated, with 5 shots to Liverpool's 0, and well over double the number of passes.
Often Liverpool can surrender the ball, and still control the game, but Liverpool struggled to control space, and the areas in which Chelsea were able to put the ball into, hence Liverpool actually did not control the game and appeared to hang on a little. Chelsea committed their fullbacks forward and their centre midfielders, looking to overwhelm and stretch the Liverpool defence. Yet Liverpool stood firm and managed to weather a very tough spell at the end of the game.
This was by no means one of Liverpool's better performances, but it was certainly one of the better results. Having performed below the expected level in a number of games this season, this was the first time in which Liverpool's underperforming was challenged and nearly punished. To maintain their win streak Liverpool will need to tighten up and reexamine their game management, which uncharacteristically slipped off. Perhaps it was a blip, but one of the greatest positives to take is that Liverpool are six from six, and haven't even looked near to their very best. There is plenty of room for improvement, but should Liverpool improve, they will be utterly formidable.