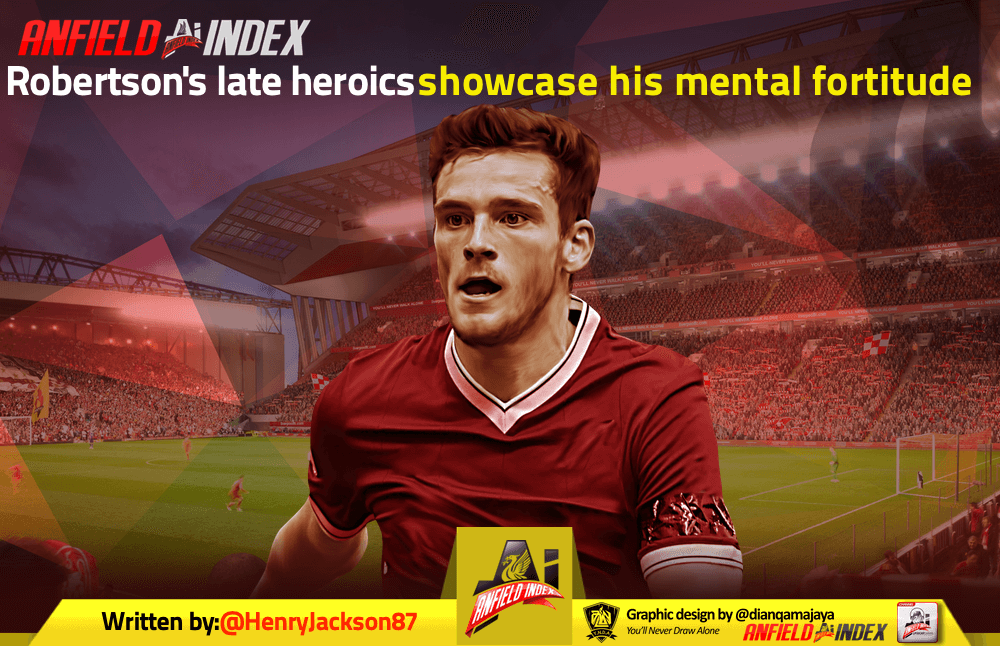 Robertson's late heroics showcase his mental fortitude
Approximately 6:15pm on Sunday, September 22nd: Liverpool supporters are going through hell.
Leading 2-1 at Stamford Bridge despite a shoddy, tired-looking second-half performance, they are on the rack away to Chelsea.
Mason Mount has already missed a glorious opportunity to ensure the Blues become the first team to take points off the Reds this season and they are making one last push for an equaliser.

Then Andy Robertson emerges as the left-back colossus we have grown to idolise, producing a moment that was celebrated as loudly as a goal by Liverpool supporters across the globe.
Scotland's captain picked up the ball, raced past several tackles and into the opposition half, before being scythed down by Marcos Alonso, effectively ending the game.
The ball was then kept in the corner for a few more seconds, before the final whistle sealed Liverpool's 15th Premier League win in a row, and also maintaining their 100 per cent start to 2019/20.
To some, it may just look like an unstoppable run by a top-class footballer, but there was so much more to it than that.
In the last few weeks, we have not seen the world-class Robertson that has emerged since joining from Hull City, outlining his status as one of the best left-backs on the planet.
A slightly more fragile version has appeared.
His form in the early weeks of the season was more solid than spectacular, albeit still good compared to most mere mortals in his position.
Then came the international break, which saw Robertson suffer torrid defeats to Russia and Belgium, and then receive the brunt of the anger from Scotland's supporters.
That is what happens when you captain your country and play for one of Europe's biggest clubs – it's always your fault. Darren Fletcher used to experience similar during his Man United days.
Robertson was visibly affected by the negativity coming his way, especially considering almost nothing other than glowing praise has headed in his direction in the past 12 to 18 months.
A proud Scotsman, it will have hurt him not to have been able to contribute more, struggling to impress in either outing, alongside far inferior players than at club level.
He returned to Liverpool no doubt relieved to be back on Reds duty, but more disappointment was to come.
Robertson looked to be carrying a knock throughout the Champions League opener away to Napoli last week, failing to affect the game in his usual lung-busting manner.
Then, with the match heading towards what would have a credible draw for Liverpool, he conceded a penalty, albeit having somehow not been aided by VAR, after the much-criticised technology agreed that he had 'fouled' Jose Callejon.
Virgil van Dijk may have been the one at fault for Napoli's second goal, lazily over-hitting a pass to Robertson, but even then, the left-back wasn't exactly razor-sharp in responding to the situation. Fernando Llorente did the rest and Liverpool had tasted a rare defeat.
Such is the prominent nature of social media in the modern game when Robertson decided to delete his Twitter account soon after the loss in Naples, it became a huge story.
There were rumours that abuse coming his way after the penalty was the reason behind it, but that has continued to be nothing other than guesswork.
Either way, it added to the idea that all was not well in Robertson's world, as he continued to go through arguably his toughest period yet at Anfield.
When Jurgen Klopp's men headed to Stamford Bridge, many eyes were on Liverpool's No.26 to see how he would perform, in a big test for Liverpool.
Robertson was his side's least noticeable player in a dominant opening 45 minutes, even though he did his job perfectly well.
Trent Alexander-Arnold fired home a stunner;  Van Dijk and Joel Matip were imperious; Fabinho dominated the midfield, helped impressively by Jordan Henderson and Gini Wijnaldum; the front-three all looked a major threat.
Robertson did cross for Roberto Firmino to head home the second, in fairness, but it was still a display that lacked its usual vibrancy and influence.
That continued into the second half until that memorable moment in the dying seconds arrived.
Had that come earlier in the game, at a time when the Reds were all over Chelsea, not too much would have been made of it, but this was different.
Considering what a difficult few weeks Robertson had gone through, this highlighted his mental fortitude to perfection.
At that point in a game, away to a fellow 'big six' team, many players would simply have launched the ball up the pitch or into touch, momentarily allowing the pressure to be eased.
But Robertson was so calm and intelligent in everything he did, seeing the opportunity to rid his teammates of another onslaught, clinching an invaluable three points in the process.
Elite players do that. Elite players with winning mentalities, who come to the fore when it matters most. Robertson falls into that category.
His dazzling run drew comparisons with the now legendary one-man press against Man City back in 2017/18, which seemed to gain him cult status at the time.
Robertson is well above that level of adoration now, though – he is fast becoming a modern Reds legend – and this latest piece of brilliance outlined his worth, standing tall despite not being at his best.
It will hopefully signal the end of a somewhat mediocre run by his ridiculously high standards, as he hits top gear for the remainder of the season.