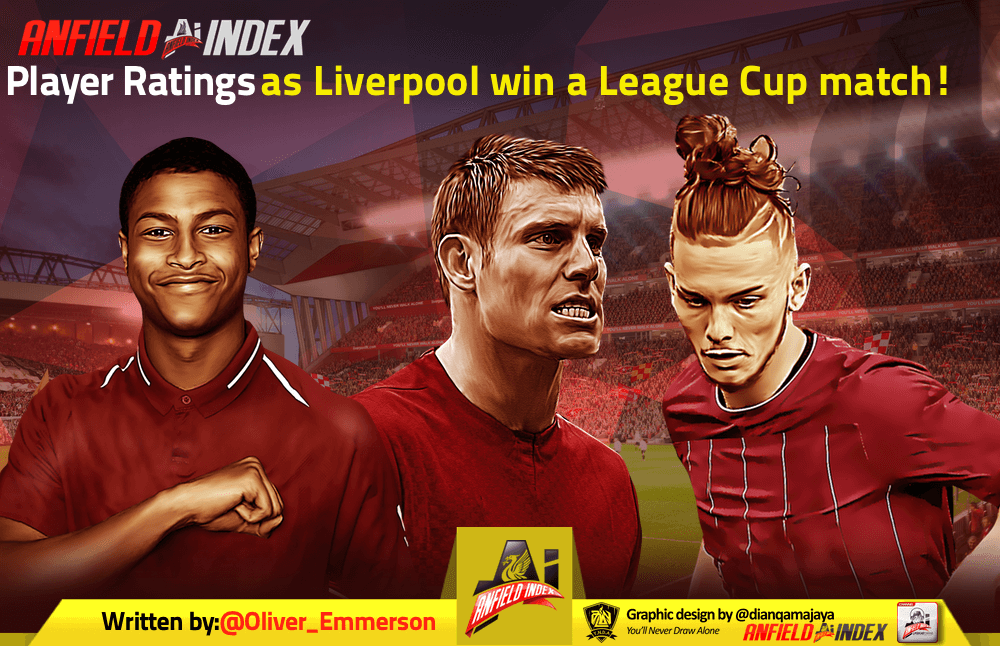 Player Ratings as Liverpool win a League Cup match!

Winning in the Milk/Carling/Carabao Cup, I'd honestly forgotten what it felt like. It's okay.
That was great fun though, in honesty. Watching Liverpool go past MK Dons by two goals to nil as a handful of talents make their debuts isn't a bad way to spend a Wednesday evening, with James Milner also getting his yearly non-penalty goal to put a smile on faces of Ribena drinkers everywhere.
Here are your ratings.
Big saves from a young Irishman
Caoimhin Kelleher (7): The first of the youngsters and the first of many positive scores. Kelleher had a quiet first half, during which he nearly got himself in trouble with a potential handball, but came alive in the second 45. An initial good save from a rasping strike from the edge of the area set the tone before a thrilling reflexes stop from a goal-bound header brought him serious acclaim.
Ki-Jana Hoever (7): Had the pleasure of seeing his debut at Wolves in person in January and he suggested again today that he's ready to play big-boy football. Good header for the goal, lovely leap to get on the end of Milner's cross.
Dejan Lovren (6): Had a bit of a shocker early on but I'll be generous and stick it down to a lack of game time, was better as the game went on, a goal-line clearance being his highlight.
Joe Gomez (6): One that you can tell hasn't really played since returning from injury. A little rusty, picked it up as the game progressed in a similar way to Lovren.
James Milner (7): Hahahaha. Did it his way, didn't he? "Fine boss, I'm playing left-back but I'm having a mad one." Was dipping in and out of defenders for fun, cracking shots off, gets a goal due to some crisp-packet hand goalkeeping. Nice assist too. Good work gets him some minutes to save Robbo's legs.
Ox going through the gears
Adam Lallana (6): Fucking hell, he actually played DM. It was as expected really, some nice turns and use of possession but a lack of any defensive control that was exposed when MK Dons had a go at 2-0 down. Happy if that's his role this season, number six in the domestic cups. Let's not try it in the league, please.
Naby Keita (6): Fairly quiet return to the scene, getting through 60 minutes unscathed will be welcomed. Plucked a couple of balls out of the sky with an incredible touch, satisfying stuff.
Alex Oxlade-Chamberlain (7): Played a very active role driving forward and supplying the front three, showed his pace and power in the second half, rattling one off the post. Looks to be getting back towards his best.
Front-three show talent
Harvey Elliott (8): Curtis Jones picked up Sky's Man of the Match but Elliott edged it for me. Showed the full range of his talents with good dribbling, passing, defensive work and pace. Even managed to crack off a few shots, will feel he should have scored as he hit the bar twice. Hard to believe he's 16, as much of a cliché that is.
Rhian Brewster (6): Frustrating night overall as the chances didn't really fall his way but showed enough glimpses to suggest he's got a future in this Liverpool team.
Curtis Jones (7): Looks a much stronger player than the one that got minutes at Molineux last season, used his body well to hold off a man and test the 'keeper. An absolute bag of tricks.