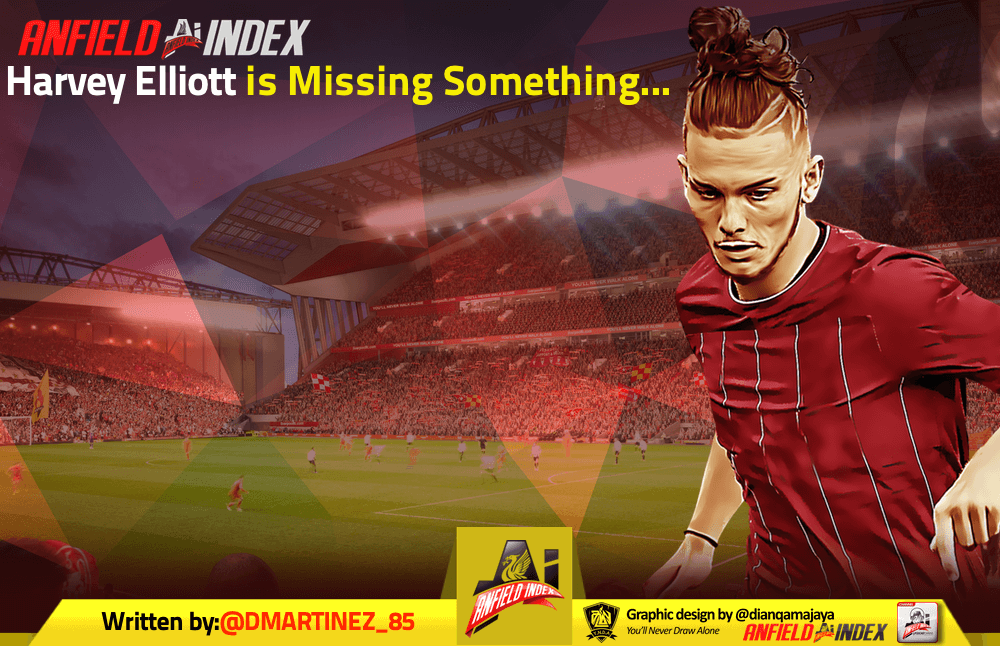 Harvey Elliott is Missing Something...
Typically, when a player as young as sixteen is standing out in senior football you can invariably bank on one of two things being immediately evident. Either:
a) The kid has a natural physique well beyond his years or;
b) He possesses absolutely electric pace.
Yet, for all the acclaim that Harvey Elliott's first team bow for the Reds has rightly drawn, neither of those things are reasons for the understandable wave of optimism surrounding his inaugural Liverpool performance. In fact, if anything, it was notable how lacking the ex-Fulham starlet was in both of those departments on Wednesday night.
Against MK Dons, Elliott looked every inch the kid that he is, at least from a physical perspective. A boy who is slight of frame, a little on the short side and with plenty of growing up left to do.
He wasn't sprinting away from players like an elusive whippet or ploughing through challenges that would leave other kids his age crumpled on the floor. He looked physically immature next to his opponents and his own teammates.
While no one would describe him as 'slow', he's evidently far from the jet-heeled, teenaged Michael Owen who burst onto the Anfield scene at 17 and regularly left players ten years his senior in the dust throughout the late nineties. Nor was Elliott bulldozing his way through opponents in the way that a burgeoning Wayne Rooney used to for Everton.
He was clearly lacking those two physical components that characterise most 'wonderkids': Speed and Size.
And this is a good thing. In fact, it might be a very good thing.
For a sixteen-year old to stand out in the senior game when his body is still clearly years of development behind that of his peers, he needs gifts that aren't apparent in most players of such an age. He needs to be serene where he could be rushed, calculated rather than impulsive and deliberate in everything he does. In other words, he must attempt to be the opposite of everything that we all are at sixteen years old.
It is incredibly harsh to ask such things of a kid, of course, much less one whose adrenaline levels must have been off the charts. Yet, those admirable and unexpected traits of maturity and quality were precisely what Elliott demonstrated in spades against MK Dons and are, in my opinion at least, the main reasons to be optimistic for his future at Liverpool Football Club.
While he still clearly has some growing up to do off the pitch (who doesn't at age sixteen?), at Stadium MK on Wednesday night, he looked wise beyond his years. The game intelligence and calmness on show from the youngster took the breath away at times.
There were no erratic choices made. No efforts to play a raking cross-field pass when a simple five yard one would suffice. No indulgent dribbles when the odds were stacked against him. No speculative long range shanks that sacrificed a promising team move at the altar of personal glory. In other words, none of the little mistakes that you would reasonably anticipate a kid making his debut to make.
He never tried too hard to stand out, but stand out he most certainly did. 
The maturity of the display was only enhanced by its contrast to fellow young hopeful Rhian Brewster's performance. While Brewster was – understandably – trying a bit too hard at times to make things happen and 'forcing it', Elliott was content to keep things simple and pick his spots to decorate the game when an opportunity arose, as demonstrated by his wonderful floated delivery to James Milner in the first half and his jinking run and curled effort against the bar in the dying minutes.
This was a debut from a teenager that really was extremely unusual. It was restrained and refined, a performance that was all the more impressive for the things that it didn't display as much as the things that it did.
It wasn't marked out by hustle, bustle, speed or raw, untamed power. It was all touch, finesse, smarts and maturity. Elliott looked like he belonged among the grown-ups as he glided across the turf, showing for a pass here, popping it off to a teammate in a better position there and – when the time was right – dropping a shoulder and showcasing his impressive natural ability to beat a man. You could ask for no more.
https://www.youtube.com/watch?v=hNkBE0R7vNA
Nothing is ever certain in football and it's important not to demand too much of promising young players. You just never know which teenaged sensation will become the next Robbie Fowler and which will be the next Anthony Le Tallec. There's no exact science to it and ability isn't enough to guarantee anything. For that reason, Liverpool fans should keep the Harvey Hype in check and allow things to progress free from the burden of unreasonable expectation.
Still, as Elliott floated around the pitch on Wednesday night, it was hard for one's mind not to look to the future and wonder about those absent attributes and the possibilities that potentially lie ahead if they emerge. Hard not to think of the player that they may help to create if they appear over the next few years and ally with the natural ability that is already so evident.
One need only look to the physical transformation Steven Gerrard underwent between the ages of 17 and 23 to see what is possible.
By the time Harvey Elliott enters his twenties he could conceivably be three or four inches taller, far more powerful and a damn sight quicker than he currently is. That is an exciting prospect. Conversely, maybe he won't evolve too much physically. Perhaps he will stay on the small side and have to rely primarily on his technique and intelligence as his career develops.
Judging by what we've already seen, he'll have a chance of making it either way.