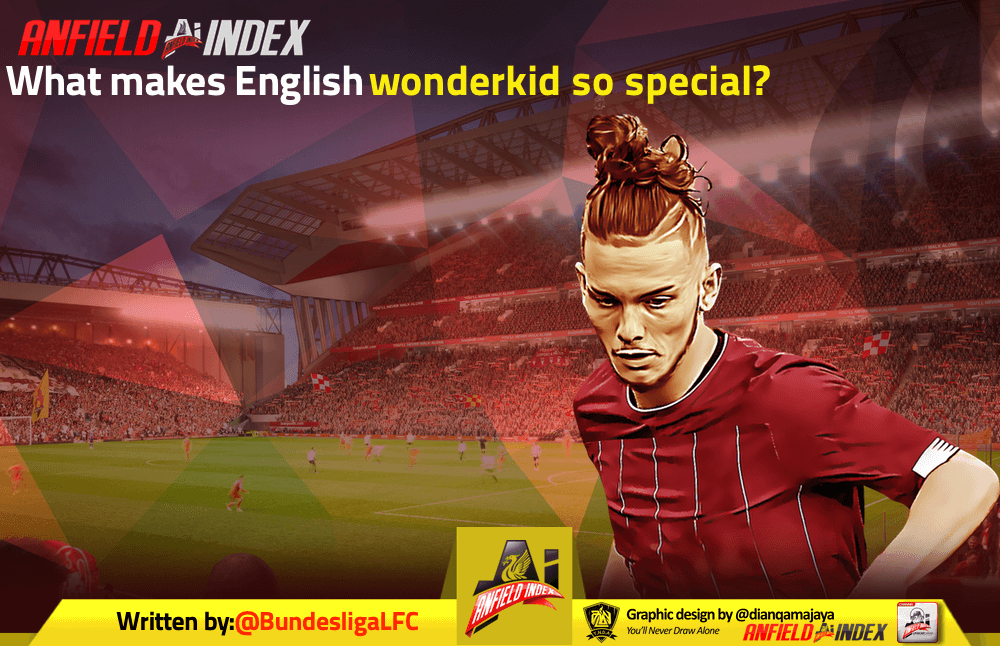 What makes English wonderkid so special?

There have been countless false dawns at Liverpool. Players tipped for greatness who ultimately fail to live up to the hype and fade into obscurity. Even those who do carve out a successful career in football regularly reach the heights promised.
Suso is turning out for AC Milan, he's been linked with Spurs and Barcelona but moves failed to materialise and he still calls the San Siro home. The Italian side are European royalty but they're in decline. 
Krisztián Németh was supposed to be the next great forward out of the academy but he didn't make a first-team appearance for the Reds and is now plying his trade in MLS. Similarly with Lauri Dalla Valle. He was hyped as a youngster and it was viewed as a surprise decision when he was included as part of the deal to sign Paul Konchesky from Fulham. The Finland under-21 international retired in 2017 to concentrate on his businesses outside of football. 
You can add Ryan Kent, Jordan Rossiter, Adam Morgan and others to this list, too. No doubt there will be players from this talented group of youngsters who end up following a similar path to those previously mentioned.
But Harvey Elliott won't be one of them. 
The 16-year-old became the youngest player to start a game for the Reds when he got the nod against MK Dons. Though he wasn't named Man-of-the-Match, that honour went to fellow teenager Curtis Jones, Elliott put in a performance to make Liverpool fans sit up and take notice. 
Deployed on the right side of the attack, the left-footed maestro went about dictating play. He may have finished the game goalless and without an assist but it wasn't through lack of effort. The former Fulham academy starlet hit the woodwork twice and floated a delicate pass straight onto James Milner's head. The Liverpool No.7, however, couldn't divert his effort into the back of the net. 
It was one of three key passes he played on the night to go along with the four dribbles he completed. In fact, the key pass total couldn't be bettered by anyone and his pass accuracy was close to 90 per cent. That highlights Elliot's talent and use of the ball given the majority of his passes were probing, risky ones. 
Though plenty of what he did against MK Dons would make a highlight package on YouTube, what really stood out on the night was how intelligent he is. 
Assistant coach Pep Lijnders spoke about it in the build-up: "Some players, they play as if they already, say, 28 or 29, he's a player who sees so much around him before things happen. He is a talented boy. I don't want to put him under more pressure, but we're really happy he is with us."
His footballing brain is what makes him different to other highly-rated youngsters. You see, what usually makes players stand out in their age group is something physical. They score 70 goals in the youth teams not because they're clinical finishers but because they have pace their peers don't. If they don't have that acceleration then they possess another physical trait which gives them that advantage. Whether that be height or sheer physicality, in the lower age groups it's an unfair match-up and this is why they thrive. It's also why when they make the step up to senior football and they're up against physical equals they seem to lack that spark that made them stand out. 
But there's nothing physically remarkable about Elliott. He's tiny, both in height and in terms of his frame. He's not quick but, by the same token, he isn't slow. It's only when he gets on the ball that you notice just how technically brilliant he is. How proficient he is when in possession and how he manages to manipulate space to create more of it for himself. 
He's a difference-maker and a game-changer. Whatsmore, he'd be able to do that no matter what opposition he comes up against. Why? Because he plays the game two or three steps ahead of others. 
He may have honed his craft elsewhere but it's under Klopp and Lijnders that he can fulfil the abundance of talent he has. Elliott is one to watch. He looks destined to be a genuine success story.