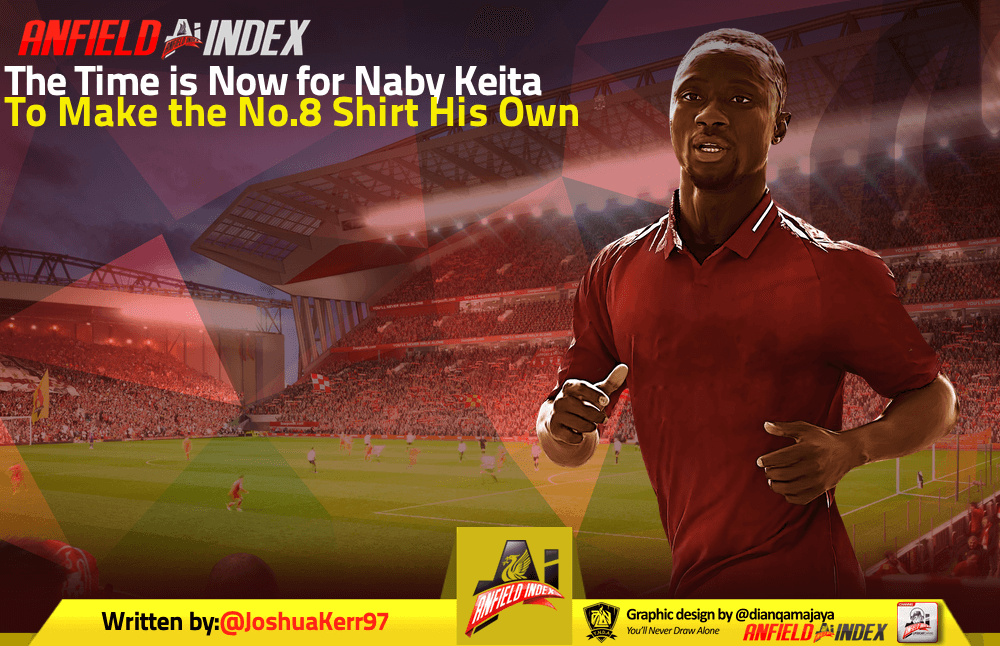 The Time is Now for Naby Keita to Make the No.8 Shirt His Own
It can be quite a daunting process trying to live up to the hype that surrounds your demeanour and reputation once you become a part of the Liverpool family. And, for Naby Keita, the £52 million player has found this particularly challenging. Despite a false start to early proceedings with his new club the player could be forgiven for finding everything quite overwhelming during his early Anfield tenure.
For any newcomer, it can be difficult to adjust to life at a new club. But for Keita, this has been something entirely on a different scale. The Guinean midfielder arrived on Merseyside in July 2018 hoping to fill the void that had been left at the club following a certain club legend's departure only a few years before.
It can be intimidating for anyone to have to follow in the shoes of a predecessor before them, but for Keita, the consternation that comes with the No.8 shirt bares is of a gargantuan scale.

It's no secret to any Reds supporter that no Liverpool player has had to bear the weight of the famous eight shirt since Steven Gerrard departed the club back in 2015. However, the notion of any player being able to emulate the success of arguably the greatest ever player in the club's illustrious 127-year history is almost unquantifiable.
That said, no sane person would expect Keita to immediately fill the hefty shoes nor replace the perennial figure that was once the former Champions League-winning captain, but still, that is the weight that comes with that particular red jersey.
Keita's anaemic figure in recent months can almost be forgiven with the burden that has followed him from Leipzig to Merseyside. However, despite the turmoil and injury setbacks the 24-year-old has had to carry on his shoulders there is still the belief that Keita can still become one of the legendary figures that supporters had initially tipped him to be.
Despite FIFA's Coach of the Year Jürgen Klopp constructing one of the finest Liverpool's squads in its history, there is still a sense that the German manager's No.8 offers something a bit different to the rest.
When given a run of games and momentum to build on, Keita has played with a swagger and flamboyance that some of Liverpool's midfield simply do not have in their locker. His ability to read and break through enemy lines whilst honing a subtle, dynamic presence on the ball is something that has had supporters on their feet but it is also something Kopites will demand on a more regular basis.
Despite an injury-ridden inaugural campaign, there were some significant highs for the former RB Leipzig midfielder. Back in April, he scored Liverpool's fastest goal in the Premier League era after seeing the net bulge inside 15 seconds to open the massacre against Huddersfield Town.
This came only 21 days after his first Liverpool goal and this was a moment of tectonic importance to the Red's 2018/19 campaign. Rewind to April on rare Friday night Premier League encounter that saw Klopp's side trailing to Southampton at St Mary's with their title credentials on the verge of collapse. Despite the behemoth and irrepressible attacking trident of Mohamed Salah, Sadio Mane and Roberto Firmino all being at Klopp's disposal it was Keita who managed to marshall the troops and halt Liverpool back into the game with his first Liverpool goal – a match they would ultimately win 3-1.
It became obvious that Keita's maiden Liverpool goal filled the Guinean with unbridled confidence and this was something that he would carry into his next match, a Champions League quarter-final, to once again find himself on the scoresheet after opening the rout against FC Porto under the lights at Anfield.
Confidence was showing, Keita was beginning to develop an aura and it was one that seemed to be heading towards something special. By the end of April, Keita had scored three times in the space of five appearances. This was a man possessed to succeed.
Keita's performances and ability to unlock defences even saw him earn a rare start away in the Champions League to Barcelona, despite being previously overlooked in crucial Premier League trips to Manchester City and Manchester United.
Finally, Liverpool's third most expensive signing in their history was beginning to earn the faith that he could affect the big games and repay his manager's unwavering faith.
However, once again, injury would derail and destroy his progress. After being stretchered off in the first half at the Nou Camp, Keita would go on to miss the Champions League final and would later make injury matters worse by returning ahead of schedule to feature in the African Cup of Nations.
Unsurprisingly, this would mean that Keita would go on to miss virtually the entirety of pre-season for the Reds as a result and had once again lost the momentum he was so desperate to maintain just a few months ago.
Flashes of brilliance and a strikingly humble personality have meant that Kopites still believe that Keita can still emerge a cult hero. He came off the bench in the Community Shield against Manchester City to add some more guile and flair in a second-half performance that completely bewildered the Premier League champions.
Once again, injury would follow after a hip problem would emerge on the eve of the Super Cup in Istanbul six weeks ago where Klopp confirmed Keita was supposed to start.
Since then, supporters and the media have grown enticingly interested in the progress of the Liverpool midfielder and many have been patiently waiting for Keita to return and make his mark.
A 60-minute cameo in the Carabao Cup against League One side MK Dons saw him depart to a standing ovation from the 6,692 travelling fans before being embraced by his manager who knows how important each minute will be to getting Keita back into the fold.
"Naby looked good in moments, really good, but he has to adapt to the position again," Klopp remarked in his post-match press conference.
"You saw it with Ox (Alex Oxlade-Chamberlain), too. That's how it is when you've been out for a while.
"In moments, you saw what an incredible player Naby is and how important he will be for us but we don't need to rush it. We can use Naby again now and that's good for us."
With Keita fit and making up for lost time, it's the period where he will be desperate to get off the never-ending rollercoaster that has endured since his arrival on Merseyside and he will look to begin fulfilling the potential that no-one can deny is there.
If there is any manager in the world that has an act for rekindling the spark of young prodigies, then look no further than Klopp. After being named the best coach in world football for 2019, Keita will have no fear that he is in the wrong surroundings to take his game to another dimension.
Anfield expects, and this is Keita's time to deliver.