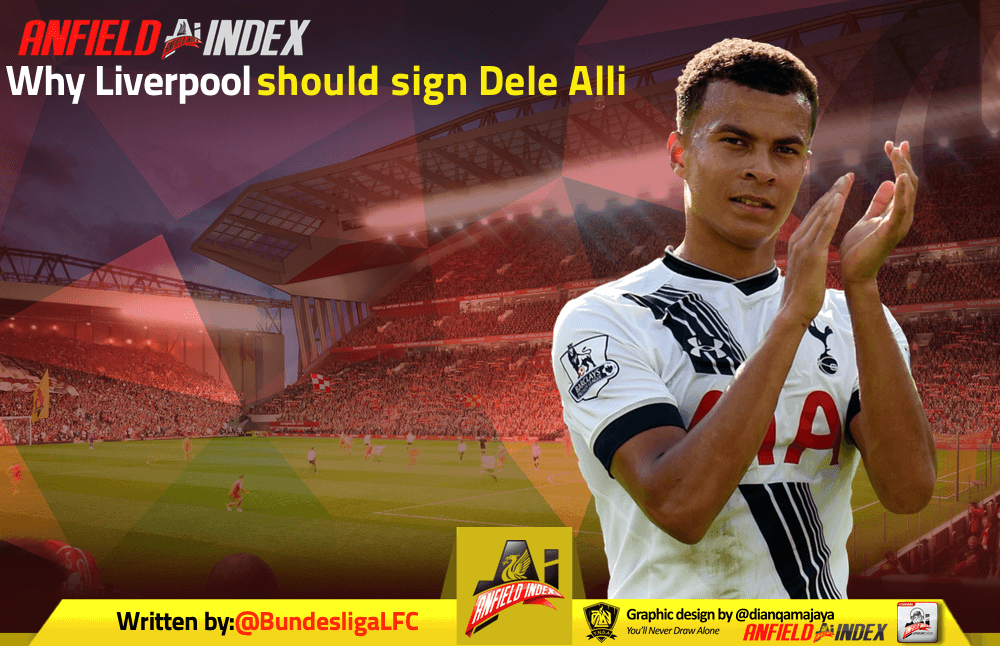 Why Liverpool should sign Dele Alli
In all honesty, Dele Alli should already be a Liverpool player and had Steven Gerrard been a little more punctual then he would be.
Before Alli had even held talks with Tottenham, the Reds made their move to land him. Brendan Rodgers had talks with MK Dons boss Karl Robinson and a package was being worked out to secure the services of the teenage star. As Alli revealed during an appearance on Football Focus a couple of years back, the boyhood Liverpool fan made the trip to Merseyside and was excited to meet his hero.
"At the time when I was at MK there was contact with Liverpool before I signed for Tottenham, but that was before we'd even spoke to Tottenham. I think it was six months before.

"We went up there and I think they knew that Steven Gerrard was my hero, so they said he was going to come down to meet me, but when I got there he was asleep apparently. I think he had a game the next day though so I understand."
It wasn't to be and Alli signed for Spurs a couple of months later in a deal worth £5million. He took to the Premier League like a duck to water, scoring ten goals during his debut campaign. He followed that up with an 18-goal showing during the 2016/17 season. By this point the teenager wasn't just matching peak Gerrard's output as an attacking midfielder, he was bettering it.
At the time, every goal was a kick in the gut for a Liverpool fan.
He hit 14 in 50 appearances the following season and then netted seven in 38 last season from a slightly more withdrawn role. His form was a concern for many, the drop off in goals was too great to overlook and context wasn't really something pundits wanted to deal in. Due to injuries to midfielders coupled with Heung-min Son's form, Alli was used more as a centre-midfielder as opposed to a second striker. He also struggled with injuries.
His form may have been patchy at times but he's still a 23-year-old midfielder with 42 goals in 131 appearances for Spurs in the Premier League and 53 in 184 games in all competitions. He's averaging a goal every three games without taking penalties and he's still nowhere near his peak.
Like with many other players under Mauricio Pochettino, the former MK Dons man appears to be stale now. He might need a change of scenery to get his career back on track. After all, this is now his fifth season with the club and football goes in cycles. After a while there either needs to be a refresh in terms of squad personnel, something Spurs haven't really done properly for a while, or the player needs to move on.
During Alli's second season with Spurs, Real Madrid reportedly wanted to sign him. In the past, he's also been linked with a move to Manchester United and a £100million fee was being mooted.
His stock, however, has dramatically fallen. While he still has a long deal to run, his contract lasts until 2024, it's safe to say Spurs wouldn't hold out for £100million. Not for a player who is no longer a guaranteed starter due to the form of Son and Moura combined with the arrivals of Giovani Lo Celso and Tanguy Ndombele. Alli doesn't have a set role in the team due to his versatility, either.
In fact, Pochettino doesn't know his best team or his best system these days. It's hard for players to thrive when they aren't in the right environment.
Liverpool never used to buy from rivals but the tables have turned recently. The Reds, along with City, rule the roost in the Premier League. They have money to throw around and their salary budget isn't as strict as it once was. One deal could strengthen them and weaken a top-six opponent. It's the sort of move United used to make all the time. The sort City made as they clawed their way to the top.
The sort Liverpool are yet to make to really flex their new-found muscle.
This wouldn't just be a powerplay, either. Alli would improve the squad. He seems to have the perfect profile to play as a No.8 for Jurgen Klopp and the Reds will have to start planning the next phase of their middle third. Adam Lallana and James Milner aren't getting any younger, Jordan Henderson's games will have to be managed more over the next few seasons, especially with that heel injury of his.
Alex Oxlade-Chamberlain is still an unknown after returning from injury and Naby Keita hasn't hit the form he showed while playing for RB Leipzig just yet. There could be room for a midfield addition. For the right fee, Liverpool could bag themselves a bargain if they managed to convince Spurs to part with their No.20. In doing so, the club could right that wrong from 2014.