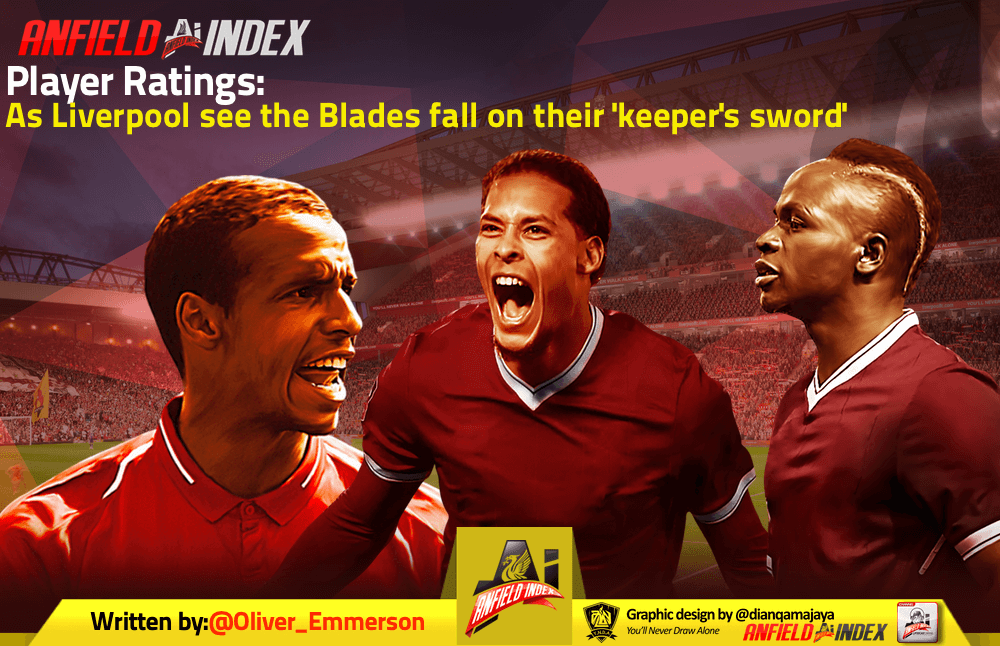 Player ratings as Liverpool see the Blades fall on their 'keeper's sword'

We're going to have to start playing a little better if we want to win the league, but seven wins from seven and I'm happy.
After four away games I'm excited to get back to Anfield on Wednesday for the Champions League, however first there are some player ratings to attend to.
Imperious Virg
Adrian (7): Makes a couple of really good saves that would normally push him up to an eight. Unfortunately, his kicking let him down with a few wild ones going straight out for a throw, whilst he didn't look particularly comfortable on corners.
Trent Alexander-Arnold (6): Was okay. Nothing more or less. Absolute shocker of a free-kick though.
Joel Matip (6): Stood up to a tough test fairly well bar the odd moment, some lovely passing too. McBurnie is a decent striker and Robinson can be a handful, so there's no shame in getting a six. My main issue was that he got flustered a couple of times, was cool in some areas but not in others. Thankfully, his partner was up to the task.
Virgil van Dijk (9): Makes being the best centre-back on the planet look so easy. Was noticeably pissed off with everyone around him failing to get their shit together at one point, so he just started doing it all himself. Winning headers, tackles, interceptions, the absolute works. Good thing we got a winner or I'd have feared for the other players.
Andy Robertson (7): Wasn't that impressed with him in the first half, came alive in the second though. That block from Fleck is absolutely superb, covering an insane amount of ground and judging the time to jump in perfectly.
Not a day for Henderson's
Fabinho (7): Got twisted and turned a couple of times but did a lot of good work regaining possession and getting the Reds on the front foot.
Jordan Henderson (5): Not his day, looked like he'd forgotten how to play football. Kept pulling wide to support Trent, kept being absolutely useless in doing so. Think Ox is more useful against the deep block, Henderson can excel in the eight but he's never going to unlock a defence for you.
Gini Wijnaldum (6): Cracking connection with the ball for the goal like, however I'm afraid he's not getting away with another fairly anonymous away display just because crisp packet hands threw one in for him.
Improved performance from Salah
Mohamed Salah (7): Thought he was the best of the front three today, didn't stop running and fashioned the best opportunity of the first half, couple of decent snapshot's. Should have scored one, the goals will start flowing again soon.
Roberto Firmino (6): Was alright but that's the best a team has defended against him this season and it showed.
Sadio Mane (5): If you want people to pass to you, you need to score mate.
Subs
Divock Origi (7): Really good impact from the bench. Put himself about, was direct and dangerous, nice return from injury.
James Milner (6): Had legs. Moved them in a slow fashion.
The Ox (N/A): Haven't the time to write out his full name, Manchester City fans to rattle on Twitter and so on.