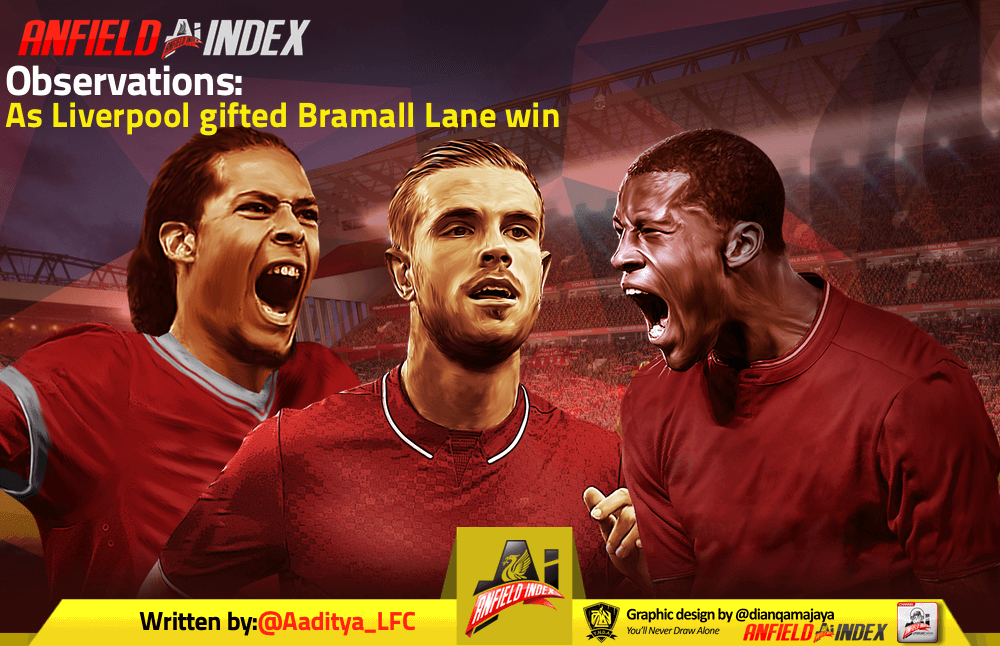 Observations as Liverpool gifted Bramall Lane win
In the end, it was a gift that made the difference. It should never have come down to that, with Sadio Mane missing two gilt-edged first-half opportunities, but Dean Henderson failing to catch a relatively straightforward Gini Wijnaldum volley gave Liverpool a 1-0 win in a hard-fought encounter at Bramall Lane, against Sheffield United.
The Reds were made to work hard by Chris Wilder's team, who had some fairly presentable opportunities of their own. But, in the end, with their 16th consecutive win in the Premier League, Jurgen Klopp's side maintained their perfect start to the season.
Here are the big talking points from the game.

It should never have been that close
Yes, Sheffield United were very good. Yes, they made Liverpool work incredibly hard for the win. But in the end, Liverpool missed three chances to score when they were one-on-one with the goalkeeper. You'd generally bet your house on Sadio Mane scoring with the two chances he had, or on Mo Salah scoring the chance he got, but it wasn't to be. Now, we're talking about it being a lucky win, but in truth, on the balance of chances created, the Reds really were deserving winners.
Virgil van Dijk is a colossus
Yeah, I know you will say you already knew that. But every time van Dijk takes the field and plays like that, you feel the need to reiterate how good he is. Oli McBurnie and Callum Robinson, and later Lys Mousset, ensured it was a trying afternoon for the Reds rearguard, but van Dijk was enormous.
He hardly lost a duel in the air, he was magnificent in cutting crosses that came into the area, and just exuded general bossness on the pitch. It was his ability to read crosses, in particular, that was of biggest importance on the day, because of Sheffield United's game-plan. On several occasions, Enda Stevens and John Fleck were able to whip in crosses from the left flank, only for them to be met by van Dijk.
Fabinho keeps on doing his job quietly
There is a conspicuous absence to Fabinho's brilliance on a football pitch. But he's always there – shutting things down, making an important tackle here, an interception there, maybe even a dribble to get his side out of trouble. And all of that was needed at Bramall Lane today.
Jordan Henderson and Wijnaldum didn't really have the best of games, and against an eager Blades midfield, it was important for someone to get stuck in, and that was Fabinho. Immense display, a couple of sloppy moments notwithstanding.
Trent's defensive issues need fixing
For all his attacking prowess, there's a feeling that Trent Alexander-Arnold does leave Liverpool a bit exposed on their right flank. He was often caught too narrow or too high up the pitch, leading to easy transitions of space for Sheffield United. His usually top-notch delivery and crossing were not at the level that it's expected to be, though. Can you put that down as just an off-day? Maybe, especially given the number of Liverpool players on the pitch who were sub-par. His attacking output means it's tough to drop him as he is now one of the top play-makers for the team, thus it is more imperative that he tightens up defensively, or that the team does the job for him, with one of the midfielders dropping in.
The Streak goes on
16 in a row in the Premier League. 21 points from 7 league games this season. Couldn't be happier as a Reds fan, could you? Well, maybe you can, if you are, like most of us, in the knowledge that the best is yet to come from this team.
Mostly a top-class football team, sometimes a lucky football team, but Liverpool just keep on racking up the points. Against the opposition of City's calibre in the title race, that's all you can do, really. Keep the points moving for yourself, and just hope for favours along the way. Liverpool have started well, on that front.