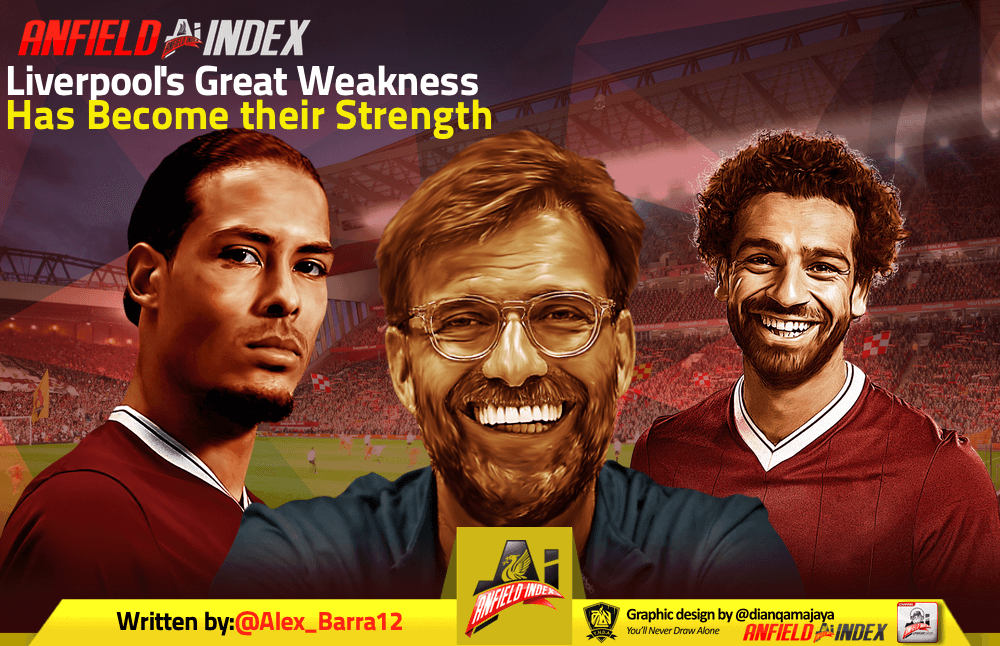 Liverpool's Great Weakness Has Become their Strength
It's an interesting thing, the human brain. Driven by logic and reason, capable of assessing situations and providing a thoughtful and rational response. Yet subject it to serious trauma, and suddenly that rationality gets chipped away, slowly but surely, until the horrors of what once was, murk what actually is.
Case in point. Sheffield United and Liverpool were at a stalemate. Liverpool were lacklustre, and the chances they did have were being spurned. It was, to put it colloquially, "one of those days."
Except, here's the thing. "Those days" don't exist anymore. "Those days" are a thing of the past, a lingering trauma that has hung over the heads of Liverpool fans for over a decade, gnawing away at them while the scoreboard remains unchanged. No Liverpool fan could genuinely say they would be surprised if Sheffield United took points from the European Champions on the weekend, and yet, that is plainly untrue. They should be surprised.
Because this isn't the Liverpool of old. This is a Liverpool side that hasn't lost to a team from the bottom half in twenty months.
What was once the Achilles' heel of those in Red, has now become their divine strength.
League defeats against non-Big Six teams over the last 20 months:

10 – Man United, Arsenal
9 – Tottenham
8 –
7 – Chelsea
6 –
5 –
4 – Man City
3 –
2 –
1 –
0 – Liverpool

— Daniel Storey (@danielstorey85) September 26, 2019
Revisiting those very performances gives an inclination towards just why Liverpool's fans don't trust their team when it's 0-0 and they're playing as badly as they did against Sheffield United.
In Brendan Rodgers' final full season at the helm, Liverpool managed to score two goals in total against Crystal Palace. Both home and away. Palace scored a combined six. Liverpool's two goalscorers were Adam Lallana and Ricky Lambert. It was the same season where Rodgers' team lost at the KC Stadium and, unforgivably, 6-1 at the Brittania.
Was it just a Rodgers thing? Of course not. In Klopp's first half season, his side was bested by Alan Pardew (by Palace, at Anfield), Steve McClaren (Newcastle), Quique Sanchez Flores (Watford, in a puzzling 3-0 rout), Slaven Bilic (West Ham) and Francesco Guidolin (Swansea).
Then, in Klopp's first full season at the helm, things only got marginally better. Burnley beat Liverpool on the second matchday, Bournemouth exposed his side's notoriously porous defending and once again he couldn't find a way to beat Swansea at the Liberty.
Yet, Klopp identified the holes in his side, he saw where his side was weakest, and constructed a team built to beat the bottom fourteen teams in the Premier League. Virgil van Dijk – whose performance was once again colossal at Bramall Lane on the weekend – stopped the ridiculous individual errors seeping from the back line. In pairing him with Joel Matip, Klopp has built a superb defensive partnership.
Creativity – which was starved during Klopp's first two seasons when coming up against a low block, soon came from the fullbacks – meaning teams couldn't just sit back and let the lethal crosses enter their box.
But most importantly, there was a punishment mentality. Make a mistake, slip up in any way, and the Reds will punish you.
It happened twice on Saturday – Salah missed a one on one after pouncing on a poor Sheffield United pass, and Mane hit the post after Liverpool won the ball back high up the pitch. This Liverpool side needs only one mistake to ruin an opposition team's day.
Of course, there is a fair share of luck involved too. Per Anfield Index's Dan Kennett, Liverpool's league opponents have only scored two of their last 16 "big chances" (as defined by Opta). Even without Alisson in goal, that is both a commendation to his understudy Adrian, and a signpost of how lucky Liverpool are getting.
3 things to keep an eye on today #LFC
1) Our opponents have only scored 2 of their last 16 "big chances" in the EPL. 12.5% conversion vs league average 38%

— Dan Kennett (@DanKennett) September 28, 2019
Or, is it because opposition teams know how rare it is to triumph against Klopp's side? Perhaps they've come to the realisation that this isn't a side that gives away goals to opposition anymore, and that if they get the chance, they best take it.
Curiously, it's not just Liverpool, either. Manchester City may concede the fewest shots, but the shots they do concede have the highest xG per shot of any team in the Premier League. That means when City do concede shots, they really ought to be conceding goals.
The bottom line? Both teams are exceptionally. The reality? Both teams are still exceptionally dominant.
Liverpool have taken 99 points from their last 38 games. Of the 20 teams in the Premier League, they should be beating 14 regularly. Liverpool fans were once scarred by their team's continued failure to do so.
Now, they can relax, because the saying "it's one of those days" is a thing of the past.