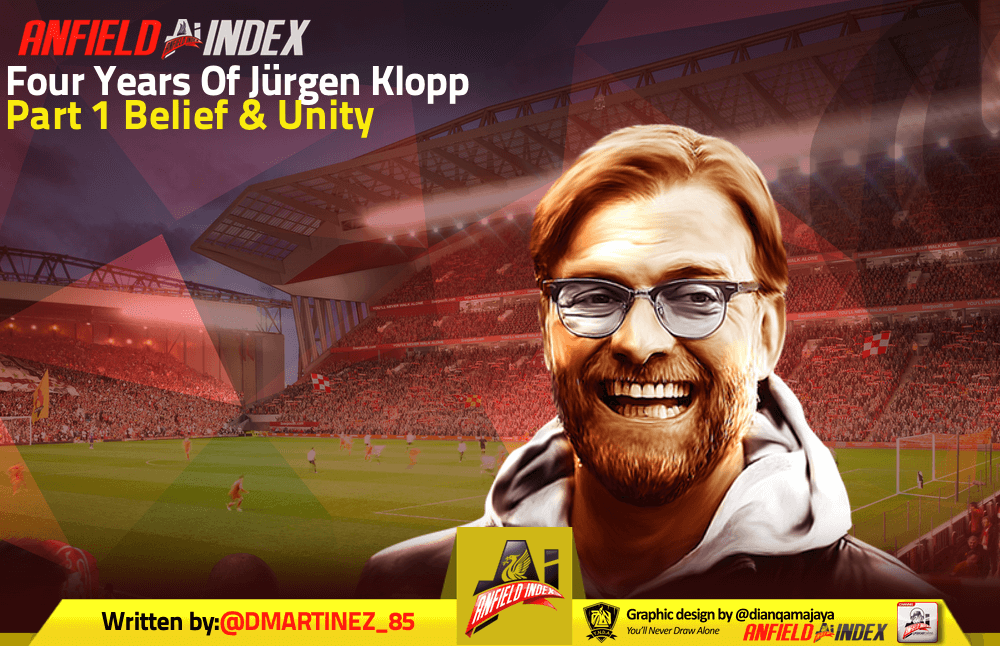 Four Years Of Jürgen Klopp - Part 1 Belief & Unity
Next week will mark four years since Jürgen Klopp took charge at Anfield and began the process of transforming the Reds from Premier League also-rans into one of the dominant teams in world football.
Over the next few days I'll be reminiscing about some of the crucial games and moments that have stood out along that incredible journey. We begin with this:
Liverpool 2-2 West Bromwich Albion – 13 December 2015
Liverpool XI: Mignolet, Clyne, Lovren, Skrtel, Moreno, Henderson, Can, Milner, Lallana, Benteke, Coutinho
Subs: Toure, Firmino, Leiva, Allen, Origi, Ibe, Bogdan
Goal Scorers: Henderson (21), Origi (90+6)
A draw at home to a Tony Pulis led West Brom side may seem like a peculiar place to begin a retrospective series like this. Granted, it is strange when you consider the plethora of incredible results and performances that Jürgen Klopp's Liverpool have delivered over the past four years. But this game meant a lot. Or at least, the aftermath of it did.
While the match itself was a largely frustrating and forgettable affair (not an uncommon occurrence at Anfield back in 2015, it should be noted) the day as a whole proved to be a seminal moment in the embryonic stages of Jürgen Klopp's Liverpool career.
It was the start of a healing process and one of the first steps on a journey that would ultimately lead to Liverpool climbing out of an abyss and returning to the summit of European football.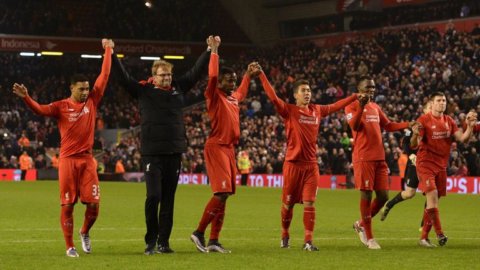 It's easy to forget exactly what Liverpool Football Club was like when Jürgen Klopp touched down at John Lennon Airport for the first time, but it's worth reminding ourselves briefly.
He walked into a damaged football club personified by its beleaguered fan base. Large swathes of supporters had had their fill of watching many of the players and suspicions still lingered when it came to the club's American owners, Fenway Sports Group. The unceremonious sacking of club icon and former manager Kenny Dalglish in 2012 had also left a bitter taste in the mouths of many fans. That ill feeling had endured long after his departure and in spite of an enthralling but ultimately unsuccessful title tilt overseen by his successor Brendan Rodgers in 2013/14.
In December of 2015 the ground, phone-ins, message boards and social media platforms were bursting at the seams with Liverpool supporters who remained unconvinced whether FSG's 'Moneyball' approach which had served them so well over in Boston for the Red Sox Baseball team would translate effectively to European football.
While every Kopite was understandably enthused by Jürgen Klopp's appointment as manager, there was still plenty of acrimony and scepticism in the Anfield air thanks to the tumultuous years that preceded the German's arrival.
It's important to note also, that 2015/16 was the first season in almost twenty years that there was no Steven Gerrard or Jamie Carragher taking to the pitch for Liverpool. A connection with a top class local player was absent for the first time in decades and it was apparent. One need only take a look at the starting XI at the top of this page for it to become immediately obvious that this was a team not only lacking leaders, but also players who genuinely connected with the fans.
The detachment and apathy felt from supporters towards the squad was almost palpable at times.
With hindsight, it seems clear that Klopp sensed this malaise early on and duly set about reforging the bond between his players and his new set of supporters. That process would begin in earnest against West Brom.
Unity between fans and team was something that had played a big part in his success at Dortmund. His Borussia team had harnessed the power of their 'Yellow Wall' and his new side desperately needed to do the same with the Kop. While Jürgen is a self-confessed football romantic, he's also a pragmatist. He knows better than anyone that it's a damn sight harder for opposition teams to win at Anfield if the atmosphere is rocking and belief is flowing through the veins of 50,000 screaming fans and the eleven lads wearing the red shirts. Big atmospheres look and sound great, but they also help a team to win.
Belief. That word is key.
In the winter of 2015 belief was something sorely lacking at Anfield despite the recent arrival of the highly coveted, charismatic coach. Supporters didn't have faith in their players and there was a distinct lack of unity permeating throughout the club.
It gets forgotten as time has moved on, but Klopp expressed his exasperation with the Anfield crowd and the fan base at large on several occasions during the first few years in England. He publicly criticised how quickly supporters turned on players and audibly reacted negatively to mistakes in the ground. He could barely conceal his anger at the number of fans who – literally and metaphorically – checked out of Anfield before the final whistle of games that weren't going Liverpool's way. He's a man who has repeatedly emphasised the need to savour and appreciate football and the cynical, fatalistic noises that were emanating from the Anfield crowd and beyond in 2015 seemed to perplex him every bit as much as they enraged him.
It was painfully obvious that he wanted this apathetic environment to change and to engender a more positive, encouraging and inclusive atmosphere among the fan base. After the final whistle of this otherwise unremarkable draw against a mid-table West Brom side, he set about reversing the malcontent that existed between the Anfield crowd and his players.
In a move that would lead to a raft of negative press coverage, round the clock debate and no shortage of mockery, Klopp took his players hand in hand to the Kop at full time. He and his team stood in a line on the edge of the penalty area and saluted the crowd in a manner that is usually reserved (on these shores, at least) for the aftermath of a significant victory or the securing of a trophy.
The Kop rose to its feet and returned the team's salute with appreciative applause.
It was a risky move for a newly installed manager to make. Plenty of crowds would have given their team the bird for saluting in such a manner after dropping two points at home to weaker opposition. It could easily have been – and, outside of Liverpool's fan base, it was – misinterpreted. Indeed, the action was labelled by many as 'small-time' and used as an example for how low Liverpool's standards had fallen.
'Celebrating a draw with West Brow?! How cringe!' was the commonly heard refrain.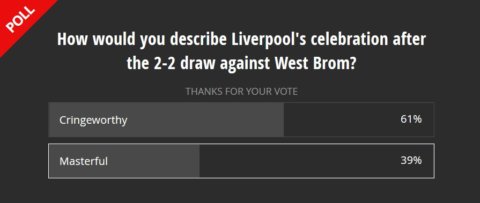 Of course, as any right-minded individual knew at the time, Klopp didn't take his players to the Kop End for the purpose of 'celebrating' the draw. Instead, it was a calculated move designed to send a message to the Liverpool fans who had stayed with the team throughout a hard-fought game and been rewarded with a last-minute Divock Origi strike.
The message was clear: 'When you are with us we can achieve more. Stick together.'
The manager has since spoken at length about the circumstances surrounding this moment and provided further clarification, if any were needed, on his motives regarding that 'celebration'.
"I really wanted from the first day that the people know about their importance," Klopp told JOE.
"In football, people always say it – that supporters are important – but then you don't treat them like that so you have to make sure it's really a healthy relationship.
"We know without them we wouldn't play on our highest level, no chance. You have to appreciate that and it's very easy for me, but it's still very different routines in England and in Germany.
"There was a big misunderstanding against West Brom. I wanted to say thank you to the supporters after that game so I took my team towards the Kop to do it and there was a discussion everywhere about it. For me, it was 'why should we even discuss that?'
"But I had to learn that English people are not used to that kind of thing.
"I wanted to show that we really are one unit, 100 per cent one unit. That means I know I am responsible for the performance, but the people are responsible for the atmosphere."
100 per cent one unit.
That reads like a perfect description of the current state of Liverpool Football Club in 2019. Every last-minute winner, every improbable comeback, every blistering Anfield atmosphere that Liverpool have played and prospered in over the past few years can have its roots traced back to that gloomy day against West Brom in December 2015. It was the day that Jürgen Klopp really began to change things for the better.
It was the day that unity and belief were rediscovered at Liverpool Football Club.