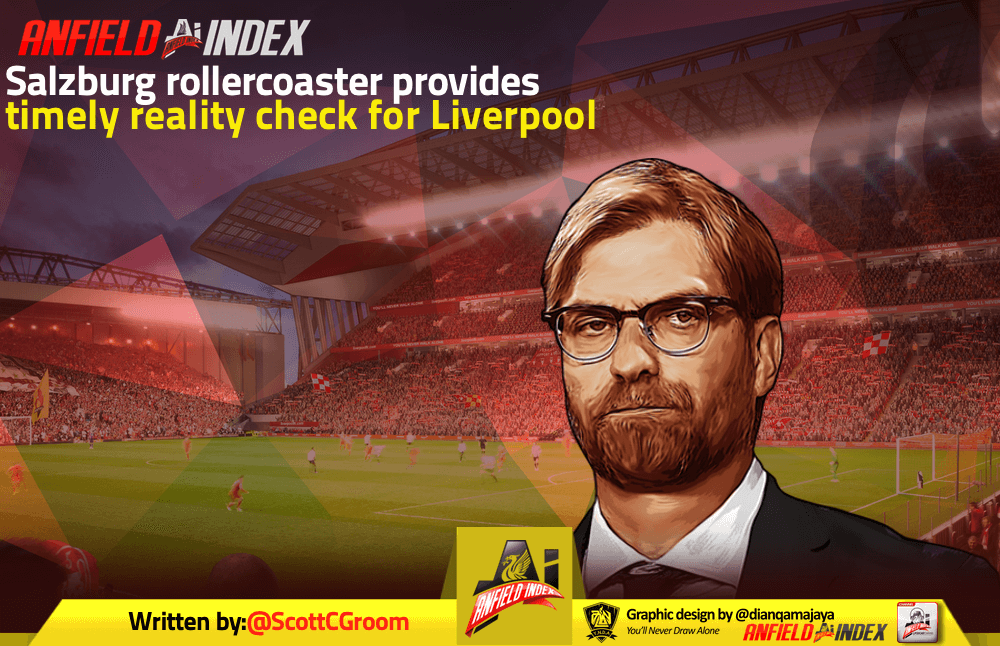 Salzburg rollercoaster provides timely reality check for Liverpool

I must admit, I feel a bit daft.
It was only recently that I wrote something, somewhere about how Liverpool's players are the epitome of the mentality monsters that Jürgen Klopp christened them as only last season.
While that's still not so far from the truth, the Reds certainly have reason to believe that they are still susceptible to moments of incapability and mental weakness.
The second group stage fixture of the Champions League will always be remembered as a topsy-turvy game of football, and one that Red Bull Salzburg will consider themselves unlucky to have left without even a point.
The opening 40 minutes of the tie was something that has become synonymous of Klopp's Liverpool, particularly at Anfield, as they simply blew Salzburg away.
In a little over half an hour, the game looked to be all but over as the slick, effective and irresistible Liverpool carved open the Austrian side with ease and finesse.
But by the time 20 minutes had passed in the second half, Salzburg were incredibly back on level terms.
Liverpool's usual poise and confidence seemed to desert them, and Salzburg capitalised and carried great belief that they could go on to win the game.
The Reds were rocked, and for the first time this season looked seriously in danger of getting a deserved beating.
Even players who have been the epitome of cool like van Dijk looked off colour. Whether that was because he was shaken by events or just having an off night is another debate.
It was worrying as a fan to sit and watch at home. For the first time in what seems like a lifetime, I was sat there thinking: "We're going to bottle this."
That in itself is a testament to how far the team has come in that no matter what, I now always think we're going to win.
But Salzburg had me worried.
It was like a flashback to earlier in Klopp's reign, when Liverpool would need at least a five goal lead to feel safe in any game.
A goal used to really unsettle us, but that hasn't been the case in the last 18 months but the free-scoring Austrians brought that dreaded feeling back.
Then, as if flicking a switch, it was like the Håland's goal triggered something in Liverpool – they were suddenly back to themselves.
Their game management improved, ball retention improved and general confidence in the game came creeping back.
Then Salah scored the fourth and it was like it back to plain sailing again.
In the space of 90 minutes, we saw the new best and historic worst of Klopp's Liverpool.
From supremely confident to nervously self destructive and back again.
Don't get me wrong, on reflection it was great fun – but we don't want to be doing that again, especially not against high quality opposition in Europe and in the Premier League.
If anything, it will act as a refresher for Klopp and Liverpool that, despite their dizzyingly good form at present, they are still human.
And that lesson comes at a good time, what with tough games against Leicester, Manchester United and Spurs all coming up in the next few weeks.
Maybe this was the reality check Liverpool needed to ensure they keep striving toward greatness.