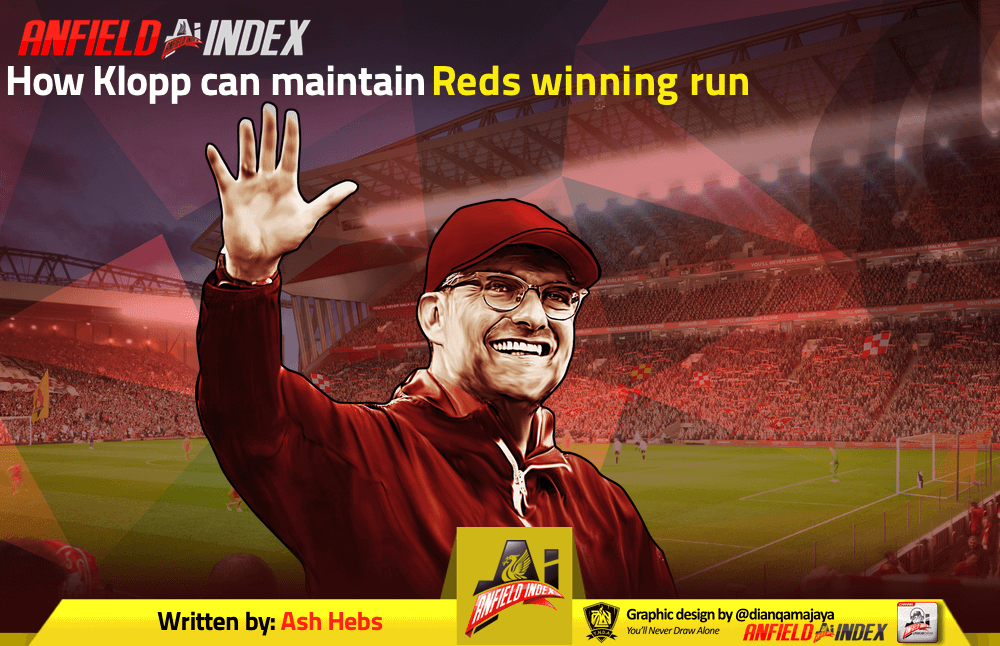 How Klopp can maintain Reds winning run

7 league wins on the bounce, 16 league wins out of 16 in the league spanning this season and last. In many respects, it feels scarcely believable that Liverpool are this good after so many years of disappointment. But Jurgen Klopp's current crop are the finest Liverpool side seen in any Premier league era; one of the Premier League's finest ever teams, in fact. Notwithstanding the reality that the league title has proven elusive, in no small part, due to the incredible achievements of Manchester City.
Nevertheless, after another unconvincing win against Salzburg, the third such win out of the last four games (excluding the Carabao cup), questions remain. Not so much about the credentials or qualities of this Liverpool team. But more over sustainability of performance.
Lucky Liverpool?
It has been shown from various sources, not least the excellent AI Under Pressure podcast, that luck has played a large part in the club's recent success. Now I am not going to besmirch a bit of luck as every successful team needs good doses of it. And in many ways, the chaotic nature of Liverpool's pressing game means that the team is likely, more often than not, to profit from the rub of the green. But if performances are inconsistent over the longer term, then results will inevitably start to suffer.
In any normal season where the league winners would not be posting 100 point seasons, this would not be as acute a concern as it is right now. But times have changed, as City have bankrolled their way to success; Liverpool can barely afford to drop points in the league.
With a healthy 5 point lead already established over City, compounded with their defensive crisis, it feels like Liverpool have an opportunity. If they were to increase the lead to, say 10 points or so, maybe just maybe City slip away. With difficult back to back league games approaching against Leicester, Man United and Spurs, memories of that wretched 8 point swing only a few months ago are still fresh. The wound is still raw.
Liverpool themselves are not without problems of their own. There are a number of underlying issues that threaten the team's title challenge:
(1) a tired front 3 after summer exertions and latent injury risk
(2) a lack of natural creative ability in midfield that has never truly been resolved since the decision to not sign Nabil Fekir 2 summers ago
(3) a degree of defensive instability following Alisson's opening game injury
The real question is, will performances pick up before the luck runs out (and crucial points are dropped in the league)? It is worth pointing out that this is not a crisis, I am just presenting some of the risks that come with being a top, competitive team.
The front three
Klopp can manage the minutes of the front 3 through utilisation of the full squad. The intention has surely always been to get the Ox, Keita and Shaqiri back fit as soon as possible. The manager's hands have certainly been tied here through injuries. Once the latter are fit enough for regular selection, they will help both from an offensive and defensive perspective, to compensate for any drop off from the forwards.
However, given the quality and importance of the strikers, there will always be risk with regards to the physical condition of our forward men. They are such a vital component of this team's success. What doesn't help is so many key squad players coming back from injury at similar times. Ultimately, it is what it is and Klopp will manage the situation as he deems fit.
Nevertheless, increasing the quality in his midfield selection will go a long way to reducing some of the burden on the forward line.
Midfield creativity and tactical approach
Klopp has mitigated this issue by placing more onus on the fullbacks. This has generally worked well, but needs mixing up. Klopp has recognised this, by encouraging the fullbacks to try and play narrower, at times this season. The width has been provided by the likes of Henderson, Salah and Mane.
However, one of the unintended consequences of this has been the adverse impact on the team's defensive stability. It was interesting to see Klopp's comments after the Salzburg game, where he noted that after Liverpool's third goal, "there was no common approach anymore". The manager diplomatically chose not to mention any names. But, it was clear to all those watching that one individual in particular, the team captain, seemed on a different page. And this has been a common theme, more often than not, with Henderson in the number 8 role.
In his enthusiasm to support the right-sided wing play, Henderson has on numerous occasions failed to track back to support his fullback (and adversely affected his fellow midfielders). Fabinho and, to a lesser extent, Wijnaldum have subsequently been isolated, leaving an easier passage for the opposition to our defensive line.
Henderson regularly seems to tire after 45 minutes, and this is where Klopp can proactively integrate the likes of Ox and Keita in the second half of games for example. The manager can even modify the team shape accordingly to a 4231, which better accommodates these individuals.
Both Ox and Keita have shown evidence that they are superior to Henderson in both the attacking and defensive aspects of the game. Therefore a willingness to integrate them will offer the team better balance and prove an upgrade in terms of midfield quality. This can only improve the creative output of the team and variety in attack.
Naby Keita's on-ball ability, in particular, will enable Liverpool to take the sting out of the game when needed. He also allows the team to pass the opposition to death, as we often saw when the team peaked last season. A fit Keita's playmaking from deep and in the half spaces is potentially exceptional.
Given the team's reliance on a physically demanding, pressing game, when the team loses compactness it makes any match more physically gruelling. Fatigue then becomes a bigger factor and affects the team performance.
The solution is to find a balance in the attacking patterns of play which maximise entry into the half spaces and wide positions. But this cannot come at the expense of reducing the team's compactness. The forthcoming games encourage Klopp and his team to revisit the tactical roles and responsibilities of the midfielders.
Alisson's injury
This was a factor that was always going to cause some short term instability.
To be fair to Adrian, he has done as well as could be expected in the circumstances. His speed and quality of distribution have definitely improved in recent weeks, but he is still prone to the odd lapse in concentration when kicking (see Salzburg).
Rather than taking unecessary risks in distribution, Adrian would be best served to continue playing the percentages. This will encourage greater trust from his defensive partners.
Alisson should hopefully return to the first team very soon. Until then, it's important to eradicate the obvious and avoidable mistakes.
What next?
The recent games have been a timely lesson for the whole team. A reminder to all our players that they cannot afford to slip in terms of application and concentration. It's about sticking to the basics, which make Klopp's team so great. The German will no doubt have taken away some pointers from those games.
It will be interesting to see how he adapts the team to the challenges that lie in wait. In my view it's not about wholesale change, just the odd tweak here and there. Changes can be made to maximise the team's overall effectiveness, both in terms of personnel selection and tactics. Much will ride on the club's ability to keep the squad fit but the same can be said of any team.
Take one game at a time, do not overlook the opponent and go from there. As always, it will be one hell of a ride.