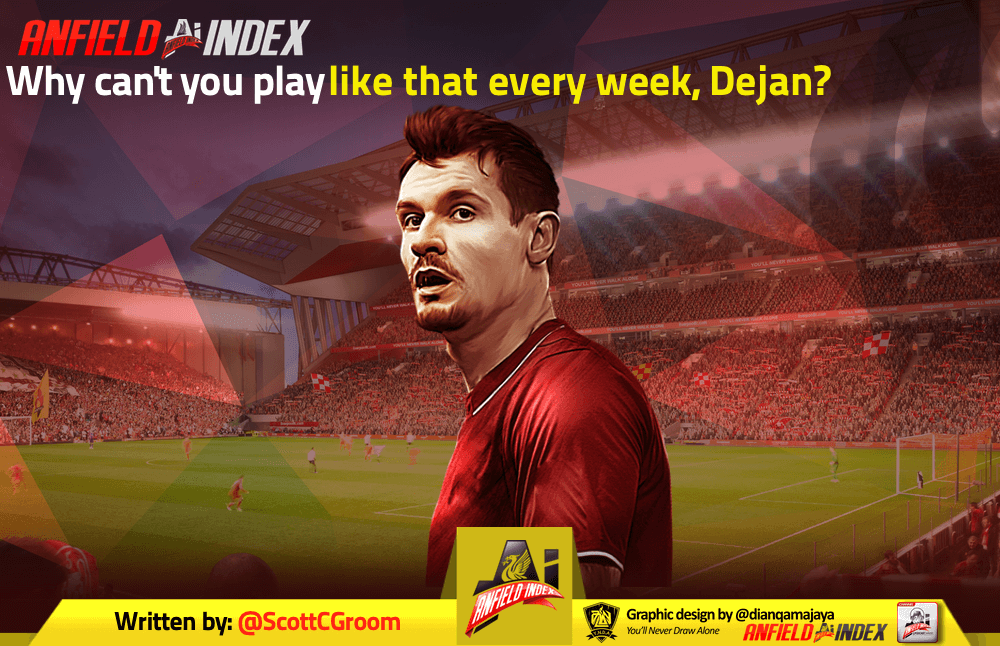 Why can't you play like that every week, Dejan?
I'm sure I wasn't the only one who grimaced, groaned, groaned and flailed when I heard that Dejan Lovren was starting on Saturday.
Not only because… Well, he's Dejan Lovren, but because he was to come up against a striker in Jamie Vardy that has a brilliant goal scoring record against the Reds and has also given Lovren many torrid times over recent years.
"Why not Joe Gomez?", I cried at the radio as I made my way towards Anfield.
Surely his pace, power and athleticism would be the perfect weapons to go toe to toe with Leicester's number nine in a tough clash against former manager Brendan Rodgers.
Then, I pulled myself together and said to my Dad the what I am now seeing as inspired words of wisdom: "Well you never know, he could have one of his better games".
And boy, did he.
To say that he was good would be an understatement. He was brilliant.
He won his duels with Vardy with aplomb, he was good on the ball, he made countless good blocks and interceptions and didn't get caught out in the slightest.
It was a day where the best of Dejan Lovren shined through in every aspect of his game, but as with the big Croat, we just never know when another of his 'moments' are about to happen.
In the run up to Liverpool's Champions League final in 2018, he was near faultless and had a great game in the final itself after a solid second half of the season.
But in the first half of that season, he looked every inch the defender Liverpool hoped they'd got when they spent £20 million on the former Southampton and Lyon man.
But then there are the games and the moments when he reminds you of his enduring quality for the ridiculous and nonsensical moments.
The rashness of the decision to rush in on an MK Dons forward in the Carabao Cup, nearly letting them in to score.
The woeful mishaps against Spurs at Wembley early in the 2017/18 season that saw him replaced after half an hour.
There's many more, and they're always seemingly lying just below the surface.
And that will forever be the thing that Lovren will be remembered for at Anfield – that constant fear that despite a confident exterior, and shaky core lies just below that waiting to be exposed and cost his team points.
It's quite sad, really, as Lovren has always been a professional at the club and always gives his all. That you can't deny him of.
I want him to be successful and consistent, but I just can't trust him to do so.
History has a habit of repeating itself and that prevents me from investing in Lovren.
Especially now as Liverpool are seriously challenging on all fronts, and even at this early stage of the season, any mistake could prove costly in one way or another.
So while the Leicester game was a welcomed surprise from Dejan's perspective, I can't see it lasting.
There's just still a part of me that wishes it would: the old fashioned footballing romantic in me of just wanting to see an honest, hard-working player reap his rewards.