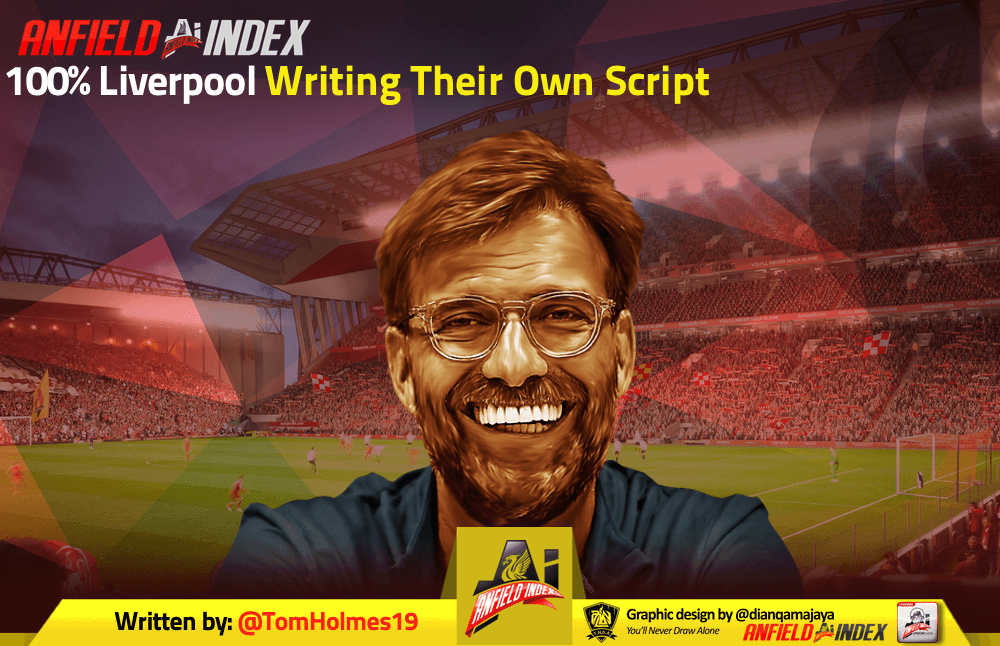 100% Liverpool Writing Their Own Script
Liverpool notched their 8th straight Premier League win of the season, their 17th in a row total and moved eight points clear at the top of the league with a late penalty against Leicester.
There was a sense of palatable relief as James Milner stepped up in the 95th minute to down Leicester and give Liverpool the three points. It was not a day where Liverpool deserved to drop points, but it increasingly looked like a day where they would.
It's been an incredibly strange start to the season in many respects. Liverpool have played at their best in fits and starts, half an hour here and there, and ironically, the Leicester match is almost certainly the most complete 90 minute performance they've put together this season, tactically nullifying the Foxes, who had just two shots in the match, whilst also creating six big chances and comfortably their highest xG of the season at 3.75. On paper, this was more likely to be a game finishing 4-0 than 1-1.

Contrast that to other wins Liverpool have secured this season. Against Chelsea they had just 1.03 xG compared to the Blues' 1.23 and against Southampton, the Reds were perhaps equally lucky to come away with the win, creating 1.52 xG compared to Saints' 2.14.
So in their opening eight games, Liverpool have won with lower xG than their opponents on two occasions. For context, that didn't happen on a single occasion last season. On each of the five occasions last season where Liverpool's opponents had a higher xG, the result was a draw.
On the one hand, Liverpool's performance levels, particularly defensive, do seem to have dropped compared to last season. Admittedly the sample size of this season is smaller, and Liverpool are missing first choice goalkeeper Alisson Becker, but the Reds have conceded significantly more goals than they did both in last season as a whole (0.75 per game compared to 0.58), and particularly in the opening eight games, and that stems from a higher xGA too (0.91 this season compared to 0.76 last).
But there's a real steel about this Liverpool side now, and just as importantly, they're riding their luck hard.
That's something that the best teams have to do, ride their luck. Against Chelsea and Southampton, clinical finishing played a big part in the victories, and you make your own luck when you do that, but equally, there were big chances for the opposition in the dying minutes that weren't taken, and that was lucky.
Against Chelsea in particular, Liverpool were very poor in the final half an hour or so, and only poor finishing from Chelsea kept the Reds in front, which is not something that we're used to. Normally, when Liverpool are sitting on narrow leads, the game can look and feel more tense than it is from the situation, and actually when you sit down and look back, the side are in total control.
But that was not the case against Chelsea. Liverpool were hanging on by a thread.
It seems almost baffling to me that I'm writing about this Liverpool team, that week by week are increasingly staking their claim to be the best that this club has produced in 30 plus years, maybe even longer than that, and talking about their weaknesses.
But the reality of the situation is that this team have not had things all their own way in the last three or four weeks, and have kept coming up with answers, one way or the other, by hook or by crook.
Against Newcastle, they conceded early and were appalling for half an hour. But Sadio Mané scored, Bobby Firmino was introduced and normal service was resumed.
Against Chelsea, two excellent goals from Trent and Bobby gave Liverpool a two-goal cushion that maybe should have evaporated late on, but somehow the Reds held on. It was the most concerned I've been with this team trying to defend a lead in as long as I can remember.
And then the Sheffield United game, in which Sadio and Mo conspired to miss three absolutely massive chances, only for Liverpool to win 1-0 after Gini Wijnaldum's tame volley was chucked into his own net by Dean Henderson.
And it's hard to forget the Salzburg game, when it looked as if Liverpool's luck had run out and things were coming crashing down around them. The chickens were coming home to roost as Salzburg came from 3-0 down to equalise. The rival fans had their Istan-Red-Bull tweets ready. But again Liverpool delivered, Mo Salah's winning goal ensuring the run kept going.
Which brings us right back round to James Milner's 95th minute penalty after Sadio Mané was upended. A soft penalty in some respects, and a dive probably. But a penalty it was, VAR confirmed it, and Liverpool went 8 wins out of 8.
And all the while, Man City are really starting to struggle. It's far, far too early to write off Pep Guardiola's side, but what will be worrying City fans isn't the points already dropped but the possibility of more dropped points to come. With defensive and attacking injuries starting to take their toll, the underlying stats starting to dip, and the sheer fact that City have already dropped eight points in as many games, there's a real worry for Guardiola's side that they might not be able to keep up the pace, if Liverpool keep setting it.
And of course, Liverpool have got to start faltering at some point. In many respects, their incredible start is nothing more than what they need to do, because injuries may hit at any moment, luck can turn in an instant and Man City will be waiting in the wings.
It's been three league games since I talked about the importance of the next set of fixtures, and one more international break has been reached. Since then, Liverpool have done enough to deliver five straight wins in all competitions, and notched nine more points.
I said that it was absolutely vital we were still ahead of Man City in the league by full time on the 10th of November. Barring a startling decline from the Reds, that's looking very likely to happen now.
But the pace cannot slow down. Manchester United at Old Trafford will not be easy, no matter how much disarray Ole Gunnar Solskjaer's team are in, and the same can be said of Mauricio Pochettino's Spurs team who visit Anfield a week later.
Liverpool have got to keep finding ways to win games, have got to keep playing like they played against Leicester. They're more than capable of delivering those kinds of performances, and with Alisson Becker and Naby Keita hopefully back to bolster Klopp's options after two weeks off, there's every reason to be positive.
But this immensely positive start has reinforced that Liverpool aren't going anywhere. Fresh from their 6th Champions League title, fresh from a 97 point season, Liverpool are looking to go one step further and deliver the Premier League title.
And eight games in, they're well and truly the frontrunners now. Whilst other big teams spend the two weeks of the international break soul-searching, Liverpool know exactly what they are doing, and now they just need to keep doing it.