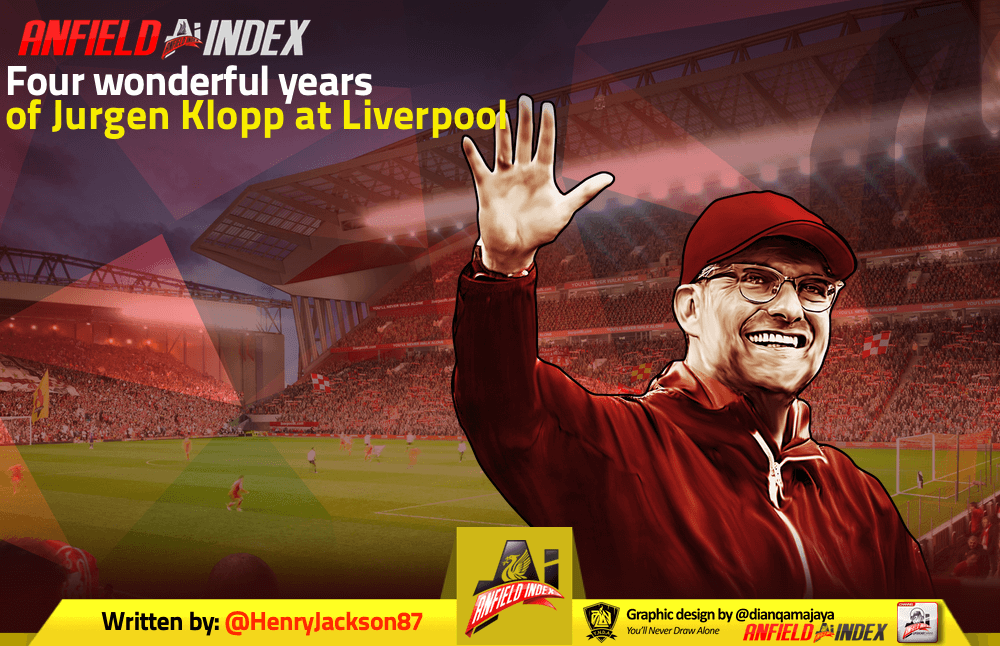 Four wonderful years of Jurgen Klopp at Liverpool
People often say that you remember exactly where you were when huge moments in history occurred.
I'll never forget hearing about the terrorist attack on the World Trade Center on the bus home from school, for example, or seeing a kids TV show interrupted in order to inform me of the death of Princess Diana.
I must immediately stress that I don't put the arrival of a Liverpool manager on a par with those events mentioned above, in terms of their importance in history – far from it – but I will always remember where I was when Jurgen Klopp was appointed.
Sat on the train to London to meet a friend – a Man United-supporting friend, I must add – the German's arrival was confirmed, following days of speculation after the dismissal of Brendan Rodgers.
It felt huge.
Once at the pub, televisions around us showed constant news reporting Klopp's arrival, while I beamed like a child looking at his presents on Christmas morning.
I'll never forget my mate asking me if this was all being overblown and if Klopp really was the answer, no doubt praying that that was the case.
While I may have been reckless in many of my Liverpool-related opinions in the past, I had absolutely no doubt about what Klopp would achieve at Liverpool.
"He will win us at least a Champions League or Premier League title, if not more," I declared, albeit maybe using slightly more alcohol-fulled language.
He gave me a look that suggested here was yet another load of nonsense from a desperate Reds supporter clinging to the hope that the glory days would one day return.
For once, though, I was right. Emphatically so, in hindsight.
On Tuesday, Klopp celebrated four years as Liverpool manager, during which time it is no exaggeration to say that he has transformed the entire club, turning it into an unstoppable force.
His "doubters to believers" line is one of the greatest ever produced by a Reds boss – over time, the whole fanbase has been charmed and hypnotised by this most charismatic of Germans.
From piling out of the exit doors against Crystal Palace to now expecting stoppage time winners to arrive, the supporters feel like another species compared to back in 2015.
Klopp has united the players, the fans, the owners and those who work at the club, slowly masterminding a truly great period in Liverpool's history.
There were glimpses of his vast impact in his first season, such as the wins at Chelsea and Man City, not to mention reaching two cup finals.
Up next was Champions League qualification and an extra 16 points in the Premier League – Klopp's men jumped from 60 to 76 in the space of 12 months – as Liverpool went up another level to return to Europe's premier competition for only the second time since 2009.
The mark of any great manager is constant progress and 2017/18 saw the Champions League final reached in the Reds' first season back, exceeding all expectations.
Had their focus not been on reaching Kiev, where they lost in horribly cruel fashion, their eventual third-place league finish with 75 points would have been bettered.
Then, of course, there was last season – one of the best in Liverpool's history.
To acquire a club-record 97 points was beyond belief, up against a once-in-a-generation City outfit, and while losing out to them narrowly was hard to take, there was the beautiful consolation of European Cup number six.
If 2005 felt like a freak in many ways, Liverpool's triumph in Madrid was fully justified, with no club in Europe more feared in the Champions League at the moment.
That's what Klopp has done to Liverpool – he has gone from inheriting a team looking woefully short of even a top-four finish to making them one of the top two sides in the world.
His unrivalled man management skills and tactical nous have clearly been a driving force behind Liverpool's greatest period since the 1980s, but his eye for a transfer, coupled with Michael Edwards', has also been massive.
Just look at how faultless he has been in the transfer market – how many duds can you genuinely think of? Loris Karius, undoubtedly. But that's about it.
Sadio Mane and Mohamed Salah have been masterstroke signings, despite some fans expressing concern about them, becoming two of the most devastating wide players of their generation.
Alisson and Virgil van Dijk cost huge sums of money, but rather than being reckless, desperate buys, real thought went into acquiring their respective signatures. They were number one targets and Liverpool got them, which speaks volumes.
Fabinho is a monster of a midfielder, helping create an all-time great Reds spine with Alisson, Van Dijk and Roberto Firmino, while Andy Robertson has been transformed into arguably the world's best left-back.
That's without mentioning fellow key additions such as Joel Matip, Gini Wijnaldum and Alex Oxlade-Chamberlain, while Naby Keita could yet explode still.
This has been a joyous four years for anyone associated for Liverpool and the hope is that Klopp is still only in the early stages of his tenure.
The Reds couldn't be in better hands, with the 52-year-old 'getting' everything to do with the club and city, not to mention being the best manager on the planet currently.
I fear that I will always remember the day that he eventually leaves, too, such is his astonishing impact at Anfield.