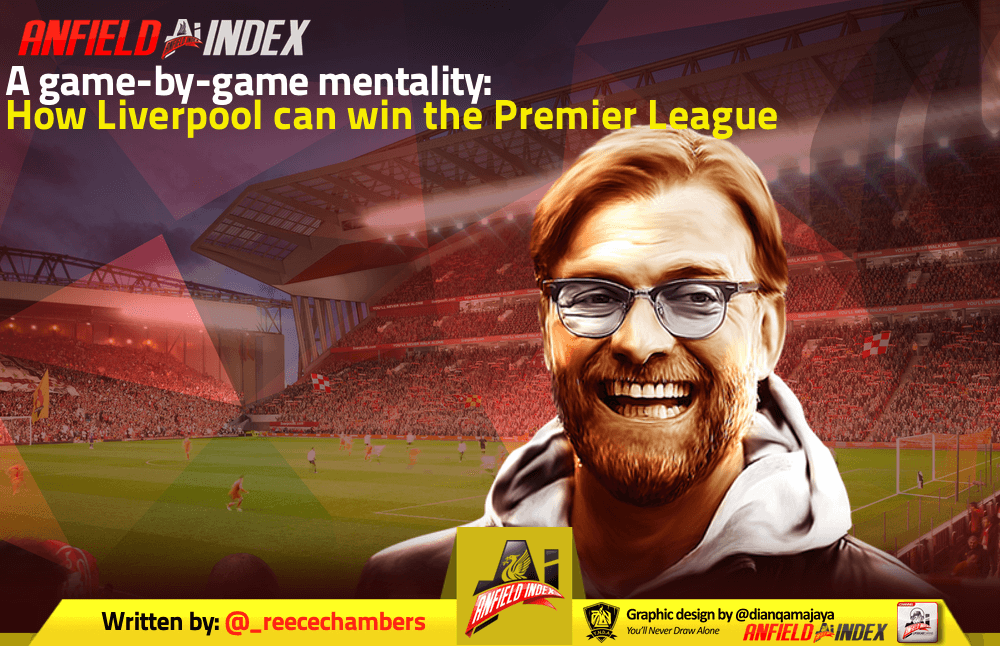 A game-by-game mentality: How Liverpool can win the Premier League
To lay everything out on the table from the start, here, any talk of Liverpool having won the Premier League title already this season is absolutely absurd. You can certainly lose the title in the first eight games. But with only 21% of the season completed, there's no chance you can win it in that time.
Last season, the Reds led Manchester City by seven points at the turn of the year, lost just one game all season, accumulated the third-highest points tally ever in the Premier League – and yet still lost the title to City on the final day of the season.
All three of those points need not be reiterated throughout this season. It's a new campaign and, although a near identical squad, Liverpool are a different beast this season due to the heartbreak of last season's title race.
There was talk during the summer that last season's agonizing title race with Guardiola's City would deflate Jurgen Klopp's men given the sheer brilliance and relentless winning of the Manchester club. However, with eight games gone this season, Liverpool have seemingly learnt a lot from last season – even if there's very little to learn with only one loss in 2018/19.
One major difference that has been present already this season is the concept of the Reds adopting a 'game-by-game' mentality. Almost as if they treat each game as a knockout fixture. They approach games with that relentless trait Manchester City had at times towards the back end of last season. It's a tactic that refuses to be beaten.
This approach has been seen throughout this season, most notably against Sheffield United and, most recently, against Leicester City. The Reds are yet to blow teams away this season, but it's the points tally that wins you titles, not goal difference – see Liverpool 13/14 for that very point.
Winning a league title doesn't consist of 4-0, 5-1 and, even, 8-0 wins. League titles are built on resilience and willingness to dig to the deepest of depths to get over the line. Liverpool's 2-1 win against Leicester City showed that perfectly, with Sadio Mané refusing to give up on what seemed like a lost cause before winning a penalty in the dying minutes.
Against Sheffield United, too, a hopeful strike from Gini Wijnaldum was fumbled by Blades 'keeper Dean Henderson to give the Reds a crucial 0-1 win. Sometimes it's that slice of luck you need, coupled with talent and determination, to win a league title – Vincent Kompany's astonishing strike towards the end of last season, for example.
If last season is anything to go by, this will be another monumental title race – one that goes right down to the wire. Expect that to happen, despite City's early falters. They are a team who will keep pushing and pushing right to their last breath.
For Liverpool, though, a game-by-game mentality suits them down to the ground. Their knockout style of football took them to success in Madrid last season as they clinched their sixth UEFA Champions League title. Such a run showcased them at their very best with a relentless work ethic matched with skill and brilliance. The Miracle of Anfield – that incredible 4-0 comeback win over Barcelona – tells you all you need to know about the mental resilience of this group of players.
A relentless gegenpressing style of play matches this mentality perfectly, with opposing sides forced to go toe-to-toe with the Reds if they are to match them at their very best. As shown against Leicester last weekend, that style of play can lead to exhilarating games of football. But, ultimately, Liverpool come out on top 95% of the time – if not 100% of the time as shown so far this season.
Whilst Liverpool play some of the best football in Europe at the moment, there is an acute awareness amongst fans, pundits and the club, that this won't be the case every week. Therefore, there is a need for character and resilience that will get you through games when the Reds aren't at their best – they arguably have the best squad for those moments.
If you look throughout this Liverpool side, there are very few players who have instantly rose to the top of world football. They've all had to work their way to where they are now through grit and determination.
Virgil van Dijk crafted his trade at Celtic and Southampton over five years before a £75million move to Anfield; Andrew Robertson was signed by Klopp after being relegated with Hull City in 2017, Xherdan Shaqiri likewise with Stoke City in 2018; Mohamed Salah failed in his first stint in the Premier League with Chelsea; and, James Milner was deemed surplus to requirements at Manchester City in 2015, look at his importance to a title-contending side now.
The list could go on, with nearly all of Liverpool's squad having fought against adversity. Important, though, is the inescapable fact that the Reds will be faced with title race noise every day until the end of the season.
Several pundits have said that this is Liverpool's title to lose now, which is an unhelpful tag given the unpredictable nature of Premier League football. A loss or two will open the title race wide open again, and that can't be ruled out with 30 games to go.
For Klopp, this means continuing with a game-by-game mentality that keeps the squad composed and focus on the most important game: the next one. Remaining focused on the here and now is an absolute must for the Reds in a world of excessive media pressure.
With 30 games to go, Liverpool are just over 20% through their season which means plenty can still happen in the world's most unpredictable league.
For Klopp and his men, this means continuing with their successful recipe of grit, determination and resilience to do everything they can to get over the line in the season's most important match: the next one.