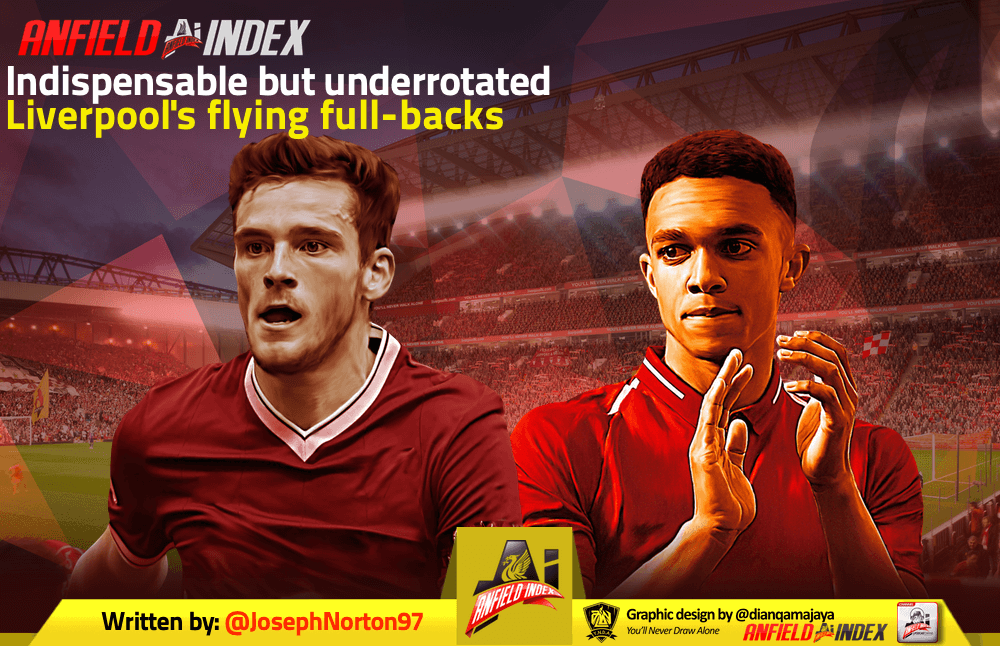 Indispensable but under-rotated - Liverpool's flying full-backs
If ever there was a goal to highlight how influential Liverpool's full-backs are on the team, the Reds' second goal against RB Salzburg was exactly that. From Andy Robertson stepping into midfield to the ball being transferred to the opposite side of the pitch for Trent Alexander-Arnold to find his on-running full-back partner with a delightful low cross. It was an exceptional goal from two unbelievably talented full-backs. The levels both of them have been performing at for more than a year now has been simply phenomenal. You'll still hear some question marks over Trent's 'defensive ability' but don't worry, it's nonsense. The only concern which should surround the pair is if they'll be able to maintain these elite levels of performance throughout the season. With a bit of careful planning, it won't be a problem but if Klopp gets too greedy the consequences could be devastating.
Before we get into the nitty-gritty of rotation let's take a minute to appreciate the quality of our full-backs. Last season the pair racked up an incredible 23 assists between them. Trent with 12 and Robertson with 11. For some context, Hazard topped the chart with 15 while the most creative full-back outside of Anfield was Leicester's Ricardo Pereira with 6. Pereira also played as a winger for a number of games. Our full-backs' outputs are incredible. They were also a key part of the league's best defence last season. Liverpool conceded just 22 goals (an average of 0.55 goals per game), 1 better than Manchester City, and kept the most clean sheets, 21, again one better than City. Both players are well on their way to replicating last season's achievements, registering two assists each. Trent has also created more chances in open play than anyone in the Premier League. His sublime free-kick against Chelsea means he has already matched his goal tally for last season as well.
Now as I've highlighted, the pair were crucial parts of a reliable back four last season and although it is fair to say we've looked slightly more vulnerable defensively this season, the full-backs are not to blame. With the Reds playing such a high line there are always going to be occasions every so often when one player in the back four is slightly deeper – usually by a step – than their teammates and this has happened this season as it did last. Norwich City's goal against us on the opening day is a perfect example of this. Robertson was marginally deeper than the rest of the back four and he played Teemu Pukki onside.
In the games when both full-backs haven't been at their relentless best they've still been effective. Both do the basics of defending very well and still contribute to our attacking play. However, when the pair really turn on the style and put in attacking displays like they did against Salzburg and Leicester it just highlights how influential they can be. Against Leicester, both of them had the mentality that they were going to attack the space in front of them at every opportunity – instantly putting Leicester on the back foot, and it certainly worked. The pair made a combined six key passes between them. When they're in top form like this it makes games when they decide to be that bit more passive, waiting for the attacking players ahead of them to produce the goods, all the more frustrating.
Despite being part of a fantastic back four, a lazy narrative that Trent isn't particularly good defensively still exists both within our fanbase and from opposition fans which is bewildering. Are there times when the 21-year-old struggles against his left-winger? Yes, of course. It happens to pretty much every good defender – but with Trent, it's a rare occurrence. On the whole, he fits nicely into our pressing unit and defends very well in 1 v 1 situations whether that be when he's defending high up the pitch or in deep areas when Liverpool are pushed back. Full-backs are often most vulnerable when the ball is on the opposite side of the pitch because they have a tendency to lose awareness of where their marker is. On the whole, the pair are very good at tracking their attackers and when called upon make crucial interceptions sweeping up behind their centre-half. This is something they don't get enough credit for from fans who question some of their defensive qualities.
Our full-backs are unquestionably the best in the league and because of their importance to the side, Klopp is extremely reluctant to rotate either of them. However, with games coming thick and fast from now until January, the German is going to have to be clever with his rotation of Trent and Robertson. It'd be great to play them in every Premier League and Champions League game but it's totally unrealistic. If we want to sustain a challenge in both these competitions we need to make sure they don't get overplayed and burn out over the next couple of months. We can live without one of them in the odd game here and there but should either of them sustain a medium to long-term injury we'd be in big trouble.
We all know the boss isn't a big fan of rotation as he has his favoured starting 11 and pretty much sticks to it – making subtle adaptations to the system rather than personnel. However, it's time for him to start planning which games to rest one of our full-backs in. As I've mentioned the odd game without one of them is manageable – against the right opposition.
Choosing the games to rotate the full-backs in is an interesting discussion point. I've always believed matches at home to sides who we dominate the ball against but don't face electrifying wingers is the ideal time to throw Milner in at full-back. Whether it's a Newcastle, Burnley, Sheffield United or Genk, these kinds of sides seem like ideal opponents to make such an alteration. Others who favour Joe Gomez being used as back-up on the right-hand side have previously suggested he should be brought in for big games to deal with tricky wingers. The reality is whether we're playing against the best or worst side in Europe a lot of our attacking play goes through the full-backs. Therefore, in big games when the full-backs have to defend and attack equally as effectively surely it's most productive to have your two best all-around players on the pitch?
For me, Milner's a very good back-up option at right and left-back not least because he can play the positions equally as well. Of course, he doesn't offer you the same defensive security as Trent and Robertson but positionally he's good, his understanding of the system is brilliant and nine times out of ten his decision making in the final third is bang on.
Whether it's through using Milner or Gomez, Klopp needs to start thinking about giving our full-backs a rest when we face the right opposition. We've seen him use Divock Origi to give one of the front three a rest, it's now the right time to do the same with Trent and Robertson. A long-term injury to either one of the full-backs would probably be enough for us to miss out on that elusive league title. Klopp should be doing all he can to stop that from happening and managing their workload would certainly help. He'll never rotate on a regular basis but he should consider some careful planning to ensure the full-backs maintain their flying form throughout the campaign.