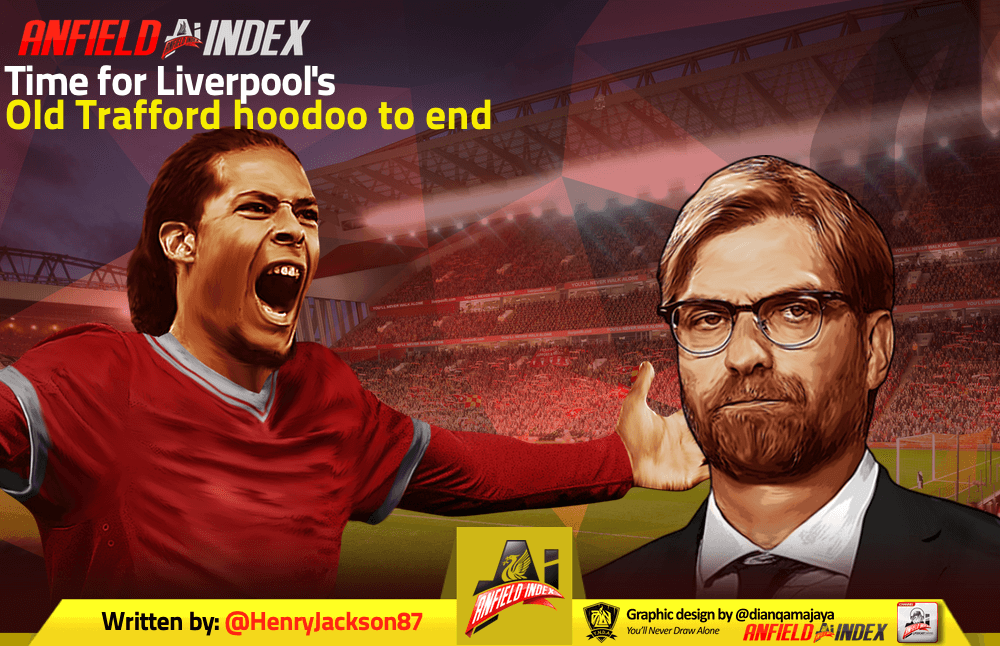 Time for Liverpool's Old Trafford hoodoo to end
So, here we go again. Man United away. A fixture that has provided more misery than any other for Liverpool supporters over the past 25 years.
The Reds return from the international break facing one of their biggest matches in any season, but this one has a different feel to it than many that have taken place before it.
Jurgen Klopp's men will rock up to Old Trafford not only favourites to pick up all three points at the home of their most bitter rivals, but also odds-on favourites.
For anyone not too accustomed with betting, that's unheard of when it comes to Liverpool facing United away.
It's understandable, of course, considering Liverpool sit eight points clear at the top of the Premier League, while their previously unstoppable adversaries languish in 12th place.
One team is littered with world-class talent, whether it be in goal, at centre-back, at full-back or in attack, while the other arguably possesses just one individual in that bracket.
Even he is a midfielder who still plays like a talented teenager, producing a mix of great, good, average, bad and downright disinterested.
Similarly, Liverpool have one of the world's top two managers guiding them to endless wins and breathless attacking football, while United have an under-qualified boss who was never going to be good enough for the 'biggest club in the world'.
It's glorious to see, especially after so many years of United dominating the English game.
In the post-Alex Ferguson era, however, one thing that has remained largely the same is the Reds' inability to show up and perform at Old Trafford.
Something happens to Liverpool when they make the trip down the M62 – whisper it quietly, but it may still be a lingering inferiority complex that they can't quite shrug off.
Their performances are invariably limp, nervous and ultimately not good enough, while United have an irritating ability to getting over the finish line, even if they aren't at the races, too.
Liverpool have played at Old Trafford eight times since Ferguson left and they have returned to Merseyside with all three points just once.
That came in 2014, when United were so hopeless under David Moyes that anything other than victory would almost have felt unforgivable.
Fortunately, Luis Suarez and his title-chasing colleagues hit top gear that afternoon, sealing Liverpool's only Old Trafford triumph since 2009.
Otherwise, it's all made for fairly grim watching.
There have been three draws thrown in, most notably in the Europa League in 2016, helping the Reds to progress to the quarter-finals, but last season's stalemate was damaging in Liverpool's title quest, especially as their opponents were ravaged by injury that day.
The rest have been defeats.
Brad Jones seemingly deliberately diving out of the way of the ball; Martin Tyler losing his mind as Anthony Martial benefited from Martin Skrtel's incompetence; Marcus Rashford's quickfire early double – so many afternoons ruined.
Old Trafford is the one thing Klopp has yet to overcome as Liverpool manager, as he still waits to taste victory there.
He has been surprisingly timid in his approach, often appearing happy with a point when the opportunity has been there to get more.
Similarly, Liverpool's world-renowned front-three of Mohamed Salah, Sadio Mane and Roberto Firmino have never scored at Old Trafford in a Reds shirt.
Considering how unplayable they have been as a unit, and how many times they have ripped rival teams to shreds in big games, that is a damaging statistic that sums up their Old Trafford woes.
Sunday has to be the moment this changes – put simply, Liverpool may never have a better chance to win away to United.
That is likely to fill some of you with dread, because expecting to win at Old Trafford feels like it's asking for trouble, but everything points to an away victory.
United are devoid of confidence, being led by a manager out of his depth and with a plethora of injury problems, including David De Gea and Paul Pogba.
Liverpool are the exact opposite, with Klopp's stock never higher and a fully fit squad to choose from, as key players return to the fold.
The Reds are going to drop points in the Premier League eventually, simply by the law of averages, but it really shouldn't be on Sunday.
If they do draw, or even lose, Klopp and his players will need to take a long, hard look at themselves once the final whistle has blown.
This Old Trafford mental block has to stop.