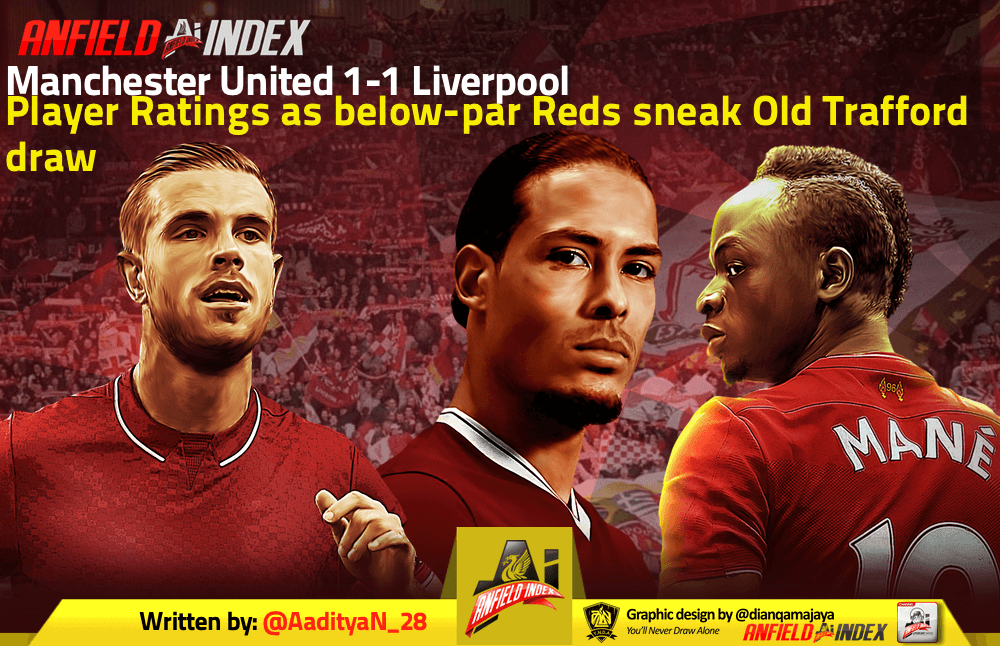 Manchester United 1-1 Liverpool - Player Ratings as below-par Reds sneak Old Trafford draw
Well, that was horrendous. Liverpool should not have let this Manchester United side get away as easily as they did at Old Trafford tonight. The Reds went down in the first half to a contentious Marcus Rashford goal, but Adam Lallana's late equaliser spared the blushes, as Jurgen Klopp's men remained the only unbeaten side in the Premier League this season.
Right from the get-go, the Reds were lethargic, as shoddy passing and lazy movements defined the play in the first half. It was only late in the second half with the introduction of the three substitutes that Liverpool managed to assert any real influence on the game, eventually leading to Lallana's equaliser.
Here's how each player fared.

Alisson Becker – 6/10
Good to have him back. Could do nothing for Rashford's goal. Had precious little else to do.
Trent Alexander-Arnold – 5/10
Was not allowed to have an influence on the game by a very good United set-up. But maybe, Henderson on his side shouldn't be advancing as far as he is, and instead let Trent get beyond him? Crossing well below usual standards today.
Joel Matip – 5/10
Didn't read Rashford's run for the goal, and was troubled a few times by the United no.10. Not his best game, on the back of that new deal.
Virgil van Dijk – 7/10
Didn't allow anything to get past him, was unfortunate to get a slight deflection on James's cross leading to the goal.
Andrew Robertson – 6/10
Terrible first half, much better second, in both halves of the pitch. Ended up with an assist for Lallana's goal too.
Fabinho – 5/10
The best of the starting midfielders, but that isn't saying much. He cleaned up what he had to, though, at the base of the midfield.
Jordan Henderson – 4/10
Too static, too unimaginative, and worst of all, he was a hindrance to Trent's abilities too. Klopp really needs to work out a way for Henderson to play that role without negating Trent's impact.
Gini Wijnaldum – 4/10
Started brightly and even had a shot on goal. But faded away, and was timid in possession.
Divock Origi – 4/10
His big involvement in the game was getting fouled, only for VAR to not deem it a foul, and give United the goal. A poor performance from the Belgian.
Roberto Firmino – 5/10
The space he was working was closed down pretty well by United, but he still should do much better. Had a tame shot from a Mane cut-back midway through the first half, and was guilty of several loose touches.
Sadio Mané – 6/10
Had a goal rightly ruled out (the rule is a curious one, though), but he was the only attacker with any kind of purpose to his play.
SUBSTITUTES
Alex Oxlade-Chamberlain – 6/10
Drove forward well from the left flank, had two very decent shots, and injected much-needed energy.
Adam Lallana – 10/10
Full marks only for saving the blushes. The last time he scored was two-and-a-half years ago, so that's a much-needed boost for his own confidence.
Naby Keita – 6/10
As Klopp said, not enough time to have a big impact, but he impacted the game. Kept the ball well, played the simple passes and didn't slow down the tempo, which was what Henderson and Wijnaldum did.