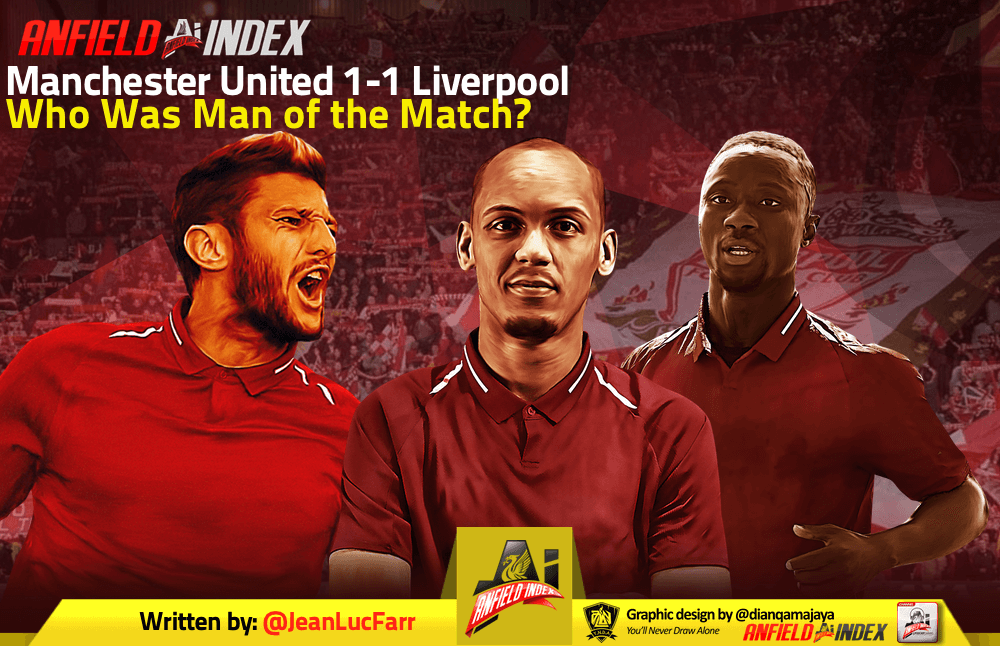 Man Utd 1-1 Liverpool: Who Was Man of the Match?

That was a bit rubbish, wasn't it? 1-1 feels like an acceptable result after the first 85 minutes of that game. We also had to contend with one of the worst refereeing performances you are ever likely to see from the pathetic Martin Atkinson. The man, if you can even extend that description to whatever subhuman species he actually is, was an absolute disgrace for the entirety of the match and deserves to be immediately relieved of his duties. Enough of that, though, let's get into who warrants being named Man of the Match.
It was Alisson's first game back since the first game of the season, and he had a very quiet afternoon. Despite Martin Tyler and Gary Neville's desperation to convince everyone that Manchester United played well, the truth is they did very little. The only chance of note they created was the goal, which came after a clear foul on Origi. The Brazilian could do very little about it as it was from point blank range.
As for the defence, Alexander-Arnold was adequate defensively but rather poor going forward. He looked devoid of ideas for the most part which is likely down to the absence of Mo Salah on that right-hand side. Joel Matip probably had his worst game for nine months, certainly on the ball. He is normally so assured in his passing and his ability to carry the ball out from the back is usually excellent. Today, however, he struggled. Virgil van Dijk had a solid game, with the cherry on top of the cake coming when he flattened the coward, Daniel James, and left him sprawled out on the turf. Andy Robertson's delivery was again disappointing, having said that, he did create the goal for Lallana despite the cross being a rather poor one. Defensively he was sound.
The midfield was a bit of a mess until Klopp finally released Naby Keita from whatever prison he and Xherdan Shaqiri get held in for half a season. Fabinho was okay but didn't show his usual tenacity defensively or his drive offensively. Gini Wijnaldum began the game strongly but turned into Classic Gini after that and became invisible. The less said about Jordan Henderson, the better. He was lucky to remain on the pitch for as long as he did.
The front three of Origi, Mané and Firmino did next to nothing as a group. They had barely any service to be fair to them, with most of our attacks consisting of a hopeful long ball up to Sadio's head and hoping something would happen.
Even though he only played for 20 minutes, and other than the goal did very little, I'm going to give Adam Lallana Man of the Match. His first goal since the Triassic period and what a time to get it. I'll be honest, I thought he'd spooned it wide for a split second, but it nestled in the back of the net. Well done to him for being in the right place at the right time when we needed it most.