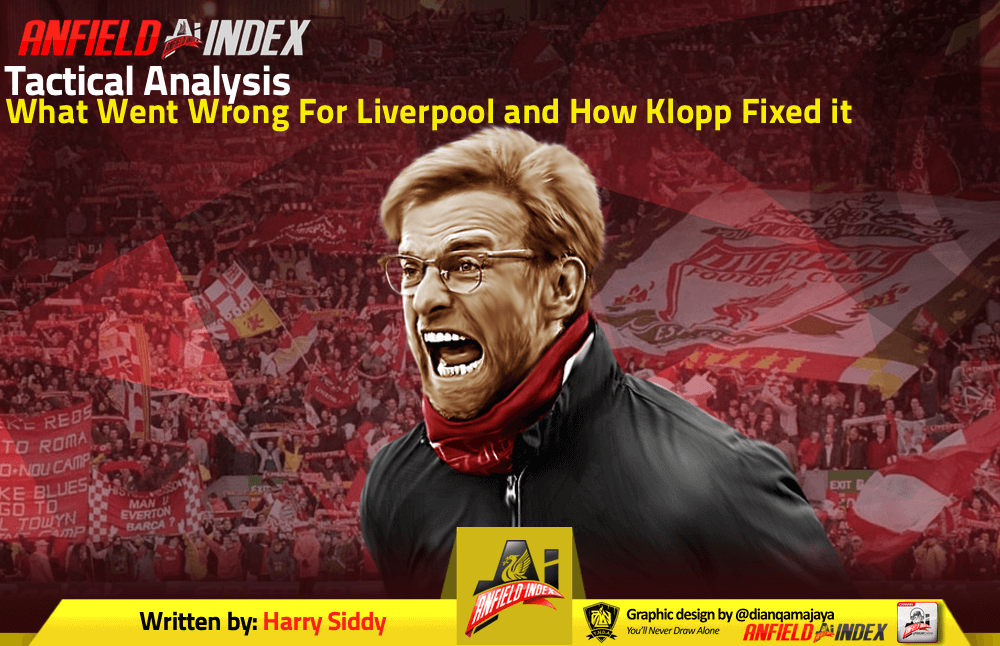 Tactical Analysis - What Went Wrong For Liverpool and How Klopp Fixed it
Coming away from Old Trafford with a 1-1 draw in years gone by would have been seen as a good result for many Liverpool fans, but having a historic 17 game winning streak come to a halt against a struggling United side has seen fans complain about the performance rather than the actual result.
Everyone knows, including Jurgen Klopp, that Liverpool could and really should have played a lot better than they did, but why didn't they?
With United setting up in a 3-4-3 formation on the ball which turned into a 5-2-3 off the ball with Pereira dropping back into midfield to cover whenever Liverpool had possession up the pitch, it was clear from the opening seconds what United's plan was.

As the videos below show, United's full backs (Young on Trent in this example) were tasked with stopping and nullifying Liverpool's main creators – Alexander-Arnold and Andrew Robertson.
— comps (@comps_123) October 21, 2019
— comps (@comps_123) October 21, 2019
The first video is in the first minute of the game, and it detailed United's plan –  every time Liverpool tried to play through Trent, Young would engage and press the fullback as quickly as possible to push him back and make him less of a threat. By doing this, it forces Henderson in this case to go backwards which led to nothing, which in turn caused problems for Liverpool's build-up play. Both Wan-Bissaka and Young pushed both Trent and Robertson further back for a large part of the game. The second video again showed how effective it could be, as in build-up play Liverpool were unable to use Trent as an option due to Young's presence, and instead went long and lost the ball.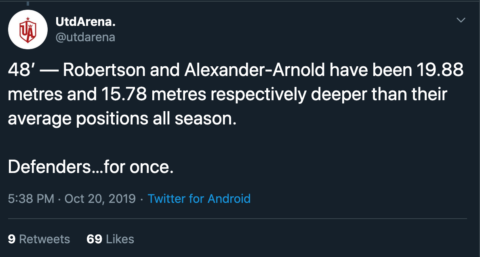 With Trent and Robertson not playing their natural game and not being positioned higher up the pitch to combine with Liverpool's attackers, it made it hard for Liverpool to create without the influence of their main creators.
Pushing Liverpool's fullbacks back also caused another problem for Liverpool in the first half, and that was the fact that it became very easy for United's back three to play against Liverpool's front three. Due to the fact that in between the lines there was only three players (Origi, Firmino and Mané) for United's back three and midfield to deal with, it meant they could contain and crowd them with two or three players at a time, and didn't have to worry as much with the threat of Trent and Robertson. This all led to stale and quite predictable play from Liverpool. United's back five easily matched up with Liverpool's front five when Trent and Robertson got forward as shown below, but Klopp did change it later on in the game which will be discussed later.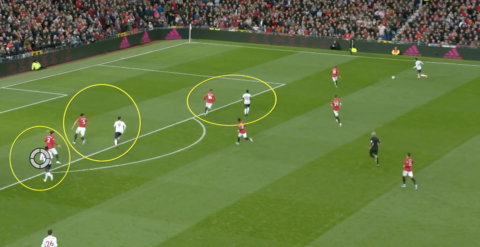 Not playing to Firmino's strengths:
Yes Liverpool made a lot of strange decisions when in possession, opting to go long with hopeful passes or just not being composed enough, but they never played to Firmino's strengths at all throughout the majority of the match.
In tight cagy games like this, the space Firmino has to operate in is usually very tight and crowded as was the case against United, however his lack of involvement wasn't solely his fault. In such games, the Brazilian is at his most influential when he has midfielders that make runs off of him either side of him when he gets the ball in tight spaces, and that never happened for a large chunk of the game. Having someone who can do that is so important because a midfielder who can dribble and occupy spaces beyond him frees Firmino up in dangerous areas, and also enables Firmino to play one twos and initiate combination play with said midfielder.
Take the video below as a good example of Liverpool not playing to Firmino's strengths. As Firmino comes deep to receive the ball from Matip, he's surrounded by three players and to turn stale possession in to an attack, the forward ideally needs Henderson to make that darting run in the space ahead of him so Firmino can play a neat pass into his path. However, Henderson doesn't make the run. It was a common theme throughout the game until substitutions were made which meant Firmino became insignificant in Liverpool's possession play.
— comps (@comps_123) October 21, 2019
Being surrounded by Mctominay, Fred and Maguire the whole game combined with a lack of help from midfield runners, it saw Firmino only make two passes to Mané the whole game (one of the lowest for the season) and meant Liverpool never really had a proper base to start attacks from.
The impact of the substitutions and Klopp's tactical change:
It took Klopp up to 60 minutes for him to decide that the enough was enough as he brought on Oxlade-Chamberlain for Divock Origi and with that changed Liverpool's shape to a 4-2-4 on the ball. Fabinho and Wijnaldum were the double pivot, until the impressive Keïta came on for the Dutchman on the 81st minute, whilst Chamberlain, Firmino, Mane and Henderson, who was replaced by Lallana, were the front four.
This was a great showing of in-game management by Klopp as he finally solved the issue of having his fullbacks being too restricted and uninfluential in the game. With there now being four players in between the lines and occupying United's central defenders it gave Liverpool a 6v5 man advantage over United when Trent and Robertson joined the attack.
This is evidenced for Lallana's goal in two parts.
Because of the fact that there are now four players up front occupying United's defenders, Daniel James is now marking Trent for the first time because Young is now marking Lallana. Lallana's run down the right hand side drags Young with him, which opens up the space for Trent to find Firmino, and the goal happens. Just by simply having more players in between the lines and making runs opens up spaces, even if it is the smallest of spaces for Firmino. This is shown below:
— comps (@comps_123) October 21, 2019
The second section of how the system change and substitutes caused the goal is as follows.
Having Chamberlain, Mané, Firmino and Lallana around the box and in between the lines it meant that United's midfielders and defenders had to be more preoccupied with them rather than focusing on Trent and Robertson, which ultimately left space for them to exploit.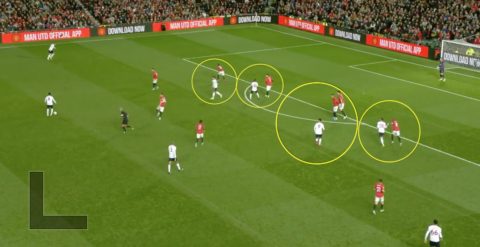 As Keita is about to play the pass to Robertson, Wan-Bissaka and Pereira have to be wary of Chamberlain making a run beyond them, so due to Chamberlain's presence it buys Robertson those valuable few seconds to find the cross to Lallana at the back post.
Aside from the goal, Klopp's substitutions also freed up Firmino. With midfielders who are more willing to make runs off him, like Lallana and Chamberlain, it saw Firmino's influence improve which is highlighted by the positions he played his passes in.
As shown below, the first image is the positions Firmino played his passes in before the substitutions were made. Almost all of the positions he played his passes in are in non threatening positions and either too wide or too deep to be influential. However, the second image shows the positions he played his passes in after the substitutions came on, with the forward being much closer to the goal, in that area which is the danger zone.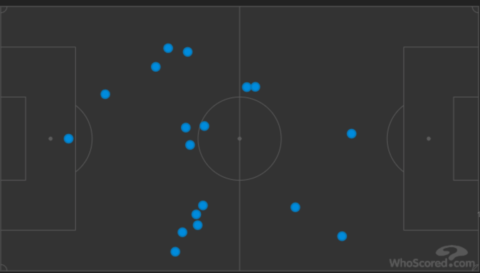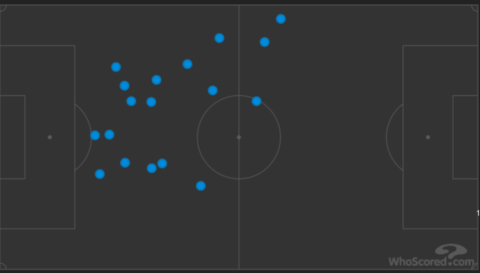 Klopp's decisions may have come a bit later than expected, but it was a brilliant tactical change that thankfully kept Liverpool's unbeaten run alive.