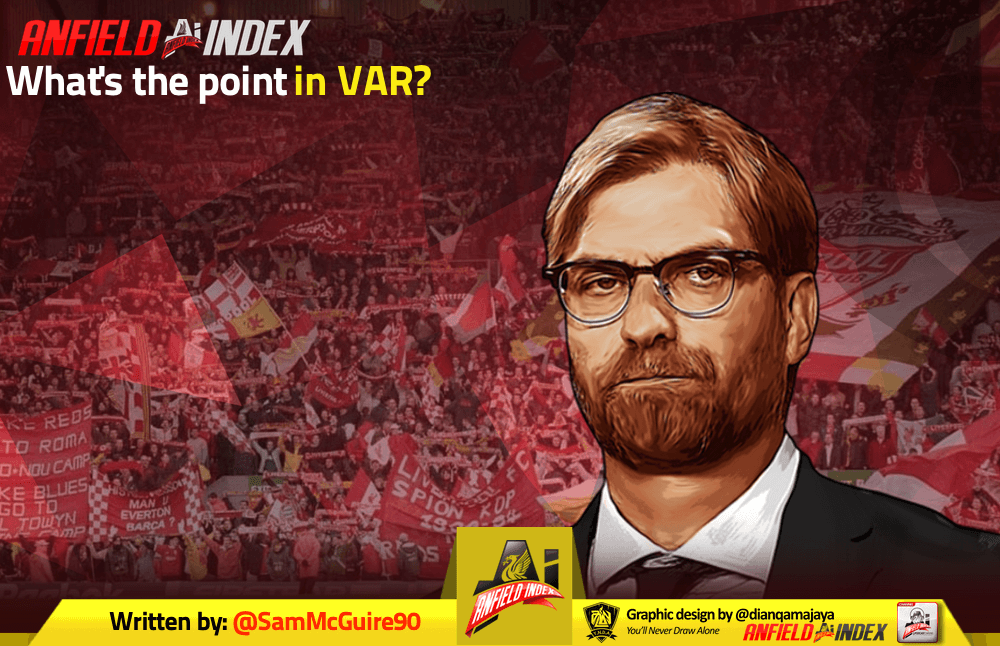 What's the point in VAR?
I was wrong about VAR. When it first emerged that the Premier League would be introducing it, I was an advocate of it. After years of watching penalties appeals being turned down, I thought it'd be a huge plus for Liverpool. 
In real-time, referees can miss things. In my naive mind, I believed the chance to review these questionable calls would right many wrongs. However, I didn't take into account the fact officials would be so reluctant to overturn a decision made by a colleague. In other sports, it doesn't appear to be the case. You may argue the likes of cricket and tennis have fewer subjective calls to make so it's easier to use the review system. To an extent, that is true. 
For cricket, an LBW is an LBW. In tennis, if a serve is out it's out. In football, though, a foul isn't always a foul. And officials, both referees and those in charge of VAR, are allowed to hide behind this to justify poor decisions. 

Instead of making for a fairer game, it's antagonising more people with every passing week. Why? Well, because, one referee awards a foul while another one doesn't. Until subjectivity is stripped away from the decision-making process, this will continue. 
VAR is supposed to be in place to right the wrongs. Everyone makes mistakes and referees are no exception. Football is a quick sport, you can't expect them to get everything spot on and it's fine to admit this. But assistants are scared to overrule anything unless it's as blatant as an offside or a handball. 
Sky Sports touched upon it during the match against Manchester United. The discussion was along the lines of whether or not an assistant in charge of VAR with little experience would overrule his senior counterpart. That shouldn't even be a topic of conversation. It should be about getting the right decision, not saving face and keeping favour. 
And while this mindset remains, VAR is going to continue to be controversial. 
What makes Martin Atkinson's decision to not call for a foul on Divock Origi even more confusing is the fact he'd called for softer fouls on United players earlier on. So the bar was set by him. He wasn't going to let play flow like some referees in this fixture do. Contact was being punished. 
With six minutes on the clock, Atkinson blew for a foul on Marcus Rashford. Joel Matip tracked the United No.10 into his own half, poked his leg between the England international's legs and won the ball. However, this action put the 21-year-old onto the floor. 
Less than three minutes later, Jordan Henderson was adjudged to have fouled Fred in what was a similar scenario. Fred's touch was a little heavy and the Liverpool skipper pounced on this. The United midfielder didn't have much space with Divock Origi and Roberto Firmino in close proximity and used the touch from the Liverpool No.14 to hit the deck. 
Origi was penalised after 40 minutes for sliding in and bringing down Daniel James. He did win the ball but the commentators implied it was given as a foul because he arrived from behind the United winger. 
You can make a case that all of those were soft. But nonetheless, given as free-kicks. Its the way the game is going, it's no longer a contact sport. So it makes the decision to allow the United goal to stand even more baffling. 
There's clear contact on Origi and Victor Lindelof doesn't get the ball. Furthermore, his tackle is from behind which, unless the laws have changed, is a foul. Did the Liverpool forward make the most of the contact? Yes. But you have to in order to get free-kicks. Very rarely will you see a referee blow for a foul if the player isn't on the deck. 
It meets the threshold to be given as a free-kick.
"I did think it was a foul, yes."

Dermot Gallagher believes Divock Origi was fouled in the build-up to Manchester United's goal yesterday – but insists the decision was made by referee Martin Atkinson and not VAR.

Watch #RefWatch live on Sky Sports News now! pic.twitter.com/i272Y6qS7v

— Sky Sports News (@SkySportsNews) October 21, 2019
Sky Sports' Dermot Gallagher said it wasn't overturned because it wasn't a clear and obvious error. But how can a foul not given as a foul not be a clear and obvious error? It's a clear foul going off what United had been awarded in the match meaning it's a blatant error, even without the goal being scored.
Before the days of VAR, it would've been a decision you'd just have to live with as a supporter. But there's a second chance now. There's no excuse not to chalk it off for the aforementioned reasons.  
If football is going to be built on subjective decisions then there's no point of having VAR involved in anything other than handballs and offside calls. Otherwise, it's doing nothing more than highlighting how bad these officials are at their jobs.