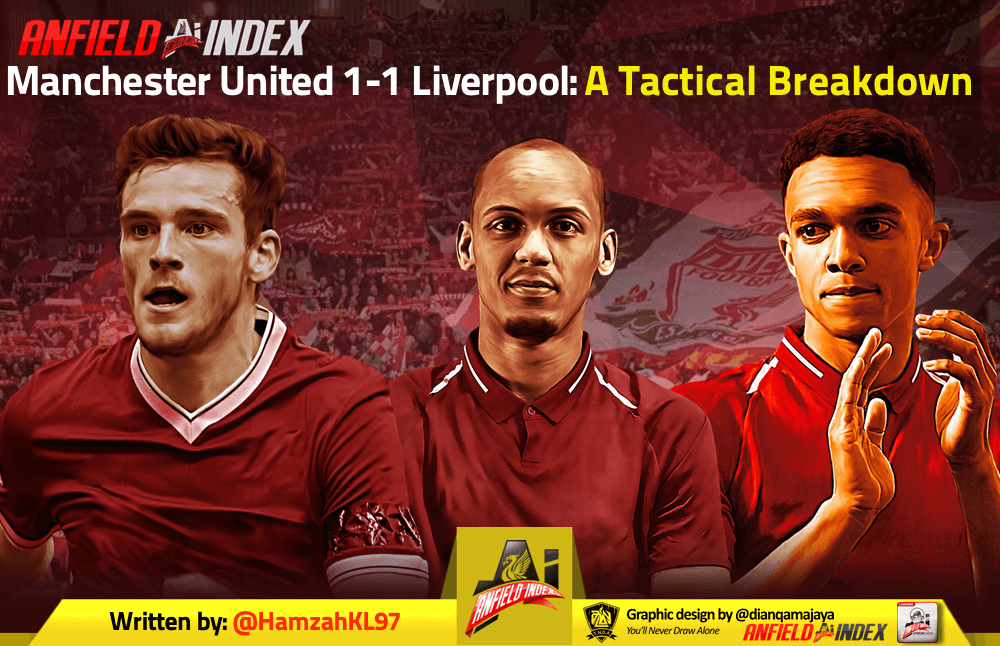 Manchester United 1-1 Liverpool: A Tactical Breakdown
On Sunday afternoon, perhaps the worst United side in living memory lined up against arguably the best Liverpool side in living memory, and most certainly the best side in the Premier League era.
With Mohamed Salah unavailable through injury, Sadio Mané was positioned on the right of Liverpool's 4-3-3, and Divock Origi on the left. Conceptually, even without Salah, these two forwards were supposed to operate inside United's wingbacks, and attack the spaces outside of the centre-backs. From this, it was clear Ole Gunnar Solskjaer had not done his homework. If he were to utilise a 5-3-2/3-5-2 and get through the 90 against Liverpool without losing, it would be by hook, crook or by sheer luck. As it so happened, it was the product of all three.
Nonetheless, before we consider that, we should look at the tactical setups of both sides.
United's two forwards were tasked with providing a counter attacking outlet, with James pulling wide, and Rashford occupying the central areas on counter-attacks. Liverpool though rarely offer counter-attacking opportunities, as a product of their tactical emphasis on transition and counter pressing when losing the ball – thereby reducing the risk and propensity of opposition sides when losing the ball.
Within United's midfield, Pereira was the most advanced, with McTominay and Fred both sitting in front of the defensive line. When building up from the back, this meant United often had eight options deep in their own half, the goalkeeper, the three centre backs, the wing backs and and defensive midfielders. This stacked defensive line allowed United to shift quickly into their low block when dispossessed.
For the opening 20 minutes, Manchester United's press worked with some success. Liverpool's centre midfielders were pushed back too often and too easily when pressed, and were unable to access their forwards ahead of them. For Liverpool, with United's wingbacks positioned higher up than expected, there was no clear route to feeding the ball into Origi and Mané, especially if the midfield refused to break forward.
LFC's 3 CMs' passing maps from the first 45 minutes. Notice anything? (via @StatsZone app)

Both total volume and the quantity of forward passes is significantly lower than what we would expect.

LFC were pushed backwards far too easily. No wonder the forwards were isolated. pic.twitter.com/euBtBe2pD4

— Hamzah (@HamzahKL97) October 21, 2019
The onus to get the ball forward then fell to the fullbacks, who were being penned back due to the advanced position of the United wingbacks. Consequently, the most frequent passer into Mané was Alexander-Arnold, who only managed to muster 6 passes, despite operating on the same channel on the pitch.
The less said about the decision making that led to Manchester United's goal the better.
However, should we exclude it from the assessment of the first-half, according to InfoGol, Manchester United's xG was 0.09. Liverpool may not have been anywhere near their best, but utterly and totally restricted United in terms of offensive output. Admittedly, United's offensive prowess is minimal, but Liverpool underscored this to the nth degree in the first half, and only a dreadful decision which immediately preceded two passes in transition which led to the goal, within the space of approximately 5 seconds undid that work. For context, Liverpool created over triple the offensive threat (0.28 xG) that United did in the first half. By no means at all a significant number, but to claim that United had any semblance of control or dominance in the first-half is factually incorrect.
The second-half precipitated changes for both sides. Man United altered their system with Pereira deeper – clearly utterly stunned at being able to take the lead, Solskjaer was overwhelmed by the situation and unclear what to do, other than defend. Liverpool shifted into a 4-2-3-1, with Henderson moving into the right attacking midfield position. Whilst we have seen instances of this working, sometimes in a 4-3-3, (see Henderson vs. Southampton last season), in this case it was an ineffectual tactical decision, with Henderson occupying spaces which Alexander-Arnold is far more effective and productive in, from an offensive perspective. Liverpool would have been better off allowing Alexander-Arnold to roam in the wide right space with Henderson as the defensive cover alongside Fabinho. Obviously, later on, this raises the issue of who would underlap and link up with Alexander-Arnold, given Mané moved into the middle, and given the unavailability of Salah and Shaqiri, it's extremely hard to answer that.
Without Salah, who usually attracts two opposition players to mark him, those players were available to pressure Alexander-Arnold, and this only emphasises Salah's importance to the team in a tactical sense – he still remains Liverpool's best and most important player, for the vast majority of games.
With Liverpool in the 4-2-3-1, instead of looking to break United up through positional play, the focus was on proverbially smashing the front door in, through attacking centrally with numbers. Liverpool's fluency picked up, but still, the team struggled to create genuine goalscoring opportunities – like the chance that fell to Mané, which was ruled out for a handball in the first half. Nonetheless, the team exerted control onto the game, but did not quite display a clear goal threat. That changed with the introduction of Lallana and Keïta, with Henderson withdrawn from the right attacking midfield position.
Keïta, operating as part of the double pivot had to perform responsibly with regard to his defensive duties, given there was one fewer player offering protection, and the fullbacks were pushing forward. Consequently, he did not dribble with the ball a lot, but instead used his passing ability to move the ball forward, into space and finally add some precision to the forceful but imprecise attacks generated in the system.
Eventually, sustained pressure and a fantastic passing move in which Liverpool switched play effectively and condensed United's backline, allowing space to open up wide, which Robertson was able to exploit – one of the few such opportunities across the 90 minutes – and Liverpool were able to play a cross in from a much more challenging position, and a low cross too, which suits Liverpool's forwards far better than competing aerially with Maguire and co., who were operating in an extremely defensive 5-4-1.
Lallana's finish capped a brilliant move, a result of sustained pressure and quality which Liverpool had not displayed any of, prior to Keïta's introduction. Liverpool's haste to score another though cost them, as in a couple of moments when positioned outside of the box, Liverpool forced passes which were overhit, and played into United's hands.
In the final minute though, Liverpool were finally able to attempt to utilise one of their strongest assets: set pieces. It's a great shame that Liverpool were unable to have more of an opportunity through free kicks and corners, given their potency, but that comes back to a midfield setup that was too timid in the first half, and too eager in the second, being unable to exert control in order to really examine and expose those glaring issues Manchester United have.
This was a hugely disappointing performance, marred by refereeing decisions which favoured Manchester United. Liverpool did exert themselves onto United for the last 15 minutes of the game, and looked like scoring a winner. However, to be so frustrated by such a poor United side is massively frustrating. The ineffectiveness of the side in the 4-3-3 without Salah, and the dependency on Keïta to make the 4-2-3-1 function effectively underscores Liverpool's depth issues which were all too obvious in this game.
Manchester United did not deserve anything from this game. But most unforgivable of all was that Liverpool did not punish United's insipid and drab display. This was two points dropped.