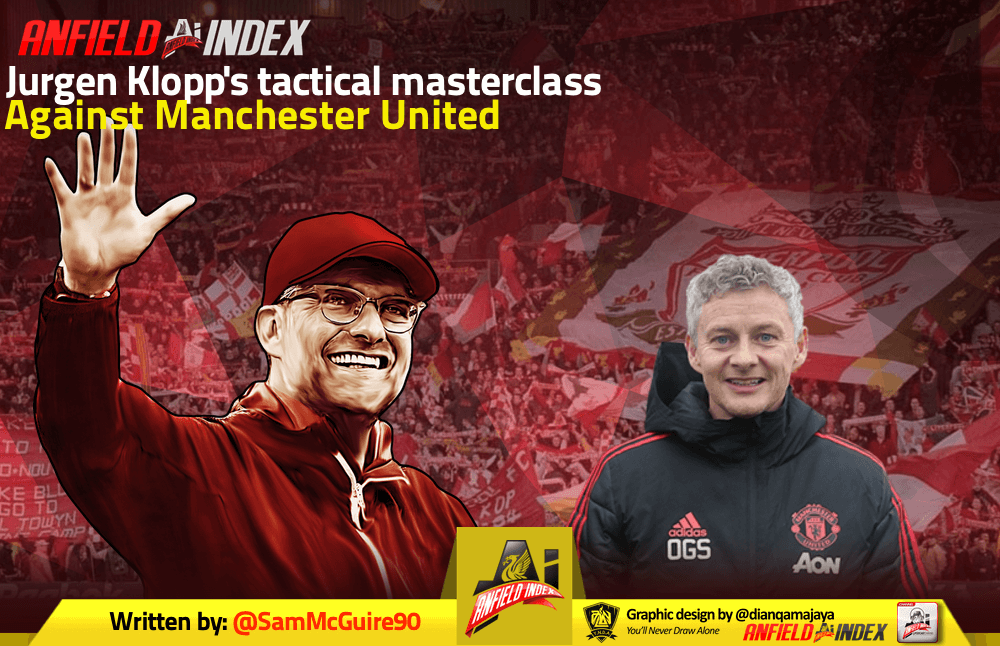 Jurgen Klopp's tactical masterclass against Manchester United

It's been described by parts of the Manchester United media as an Ole Gunnar Solskjær masterclass.
The Red Devils took to the Old Trafford pitch for the match against Liverpool with one purpose. It wasn't to win, it was simply not to lose. It's been a common theme over recent seasons with the power shift between the two sides becoming more and more evident. United used to be the clear favourites in these clashes. Now they aren't even the favourites to claim victory on home turf. 
Had the roles been reversed and Liverpool had allowed a lead to slip with that sort of performance, fans wouldn't be acting like it was a success purely because Divock Origi had put Harry Maguire on his arse.  
Think about it for a moment, United had a 1-0 lead and they had the fans on side making an awful lot of noise. Yet following on from Marcus Rashford's opener in the 35th minute, the home side didn't have another shot on target for the remainder of the match. In fact, the only time Alisson was forced into making a save on his return to first-team action was when he easily dealt with a long-range Scott McTominay effort. 
Solskjær helped push the narrative that United were unlucky not to claim all three points and the media gobbled it up. Why? Because the Reds didn't batter the hosts as many had tipped. By default, this was a victory for Solskjær and his players. He managed to halt Liverpool winning streak at 17. But it was more through chance than anything else. 
The home side won the first-half battle. 
They had a one-goal advantage and their system was nullifying the visitors going forward. But matches aren't 45-minute events and it appears the United boss forgot about this. With Jurgen Klopp switching things up as he looked for a way back into the match, Solskjær seemed to just hope for the best. He didn't react to the changes and it felt like a matter of when Liverpool would equalise and not if. 
As the game went on, United moved away from defending the space to chasing shadows. The Reds started to move the ball at a quicker pace. Passes seemed crisper and snappier. The players finally found a rhythm and Liverpool started to look like, well, Liverpool. 
As Martin Atkinson blew for full-time, the visitors had completed twice as many passes, they'd seen close to 70% of the ball and their pass accuracy was nearly 20% higher than United's. Granted, the only stat that matters in the grand scheme of things is the final result. However, if the game had gone on for a further ten minutes, you wouldn't have bet against Liverpool finding a winner. It was those in white who looked more dangerous heading into the final few moments.
From a United perspective, you can look at this one of two ways. Firstly, it's a good point against the Premier League leaders and it helps restore the idea that Solskjær isn't out of his depth and knows what he's doing. Prior to the match if they'd been offered this they probably would've gleefully accepted it. 
But after seeing how the match was going, they should be disappointed at not being able to see the game out. They had the lead and they had a referee in Atkinson who was siding with the hosts whenever there was a questionable 50/50 call. This was a perfect opportunity for United to put Liverpool under the cosh and really test their resolve. 
After all, Old Trafford is a hoodoo ground for the Reds and they looked well off the pace. The Reds were without Salah, and Aaron Wan Bissaka and Ashley Young managed to stifle Andrew Robertson and Trent Alexander-Arnold while the midfield looked out of sorts. At half-time, all Solskjær had to do was make sure United didn't allow Klopp's side to get a foothold in the game. It's fine to allow them to dominate the ball but don't let them dictate the space. 
The Norweigan didn't do that, though. And United eventually ran out of ideas. After all their hard work, one simple cross into the area is all it took for Liverpool to claim an equaliser. McTominay stood off Naby Keita for what felt like an eternity. Wan-Bissaka got drawn to Oxlade-Chamberlain and left Robertson in acres of space. It was all too passive and this resulted in it being three on three in the penalty area, due to Young being on his heels, when the cross arrived. 
But it was what United deserved for not offering anything going forward. They tried to soak up pressure for the entire 90 minutes and fans and the media are masquerading this as a masterclass. It's what many mid-table teams do against the top-six. It's what Jose Mourinho was criticised for over the years. But when he did it, he often got a result. Whereas Solskjær's approach is what ultimately cost them all three points when they were there for the taking.
There was a tactical masterclass on show at Old Trafford. But Solskjær should've been taking notes. It was Klopp who showed how tactically flexible you need to be in the Premier League to recover from losing positions. It won't go down in the history books as one of the Liverpool manager's finest hours but he was proactive in his approach in his search for an equaliser. He adapted and his changes made something happen for the visitors which, when you've had a bad day at the office, is all you can ask for.