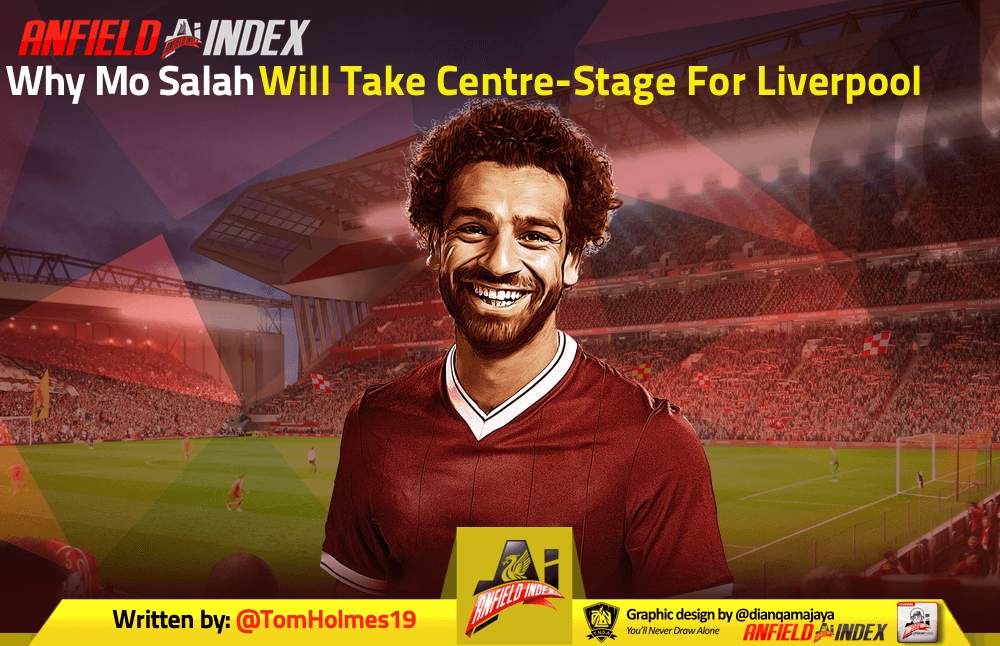 Why Mo Salah Will Take Centre-Stage For Liverpool

Sadio Mané and Mo Salah have both been making headlines this season for Liverpool. And rightly so. Mané has scored nine goals with one assist in all competitions, whilst Mo has seven goals and four assists. Both players have also this week been nominated for the Ballon D'Or along with four other Liverpool players (Alisson Becker, Trent Alexander-Arnold, Gini Wijnaldum and Roberto Firmino).
But there's also been talk of a bit of friction between the two, although that's mostly just to try and generate stories.
What's been interesting, has been the shift in the way people talk about the two players, especially since the end of last season. There's definitely a perspective that Sadio is now more important to us than Mo and will be a more important player this season.
And I don't want to dispute that narrative in its entirety, because I absolutely adore Sadio Mané and Mo Salah, and I find the notion of pitting them against each other incredibly tiresome. Moreover, I think they're both phenomenal players who are both hugely important to Liverpool and will be vital this season.
That being said, I do think that the narrative around Sadio is based on an implicit assumption that his form is sustainable, which I simply do not think is the case.
Since the start of last season, Mané has scored 27 PL goals from 20.36 expected goals, a finishing rate of 1.33 goals scored per expected goal. Considering you would expect a 1 to 1 ratio, this indicates a massive over-performance on the numbers since the start of last season.
Perhaps, you might argue, that scoring significantly over what's expected is just a skill of Sadio's as not everyone finishes at the same rate, and Sadio could be considered an elite finisher.
There is more statistical evidence however, indicating that Sadio is really due a cold spell. Since the start of the 14/5 season, Sadio's average ratio is 1.14 goals per xG. And if we narrow Sadio's form to 2019, given how he didn't really explode until January onwards, we can see that in the Premier League this calendar year he's scored 19 goals from 13.48 xG – a ratio of 1.41 goals per xG.
That's a hot streak. It's one hell of a hot streak, but it's unsustainable. For a bit of context, when Salah notched 32 in his first season for Liverpool, his ratio that year was 1.27 goals per xG and most people argued (inevitably correctly) that that form was unsustainable.
Sure enough, since the start of last season, Salah has scored 26 PL goals from 26.85 xG, an almost identical ratio. He's slightly down on the calendar year, with 13 goals from 14.16 xG, but that's what's considered to be bad form for a top forward.
Moreover, Salah contributes more to the attack overall, as he is more creative than Sadio, dribbles more, generates more progression through his dribbling and passing than Sadio, scores more goals that have an important impact on games than Sadio and I think remains more important to the team.
More to the point, keeping the focus on what my main point is, when Sadio has a cold streak, which he inevitably will between now and the end of the season, Liverpool will have to lean much more heavily on Mo Salah then.
And he's a player that you certainly want to be able to rely on, which is my main point. If and when Sadio struggles to keep the form that he's demonstrated this calendar year going, it's going to be fine, because we'll have one of the best all-round forwards in world football taking centre stage again.
But then I made this exact argument in late March when Sadio was in the form of his life and Mo was a little bit out of form, and look where we are now over six months later. Football is a funny sport.
Up the Reds.