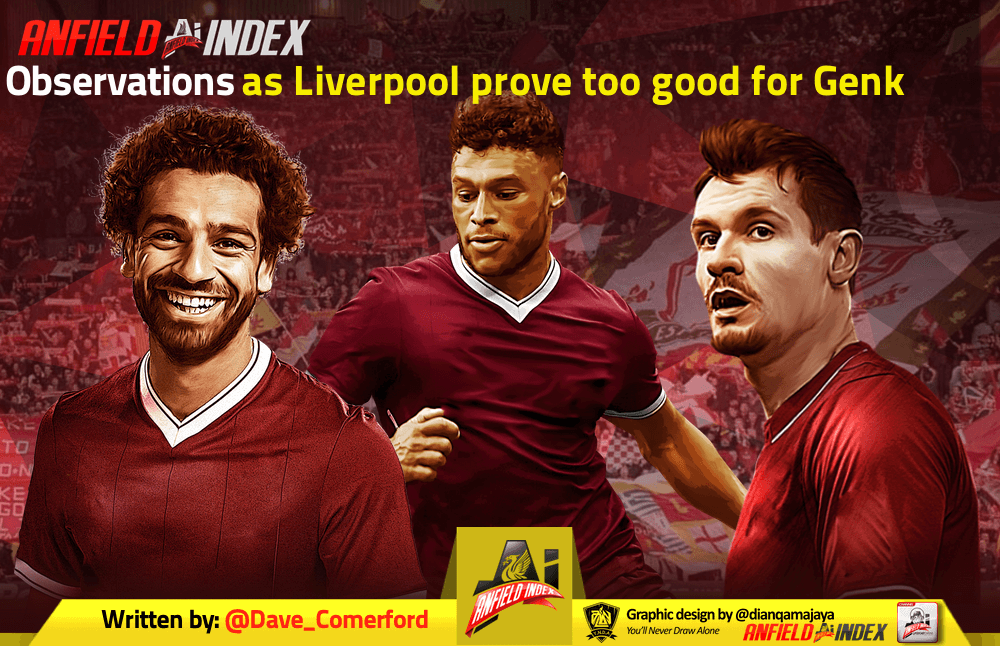 Observations as Liverpool prove too good for Genk
The performance wasn't perfect, but the result certainly wasn't far off. Liverpool exposed the gulf class in a commanding victory which leaves them well-placed to continue their title defence into the knockout stages.
Stephen Odey's 88th-minute clean sheet buster proved the only blemish after thirty dazzling second-half minutes.
Revamped midfield showcases its potential
Scores of Liverpool fans on social media greeted the evening's team news with immense excitement after Jurgen Klopp deployed Fabinho, Alex-Oxlade Chamberlain and Naby Keita for their maiden outing as a trio, and to a considerable degree the combination lived up to the hype.
At the base, Fabinho coped admirably with the additional defensive burden he was bound to shoulder alongside the attack-minded pairing. By enthusiastically carrying out the dirty work, he gave Keita and Oxlade-Chamberlain the freedom they needed to thrive.
Both underlined their capacity for unique contributions. Keita, whilst not at his best, looked as if he could engineer an opportunity almost every time he picked it up in opposition territory, while headline-grabber Oxlade-Chamberlain, more simply, brought goals.
It would arguably be unfair to label the lack of goals within the Reds' customary midfield a weakness, for that would indicate a misunderstanding of their role, but it seems as if Ox could bring a different dimension.
His first strike may have crept past the out-of-position 'keeper even without the slight defection, and the second was… well, pick your adjective. I'll go with sumptuous, though honestly I'm not sure that does the arrogant outside-of-the-boot masterpiece justice.
Oxlade-Chamberlain is much more likely to go for goal than the usual starters, and on numerous occasions now he has spectacularly found the net. There's definite potential in this alternative midfield.
Salah's off-night ends with a selfless sparkle
For about 75 minutes, Mohamed Salah looked way off the pace, perhaps indicating the ankle injury he picked up against Leicester was slightly more serious than believed.
But in an instant, he came alive. First, there was a measured assist for Sadio Mane, who made it three with a composed dink, and then he added a fourth in vintage fashion, maneuvering his way into space through strength and skill before sliding the ball home via the post. Mane had turned provider, delighting any Reds still harbouring concerns about intra-team friction.
Salah has yet to hit his extraordinary heights this season but has now scored seven and teed-up four in 13 matches. As ever, the doubters can't argue with the figures. And after getting 90 under his belt, he should be nearing maximum sharpness at the weekend – a daunting prospect for a Spurs side he has tormented in the past.
Reds defence failing to kick-on
In the grand scheme of things, the loss of the clean sheet a couple of minutes from time is nothing more than a 'luxury annoyance'. Shutouts have been few and far between for the Reds this season but their under-performing backline shouldn't be a cause for concern.
Alisson, the best goalkeeper on the planet last season and a figure whose influence extends far beyond shot-stopping, has only just returned, and the defence fielded in Belgium, in the absence of Joel Matip and Trent Alexander-Arnold, was makeshift. Our best back-five should be reinstated at the weekend and with each game they'll likely edge closer to top form, regaining their rhythm and improving a record which, in the Premier League, only one team can match.
The principal frustration at this stage is that Liverpool don't look likely to surpass, or indeed match, the mighty defensive benchmark they set last season, when the ever-present Alisson took domestic and continental Golden Gloves. At the very top level, you want to see a certain relentlessness.
Group stage away hoodoo banished?
They may have reached two successive finals, but this was Liverpool's first win on the road in the Champions League group stage since October 2017 when they annihilated Maribor. Since then, they had drawn one and lost four.
At last Klopp's men showed their quality and took their chances, rendering one or two jitters at the other end meaningless. The display was slightly rough around the edges, but in games like these it's only really the final outcome that matters.
Now Liverpool have something resembling a blueprint for their trip to Salzburg on Matchday Six, albeit in the knowledge that they will have to be tighter defensively.
That game should now be about nothing more than sealing top spot. Tonight's victory was crucial in carving the path to qualification ahead of two games at Europe's greatest fortress.