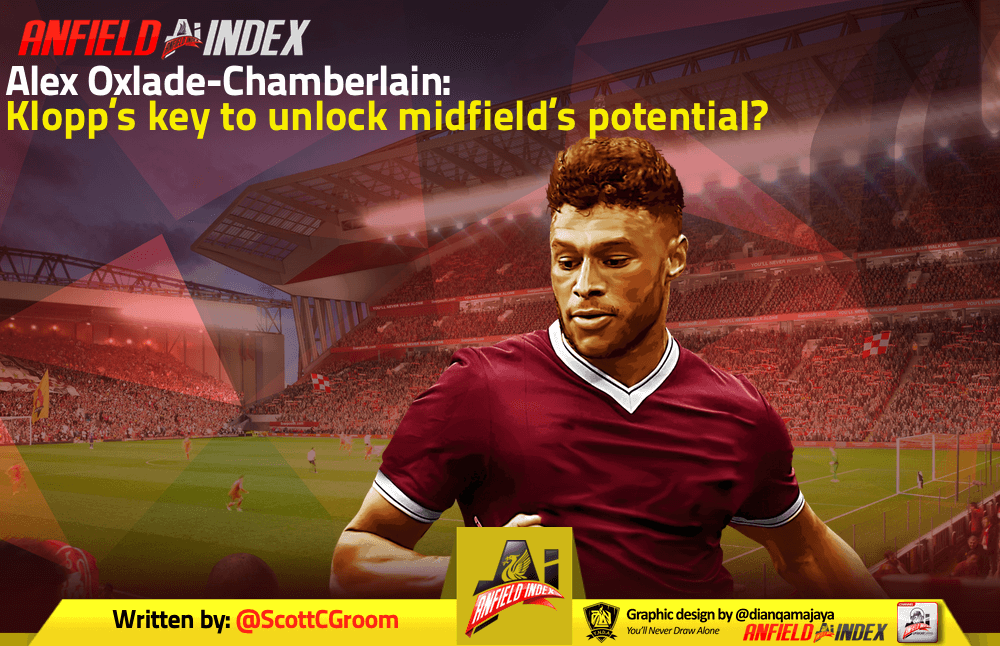 Alex Oxlade-Chamberlain: Klopp's key to unlock midfield's potential?
It was a return to form that was one of the most welcome in recent memory.
Alex Oxlade-Chamberlain, who endeared himself to Liverpool fans everywhere during the 2017/18 season, reminded Reds last night what they've missed during his arduous absence after his cruel knee injury.
The dominant, powerful and threatening Ox was back with a bang, scoring two fabulous goals and putting in a solid all-round performance in Liverpool's comfortable 1-4 win over Genk – giving a timely reminder that he is a seriously useful asset to Klopp for the upcoming busy season.

Let's start by looking at why Ox's performance was as good as it was last night and what he offered that made him stand out.
We all knew that upon his arrival on Merseyside that Chamberlain was itching to play in a more central role as opposed to a wider attacking position or even wing-back as he was utilised by Arsene Wenger in his later Arsenal career.
Many questioned whether he was cut out for the role in that demanding position, but once deployed there by Klopp, it became apparent that he was more than able to fulfil the role with aplomb.
His work rate is second-to-none, his strength and pace are a vital attacking and defensive asset and he has that incisive attacking know-how to be able to see passes, make runs and create chances and break the lines of opposing teams at ease.
He showed this in abundance before suffering his injury against Roma in the Champions League semi-final around 18 months ago, and he showed that that's what he'll continue to offer to this Liverpool team in Belgium against Genk.
His positional sense was spot-on in attacking scenarios, often occupying the space in between the defensive and midfield lines, making him so hard to pick up. If you look back, this position is where he receives the ball for both of his goals – which were ridiculously good.
Having a player of his ability in the team gives opponents something else to think about in addition to having to keep Mané, Salah and Firmino under wraps, and having Ox there also means that those front three can make the runs to create the space, knowing Ox has the ability to drive at the defence and pick the pass to find them.
There is still an element of rustiness in his play, but this is to be expected of a player who spent the best part of a year in hospitals, physio sessions, treatment rooms and gyms in a bid to get back to where he is now.
But what Chamberlain's return to something near his best does do is give Klopp a really serious choice to make.
There are often fingers pointed at the German tactician's midfield choice, with the preferred three this season being the ever-impressive Fabinho, captain and leader Jordan Henderson and the tireless Gini Wijnaldum.
Those three, Fabinho in particular, have been solid performers for Liverpool thus far this season, but there have been suggestions in recent performances that Henderson and Wijnaldum, in particular, have looked both a bit tired and lacking in ideas in how to provide that necessary spark to break down stubborn teams.
The frustrating 1-1 draw at Old Trafford is a prime example of this.
Oxlade-Chamberlain was introduced on the hour mark and his presence made an immediate difference. Liverpool were suddenly more progressive, moving forward more willingly and at a faster pace, looked more threatening and the front three sparked into life as they had someone feeding them.
He adds a cut and thrust that is sometimes lacking from the industry provided by Henderson and Wijnaldum. It's of no coincidence that Liverpool looked more likely to get something from the game after his introduction.
And there will be countless teams who face Liverpool and attempt to stunt them in the same way that Solksjaer and United did last weekend, so having someone like Ox back and firing on all cylinders is going to be vital.
Pair that with the promising signs that Naby Keita has also shown in recent games, and suddenly Liverpool have an entirely fresh look to their midfield that's full of vibrancy, pace and is incisive.
These ingredients could well help to propel Liverpool up to the next level of performance that is still waiting in the wings to show itself yet this season – and when that happens, Liverpool will be some force.
And that's saying something considering the start to the season they've already had.