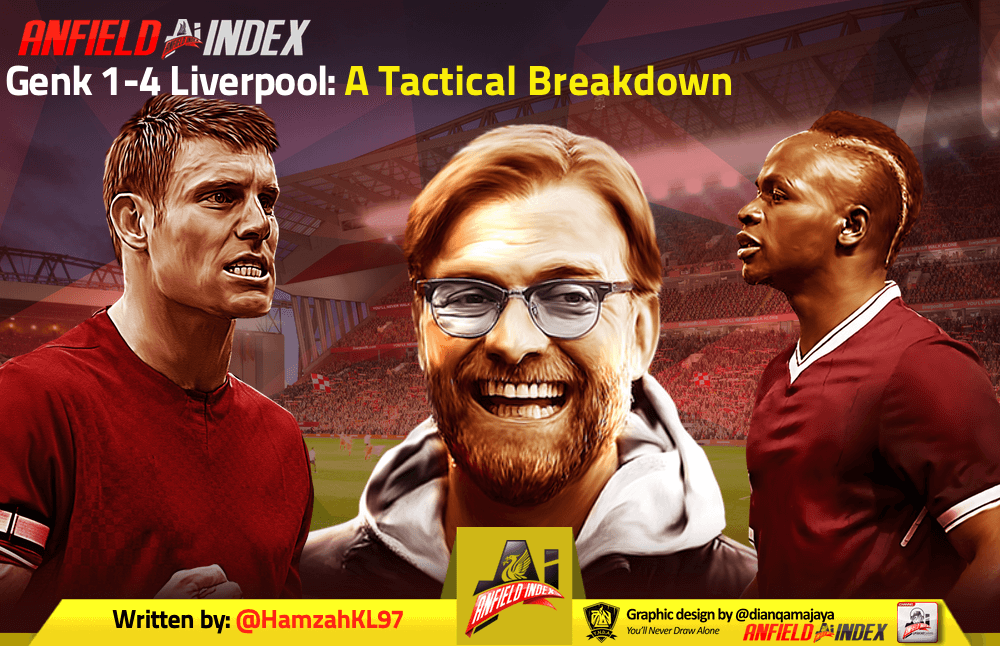 Genk 1-4 Liverpool: A Tactical Breakdown

So it begins. A gruelling period for Liverpool's squad which will only leave three full rest days until the 23rd January (that's days between games that are not classed as recovery).
However, this particular fixture carried a little extra weight. Having won seventeen consecutive league matches, Liverpool put in one of their worst displays over the past year, with a drab, insipid and utterly dull affair against Manchester United, for all but fifteen minutes. Having already lost one group stage game, Liverpool arrived in Genk with the pressure of not just returning to winning ways, but finding the fluidity and attacking fluency which made the side so unplayable for much of last season.
Genk, lining up in a 4-4-1-1, looked to apply a different sort of pressure onto Liverpool, using their second striker to match up to Fabinho, but we were not able to really get a good look at Genk's system in full, as Liverpool's early goal altered the game state, and how both sides utilised their setups.
Jürgen Klopp made a number of changes, bringing in Lovren, Milner, Oxlade-Chamberlain, Keïta and Salah back into the starting XI. These changes in themselves offered opportunities for both sides.
In Liverpool's defence, the combination of Milner and Lovren afforded Genk the opportunity to play long passes into the wide right channel and look to break into it. This was a consequence of Milner slotting into Alexander-Arnold's position, which usually requires stepping up into the middle, and the final third of the pitch, thereby leaving the area outside the right centre-back exposed.
Both Milner and Lovren's lack of pace relative to Matip and Alexander-Arnold only exacerbated this issue, but so too the midfield selection. Oxlade-Chamberlain when operating in the 4-3-3 system, usually features as the most advanced of the midfield, as a consequence, and unlike Henderson, Milner or Wijjnaldum, who play slightly deeper when playing as the no.8, there was a little less cover available for the emergency CB-RB combination.
Out of possession, Genk used a 4-4-1-1 system, in which the second striker would look to sit on top of Fabinho and prevent Liverpool from building up directly through the centre. However, this was not too problematic, as Genk also allowed a significant space out wide, and in the half-spaces for the opening 15 minutes, areas which Liverpool's midfield and forwards were able to thrive in, resulting in the first goal. Indeed, for this first goal, both Oxlade-Chamberlain and Keïta took up positions in the half-space between the Genk defensive and midfield line. Firmino pushed up against the Genk centre-backs, thereby committing them and generating space for Oxlade-Chamberlain to receive the ball in, and shoot without ball pressure.
After this period, Genk defended a little more resolutely, but Liverpool were able to dominate possession and create a number of opportunities but not seize them properly. Salah, in particular, received the ball on a number of occasions in and around the box, but with his back towards goal was unable to effectively generate a shot or significant scoring opportunity.
In the second half, Liverpool's centre midfielders tightened up spatially, and moved away from operating predominantly in the half-spaces and came inside a little more. Liverpool's fullbacks still remained wide but were positioned slightly deeper, providing a little more protection for potential counter-attacks. Additionally, as Keïta took up the central area, Firmino moved forward slightly higher, pushing up against the Genk backline.
This tactical shift directly led to the goal, with Keïta advancing into a central area, before playing the ball into Firmino, who was positioned up against the Genk defensive line. Oxlade-Chamberlain's finish was utterly sublime, and exactly what Liverpool needed in order to open the game up a little more, and finally begin to regain fluency, and attack spaces in behind via running and passing into them at speed, and via short pass combinations.
Liverpool's third epitomised everything they wanted to do against Genk, but could not quite execute. As Firmino dropped deep, Mané made a diagonal run, in front of Salah who moved the ball into his path, all the while as Liverpool advanced the ball into the centre quickly and through short passes, across the pitch. This quick vertical and direct passes finally displayed the attacking movement that Liverpool have been striving for since the Leicester game.
Liverpool's fourth was the moment in which Salah's persistence finally paid off. After working tirelessly and getting into good positions across the game, but not generating the rewards his movement or attempts deserved, Salah utilised his strength and close control between the two Genk centre-backs, and broke beyond them with a simple but lightning-quick ball roll, to move into space, from which he slotted the ball into the goal with his right foot.
The second goal effectively ended the game as a contest, however, all it took was a small mistake from Lovren by the touchline for Genk to create a chance of their own and score, but insofar as the overall performance is concerned, this is mostly a meaningless consolation goal. What was most pleasing about this game was the variety of ways in which Liverpool managed to score – two shots from outside the box, one beautiful fluid passing move up the pitch, and then lastly a brilliant bit of individual skill, which was precisely what Liverpool could have done with against Manchester United, for even when Salah is not at his best, his presence, goal threat, stretching of opposition defences (and the spaces that opens for his teammates) and ability to score from challenging situations makes a world of difference.
With Spurs next up against Liverpool, a more to-and-fro game played in transition would most likely suit Liverpool, but should Spurs sit back, and look to defend, it's clear Liverpool do now have the assets to break them down in Naby Keïta and Salah when attacking centrally.