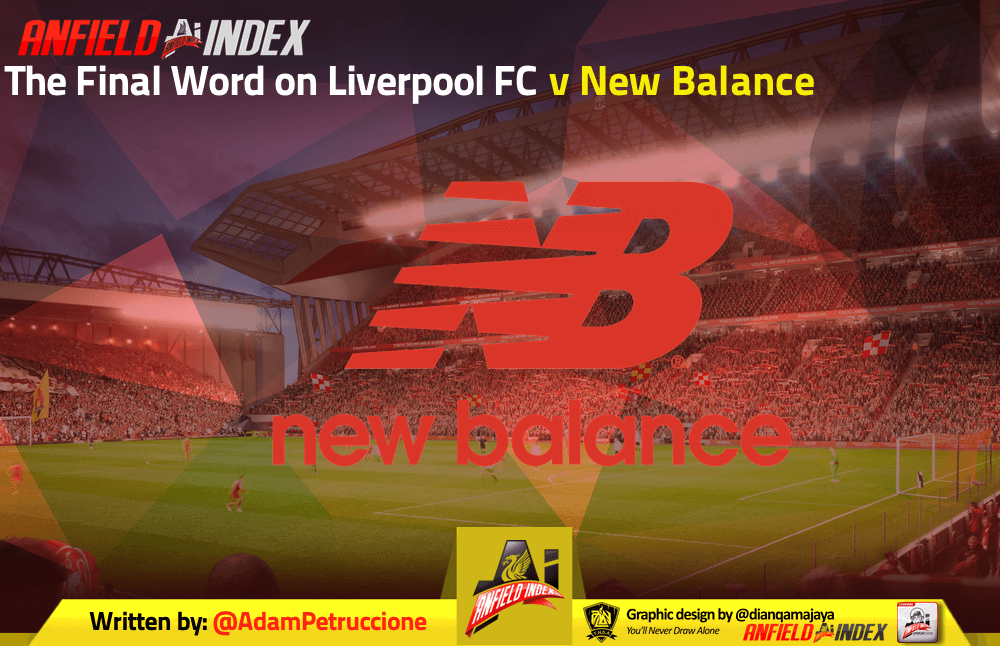 The Final Word on Liverpool FC v New Balance
Do you struggle with kit deal envy?  Do you find yourself comparing complex numbers with strangers on Twitter even though you took five art electives at University in order to side-step the calculus requirement? Well this article might be right for you.
Liverpool found themselves in court last week fighting for the right to sign a deal with guaranteed revenue roughly equivalent to the deal that they are already on. Outrage! Clearly the Liverpool brass have been on a non-stop bender since Madrid and were snookered by shifty sneaker execs from Oregon.
Or have they..?
If we've learned one thing in the FSG era, especially in the last half-decade, it's that whenever you think that they have finally faltered, the Boston boys pull something out of a hat that leaves us with jaws agape while we frantically delete old posts.  Remember when Tottenham crushed us in the summer transfer window?  Remember the embarrassment of the Van Dijk courtship?  Fekir-Friday?
It's usually unconventional, often messy, but just when you think you're going to rake in some I told you so clout from the Liverpool supporter poker table, FSG show you their pocket pair.
Numerology
Why do the surface level numbers appear so small?  Manchester United's Adidas deal is for £79million per season assuming they stay in the top four.  *pause for laughter*  Meanwhile Liverpool are battling for a deal with less than half of that glorious guaranteed revenue.  But, even in the current deal, the guaranteed cash is only part of the story.  During the court proceedings New Balance revealed record kit sales of 2.9million units despite stock issues and a limited amount of stores that the shirts are sold through.  Those numbers, through the current New Balance deal, will result in revenue for the club that is already in line with United's highest potential purse; ~£80million.
Estimates are that LFC's share of New Balance kit sales is between 4 and 5% currently.  Nike would quadruple that to 20%.  Four times the rake on three… million… kits.
Nike is proposing to offer Liverpool kits in double the amount of stores; 8,000 versus 4,000 under New Balance.  Now, every time Reds supporters have a layover in a major airport or drop the kids off at the mall, anywhere from Bootle to Bangkok, we'll be able to casually purchase Liverpool gear.
Outside of brick and mortar sales, Nike's website currently offers over 150 different PSG branded items on their website, while New Balance offer just 30 Liverpool branded SKU's.  Only New Balance execs know why they didn't attempt to squeeze more out of their kit deal with a larger variety of apparel or even maintaining stock of the most popular items.
With these factors in mind, overall sales could and should absolutely explode.  Adding any kind of popular signing on top of that would simply be gasoline on top of a cash-flow fire.
To put it simply, if you are selling a product and a distributor knocks on your door offering to give you 4 times the share of the revenue, selling it in twice as many stores with 5 times the variations of your product… you jump at that deal like, well like LeBron James, who is just the frosting on the cake if he ends up repping the Liverpool brand all over the world. The guaranteed money is really irrelevant as long as you believe you have a growing product and LFC, with all of their stars locked down to long term deals, are the perfect club to sign on to a deal with this kind of risk/reward built in.
Don't Expect #Mbappe2020
While the immediate assumption is that the structure of the proposed Nike deal would lend itself to big name signings we shouldn't get ahead of ourselves on the transfer front.  Liverpool are not going to throw away the transfer strategy that has gotten us back on top of our perch because of an improved kit partner.  If Mbappe is the right player for football reasons, Klopp and crew will chase him until the ends of the earth and the resulting kit cash bonanza will just be a bonus.
Look for Liverpool to consider the specifics of the Nike deal as a tie-breaker when considering younger additions, the next generation that they will build into mega-stars.  LFC already have the spine of Brazil's national team signed up for years and there are more football crazed humans in Brazil than anywhere on the planet.  An emerging market to watch is Nigeria, home to several young stars residing in European leagues.  A name that kept popping up over the summer was Samuel Chukwueze, the Villareal forward.  A second Nigerian name to follow is Lille's Pepe replacement, Victor Osimhen who is enjoying a strong start to life in France.  Mexico is another market with massive potential if Raúl Jiménez could be pried away from Wolves.
Break the Drake Curse
We have Drake to thank for our victory in the case against New Balance.  Really.  With New Balance claiming to be able to manifest enough doors (stores) to match Nike, the only point of difference was Nike's stable of influencers that they could call upon to promote Liverpool's brand.  While it may be dubious as to how much awkward dancing hip-hop artists and basketball stars can move the needle for a football brand we can all be thankful that this small detail won the day.
Drake has famously not brought the best of luck to the sports franchises he has endorsed in the past.  The least we can do as a thank you to our new friend in Toronto is to win the Premier League title with Drake clapping at all the wrong moments in the Anfield crowd.
Money Follows Money
Liverpool's Chief Commercial Officer Billy Hogan has taken some heat for his performance on the stand over the past week and for his preparation for this moment over the past year.  New Balance very nearly won the day, but in true LFC style, Hogan did just enough to get us the win.  In truth, the matching clause built into the last deal was a serious drag on our ambitions to upgrade our kit partner.  Hogan could have structured a Nike deal with more guaranteed money to scare New Balance off from the start, but as discussed above, LFC/FSG wanted that upside and they got it in the end.
Don't underestimate the magnetic effect that the Nike deal will have for other brand partnerships.  Hogan has also taken heat for the methodical way in which the club has brought on sponsors as compared to either of the Manchester clubs.  While United have partners for every possible aspect of the club and City at least claim to have a range of legitimate sponsors, Liverpool are dragging their feet with major deals like the naming rights for the Main Stand.  The pro-Hogan view is that LFC/FSG are waiting for a moment of maximum leverage to lock in these major deals, being careful not to devalue the brand by simply locking in the highest bidder as quickly as possible.  With things going swimmingly on the pitch and Nike now in the fold, this would appear to be a moment of maximum leverage.  So, don't be surprised to see other major sponsorship deals follow in the coming weeks.
In Search of a Negative
Fellow Reds, it doesn't get much better than this.  Comfortably on top of the Premier League with a Champions League triumph fresh in our memories; we should be taking in deep, exaggerated breaths of this stuff.  This kit deal looked shaky for a moment, but we got it over the line.  The truth is, this will net Liverpool far more money than any other Premier League club in 2020/21 and it would have pushed us past United if we had been forced to stay with New Balance anyway.  A deal for any player Liverpool choose to pursue will be possible.  Additions to Anfield will be easily paid off with the stroke of a red pen.
There is no evidence that we should ever be nervous when it comes to FSG and numbers.  If they deserve the benefit of the doubt on anything it is that.
Just sit back, relax and imagine a warm, May morning…  A new Nike design is leaked.  Liverpool win the title.  The Drake curse ends with he and Jordan Henderson having a dance-off in front of the T-Mobile Stand.  You click "buy" on a full Mbappe kit with 100% confidence that it won't be backordered.  What a day that would be.
Up the Swooshy Reds!
***
For more on the New Balance/Nike fallout, but from actual experts, check out the Money Talks podcast on AIPro with Mo Chatra.