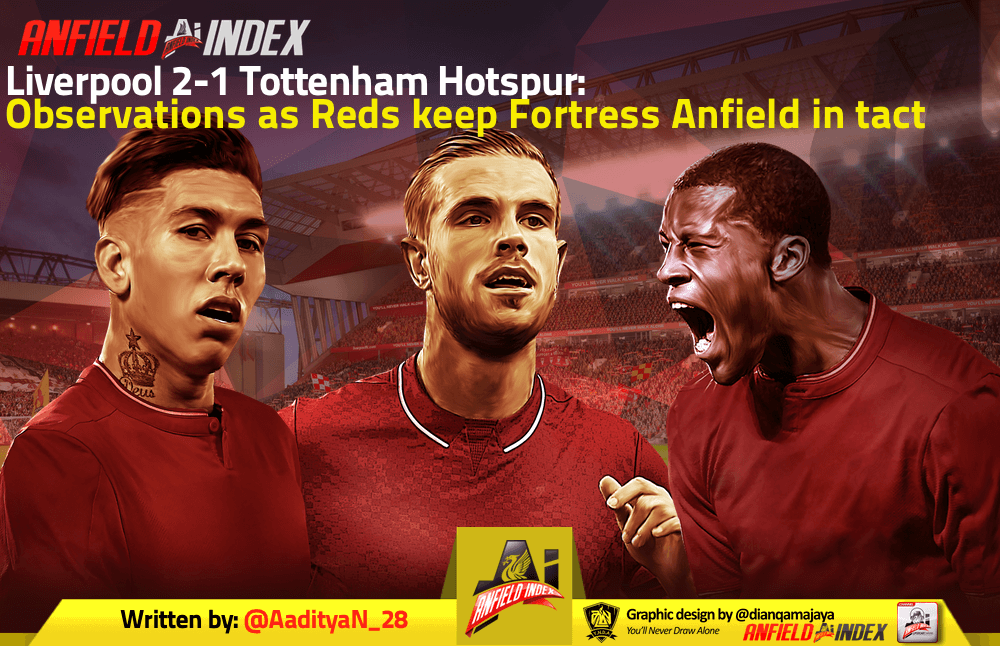 Liverpool 2-1 Tottenham Hotspur: Observations as Reds Keep Fortress Anfield in Tact
Liverpool absolutely battered Tottenham. Let nothing else take your attention away from that. From the moment the Reds kicked off after conceding an avoidable goal in the first minute of the game, their feet were headed straight for Tottenham throats, and in the end, all that pressure paid off in a 2-1 win to keep the six-point lead at the top of the Premier League.
Jordan Henderson equalised just after half-time, and Mo Salah capped the win with a penalty, after Serge Aurier fouled Sadio Mane (No VAR, you couldn't screw that up for us).
Here are some big talking points from the game.

Gazzaniga keeps Spurs in it
Paulo Gazzaniga was outstanding. He was having the kind of day when you'd be forgiven for tearing your hair out when he got up into the box to attack a Tottenham corner late in injury time. He pulled off some very good saves that kept the margin respectable for Spurs. Salah was denied, after a delicious Bobby Firmino lay-off, Firmino himself was denied on the rebound, Trent Alexander-Arnold was denied brilliantly, and in the second half, Firmino was denied again.
Gazzaniga was superb, in the absence of the injured Spurs captain Hugo Lloris, but his performance only goes on to highlight how good Liverpool were. Not for one moment did the Reds allow that early goal to knock the wind out of their sails. The tempo was high, the full-backs were high up the pitch, the front three were involved, everything was going right. The ball just had to go into the net once, and the win was there to take. Luckily, Henderson got that first goal for Liverpool early enough.
Henderson's redemption
First half, Henderson was truly not very good. In fact, he was even at fault for the Spurs goal. He gave the ball away to Harry Winks, and that set off the counter-attack which Kane made no mistake at the end of. But in the second half, the Liverpool captain came out a totally different player.
He was pressing high, he was being a pest on the right side, he was even dribbling past a few defenders. And then, he got the goal. Yes, it wasn't the cleanest strike, but it was a precious strike, and the skipper had brought his side back into the game with his first Anfield goal for nearly four years. Wow, it's been long. Don't take that long for the next one, Hendo.
Fabinho delivers another masterclass
The time has come (in fact, it had a while ago) to talk about the best defensive midfielder in the Premier League, if not the best in the world football. In that first half, Fabinho was almost a one-man Liverpool midfield. Henderson wasn't having a great game, and Gini Wijnaldum was drifting wildly in and out of the game. But there he was, the lighthouse as Pep Lijnders called him. Mopping up, crunching into tackles, and driving Liverpool forward.
Fabinho's distribution of the ball was outstanding. He didn't slow the tempo down, in fact he was dictating the pace at which the game was going to be played. He kept pinging them till he tired (Hint: He didn't tire), the full-backs were constantly being brought into play, the front three was always on the move trying to get on the end of another one of those delicate chips in behind. Fabinho might well be the first name on a Liverpool Premier League teamsheet these days, and if he is, it would be no surprise.
The Playmaker
Trent Alexander-Arnold is 21 years old. Just reminding you of that. He's not whatever beyond-his-years maturity he reflects while he's on the pitch. Yeah, sometimes you might get annoyed at the number of crosses that he puts in, which seems like they're just going in there in hope.
But not this evening at Anfield. He created seven chances, more than the rest of the team combined. He also now has more key passes this season than any other player in Europe – not even Kevin de Bruyne. There's still a few troubles for Klopp to sort out defensively, in the space between Trent's starting slot at right-back and the right-sided centre-back, but Klopp knows that the solution to that cannot be to hinder what Trent provides going forward. World-class.
Mentality Monsters
No, that's not just another overused term that's been abused by overzealous Liverpool fans. That's the truth. This side does not know when it's beaten. And at Anfield, they're on another level. It's very easy to see a Liverpool side of four or five years ago allow their heads to drop at the sight of Kane scoring that early. Not this team.
Now look, they may or may not win the league or any other big trophy this season (City are still boss), but one thing's for sure. This Liverpool side will not get bogged down and feel sorry for themselves. They know to win when they are not playing anywhere near their best, as they've shown in the past month or so. So, if they are actually playing well, and playing a very good side like Tottenham off the park, it's going to take an absurd force of nature to stop them. They'll take some stopping, will Jurgen Klopp's Mentality Monsters.