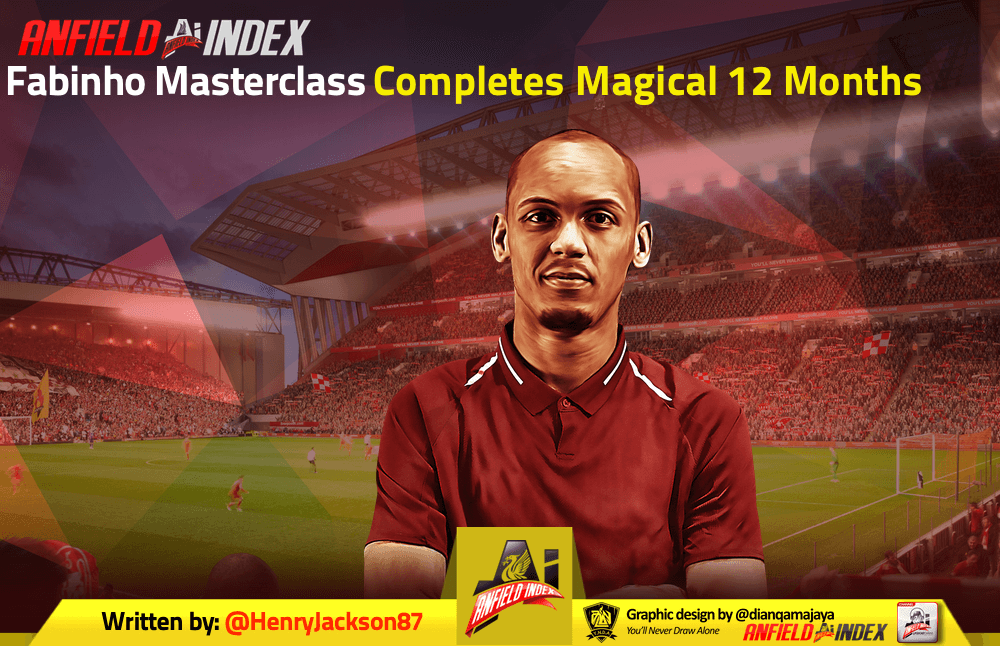 Fabinho Masterclass Completes Magical 12 Months
November 3rd, 2018. Arsenal 1-1 Liverpool.
The Reds have just earned a credible draw away to the Gunners, admittedly failing to hold onto a lead but also outlining their Premier League title credentials.
On an evening when a number of Liverpool players shone at the Emirates, in particular Virgil van Dijk, much of the post-match talk surrounded Fabinho.

Experiencing his gelling-in period at Anfield, the Brazilian was well off the pace throughout, lacking dynamism and influence at the base of the midfield.
Negativity came his way afterwards, with some supporters seemingly desperate to jump on the anti-Fabinho bandwagon and write him off before his Reds career had even got started.
Had they not learned from watching the likes of Andy Robertson and Alex Oxlade-Chamberlain take time to settle at such a huge club, adjusting to Jurgen Klopp's intricate style?
It was classic knee-jerk behaviour – the type that typifies the impatience that exists in the modern fan.
As November arrives once again, we are on the verge of it being exactly a year since that night in north London.
It is still probably Fabinho's poorest showing in a Liverpool shirt, and in the 12 months that have followed, we have seen a remarkable transformation take place.
The tentative figure that we saw against Arsenal now feels like decades ago, such is the monstrous level that the 26-year-old has found.
On Sunday, Fabinho produced a defensive midfield masterclass in the 2-1 win over Tottenham – one of the best individual displays of the season so far. It was perfection.
While Jordan Henderson took a half to realise he can actually play football to a high level, and Gini Wijnaldum was in his curiously low-key type of form, Fabinho was everywhere.
He ate up ground, bit into tackles, produced effortless-but-effective passes and used his wiry-but-strong physical frame to great effect.
By the time the final whistle blew, Liverpool had picked up a priceless three points and Fabinho had played a greater role in the victory than anyone.
He produced 91 passes, of which 85 percent found a teammate, including the precise lofted effort that led to Henderson scoring the equaliser.
Had Mo Salah done better on two occasions, the former Monaco man could also be looking at a further two assists – inch-perfect ones at that.
On top of his on-the-ball quality, Fabinho was a behemoth off it.
He won eights duels, as well as making three interceptions, four tackles and 11 recoveries, on an afternoon when he looked like a combination of the "best midfield in the world": Javier Mascherano, Xabi Alonso and Steven Gerrard.
Although this was quite possibly Fabinho's finest display for Liverpool, it was also no anomaly. He has been at this elite level for some time now – certainly since the turn of the year.
The Reds' "lighthouse", as Pepijn Lijnders perfectly described him as, has been a colossal presence in front of the back four, proving to be vital in their Champions League success, as well as the heroic Premier League title challenge.
This season, it feels as though Fabinho has gone up a further notch, so much so that he could now be Liverpool's second-most important player.
There are a number of strong contenders, but barring Virgil van Dijk, would Klopp miss any player more than Fabinho at the moment?
Roberto Firmino's influence is enormous, and Alisson, Trent Alexander-Arnold, Andy Robertson, Sadio Mane and Salah are also integral, but Liverpool's No.3 has the edge on them.
Fabinho has been so imperious in 2019 that there isn't a better defensive midfield in world football at the moment.
While some may accuse that of being biased, who is better currently?
Sergio Busquets remains a class act but his very best days are behind him, while N'Golo Kante's role at Chelsea has been tweaked by both Maurizio Sarri and Frank Lampard.
Casemiro is somehow still keeping Fabinho out of the Brazil team, but he doesn't possess anywhere near the impeccable all-round game of his compatriot.
Liverpool have lacked this type of player since Mascherano, but even the Argentine didn't quite have as much in his armoury.
Could he spray a pass like Fabinho? No. Was he as physically dominant? No chance.
The midfield is Liverpool's least fashionable area of the pitch under Klopp, with those taking up the positions so often tasked with thankless roles.
There may be an element of the ugliness about what Fabinho has to do on a weekly basis, but he is turning it into an art.
His progress from that below-par Arsenal performance to his masterclass against Spurs has been nothing short of astonishing.
With Fabinho just one booking away from suspension, does Klopp risk him against Aston Villa on Saturday, with the visit of Man City looming?
The thought of him being unavailable for that game is a terrifying one, such is his importance.