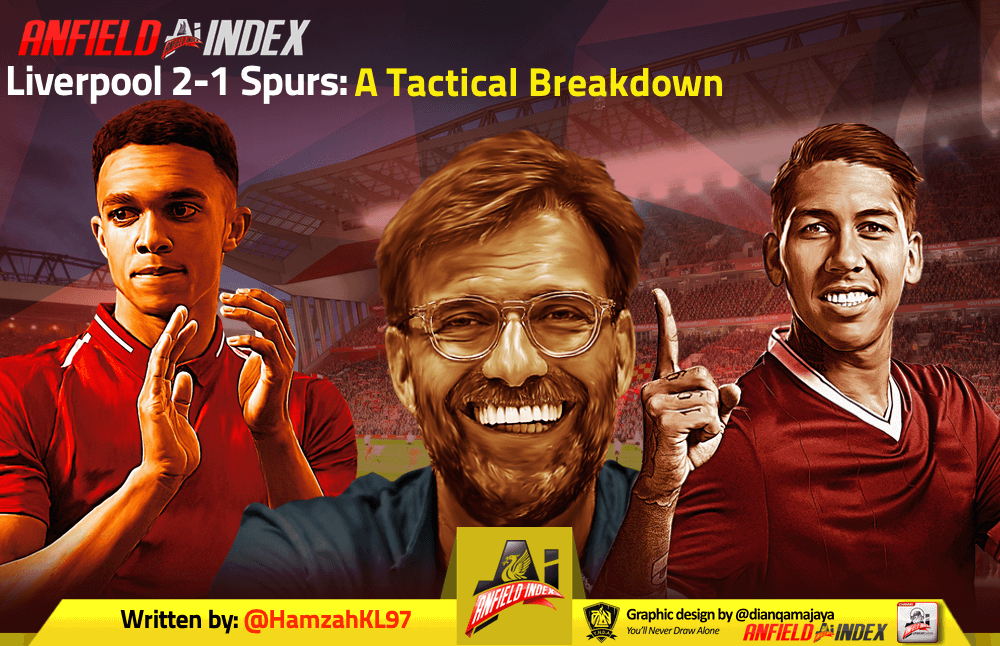 Liverpool 2-1 Spurs: A Tactical Breakdown

Despite the scoreline displaying a marginal difference, custom to a penalty, this was one of Liverpool's finest performances of the season, and the perfect follow-up to the dull, drab and wasted opportunity that was the Manchester United game.
Displaying patience, breathtaking intensity and consistency, Liverpool dominated from the moment the first goal went in, and for the 75 odd minutes that preceded it. This not just a mature and organised performance, it was utterly brilliant, a display of composure and confidence despite a shock early goal. Key to this performance was the discipline shown in trusting the tactical setup and the process which has produced a 45 match unbeaten streak at Anfield, in the Premier League.
Liverpool set up as expected in a 4-3-3. The only major change was that of Dejan Lovren replacing Matip and centreback. This particular change altered the manner in which Spurs attacked. With the speed and dribbling ability of their forwards, particularly Son, Pochettino identified Lovren as a potential point of attack. Hence Spurs would look to attack the space outside of him when Liverpool were in transition from their in-possession state to their out-of-possession (i.e. defensive) shape. Hence, Spurs targeted Lovren a number of times across the match, with long balls fired towards and beyond him. Given his slower pace relative to Van Dijk, it made clear sense for Spurs to put Son up against him, but for the most part, Lovren was rather successful in dealing with this particular tactic. Of the 10 aerial duels he contested, he won 7, whereas Spurs did not even bother to attempt to challenge Van Dijk aerially, with him only contesting two aerial balls, although he did lose both challenges. The only instance in which Spurs did succeed in this approach though, was early in the second half where Lovren misjudged an early long pass from Gazzaniga, and Son was able to break through on goal, but only struck the crossbar with his left foot, having been forced wide by Alisson.
In so far as Liverpool's tactical setup was concerned, Liverpool would most likely have expected Spurs to come forward and contest the ball in the central areas of the pitch, vie for possession and leave opportunities for counter-attacking. However, the early goal drastically affected Liverpool's likely gameplan and led Spurs to taking up a 4-5-1 off-ball shape, where they looked to defend the central areas through being compact, and attempting to push Liverpool's fullbacks away from the final third.
The goal itself was a product of both mistakes by Liverpool's midfield and positive, aggressive and intelligent football by Sissoko. As Henderson lost the ball in midfield, both Wijnaldum and Fabinho had decisions to make. They could either hold up Sissoko, press as a group (and attempt to regain the ball as Spurs were in transition), press as an individual (and catch Spurs in transition) or foul him. Both, in their haste, to catch Spurs in transition, and with an eagerness to score, given the ease in which Liverpool almost found Mané through on goal in the first 20 seconds, decided to tackle Sissoko – the high-risk high-reward option, especially given his ability to evade and break the press. Sissoko glided through both attempted tackles and was able to break on to the Liverpool defence, pass into Son, who cut inside past Henderson, and from there, his attempt was deflected onto the crossbar, before rebounding to Kane, kept onside by Van Dijk. This early goal really changed how Spurs would approach the rest of the game, and as mentioned above, this led to Spurs surrendering possession, compacting their defence, covering the middle of the box, and trying to keep Liverpool's fullbacks away from the space left available in the wide areas outside of the Spurs fullbacks.
Liverpool dealt with this through Henderson in particular. His movement and positioning, in the right half-space, was utilised to attempt to push Spurs back, and create space for Alexander-Arnold and Salah to occupy and attack. Early on, this did not work so well, and whilst he combined with Alexander-Arnold effectively (making 14 passes to the fullback, whilst positioned as the right-sided midfielder), he did not do as much with Salah, who played 3 passes into Henderson, something which Henderson only reciprocated twice. Nonetheless, the onus remained on Liverpool to use the wide areas. Son, against Alexander-Arnold was deployed to prevent Alexander-Arnold from attacking the space and both switching the play and crossing into the box, but as the game developed, Alexander-Arnold increasingly took control, and instead of Son forcing him back, the opposite was true, with Son unable to perform his offensive duties, because of the threat of Alexander-Arnold on the right side.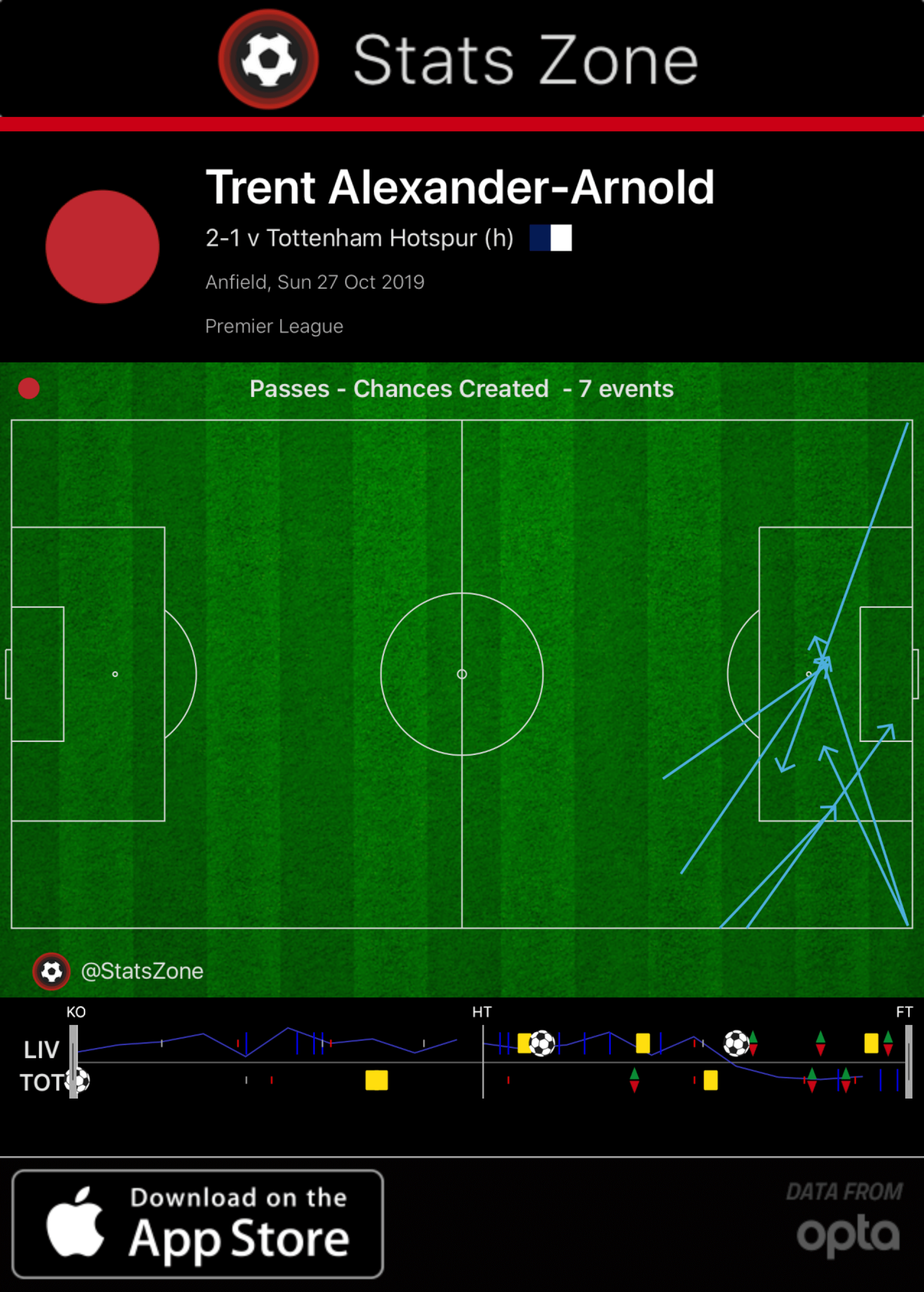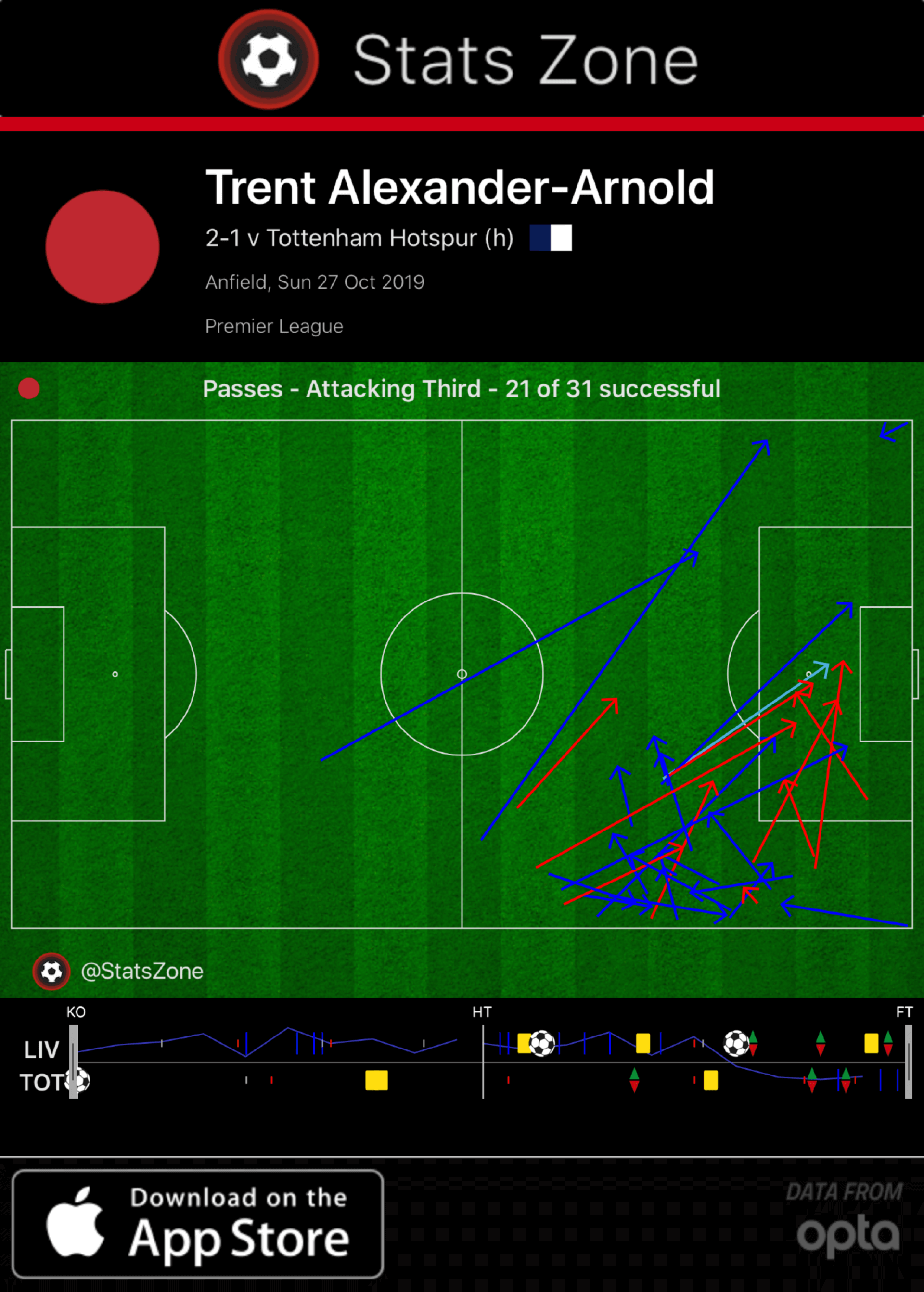 To Liverpool's credit, notwithstanding the goal itself, the game played out exactly as they would have both wanted and expected. From the point at which Liverpool conceded, they dominated possession, but did so meaningfully, as they moved the ball across the pitch, with Alexander-Arnold in particular responsible for eight switches of play. The goal itself underscored the risk to Liverpool's approach though. As Liverpool committed players forward, there was the constant threat of the Spurs counterattack, and this placed extremely high pressure on Liverpool's counter-pressing (the group press conducted immediately after losing the ball) and the responsibility and vulnerability of Fabinho, Van Dijk and Lovren – any missed tackle, or mistimed attempt to win or play the ball could prove extremely costly. Fabinho shone in this role though, and counter pressed diligently, effectively and brutally, snuffing out almost every possible Spurs counterattacking opportunity. This stellar work from the defensive midfielder allowed Liverpool to commit numbers forward consistently throughout the match and was why Liverpool were able to sustain their pressure, and the quality of their offensive pressure for so long.
Over the 90 minutes, Liverpool created 16 chances, 2 of which are classed as "big chances". Most impressively though, given the game state, Liverpool were able to generate 10 of their chances from open play, a huge testament to the tactical superiority of the side, and its ability to cope with a frustrating, but potentially threatening Spurs system. For a number of games this season, Liverpool have taken the lead through set-pieces or own goals, which leads to the game state favouring Liverpool, as opposition sides advance up the pitch, leave space in behind, and offer more opportunities for Liverpool to press and attack. This game was the opposite of that, and thus was a far greater challenge than most league games so far. Yet Liverpool dealt with this challenge with remarkable persistence, and showed variety in chance creation, with good shooting opportunities from outside the box worked (e.g. Salah coming inside from a deep wide right position and playing a 1-2 (past four Spurs players!) with Firmino, or Robertson's low cross to Alexander-Arnold, for a first-time driven shot), and two significant headed opportunities (for Mané and Firmino). This ability to create chances in a variety of ways kept the Spurs defence under constant pressure, and Henderson's goal was a direct product of that persistence and the tactical decision to deploy him in as the most advanced midfielder, operating in the right-half space.
This persistence again was epitomised by Sadio Mané as he won what would be the match-winning penalty, through his tenacity and intelligence. The penalty capped off 73 minutes of almost total dominance, apart from two Spurs counter-attacks, which given the quality of Spurs, and their ability to break, and the degree to which Liverpool were pushing up and leaving space, was always likely. Having taken the lead, Liverpool elected to sit off a little, and Spurs decided to push forward in equal measure too. The decision to move Alexander-Arnold outside of Joe Gomez, at right-back, was a peculiar exercise, and one which was not immediately clear in purpose, especially as Henderson was still looking to break forward, perhaps a little eager, given his goal earlier in the match. This imbalance on the right side had the potential to be problematic but did not prove so, despite Rose cutting inside and wasting a shooting opportunity on his right foot.
Given the challenges that Spurs posed and the nature in which they took an early lead, this could well have been one of the most challenging games of the season. Yet Liverpool not only rose to the challenge but seemed to bask in the adversity it presented. This performance, from both an offensive and defensive perspective, stands out, alongside the Leicester game as one of the best of the season, and one – which unlike a number of performances from the first 10 games or so – is genuinely reflective of what is expected from a potential title-winning side. Should Liverpool maintain this level of performance, there are very few teams in the world that could keep pace with this side – the challenge for Klopp's players is now to maintain this level, should they do that, the results will take care of themselves.