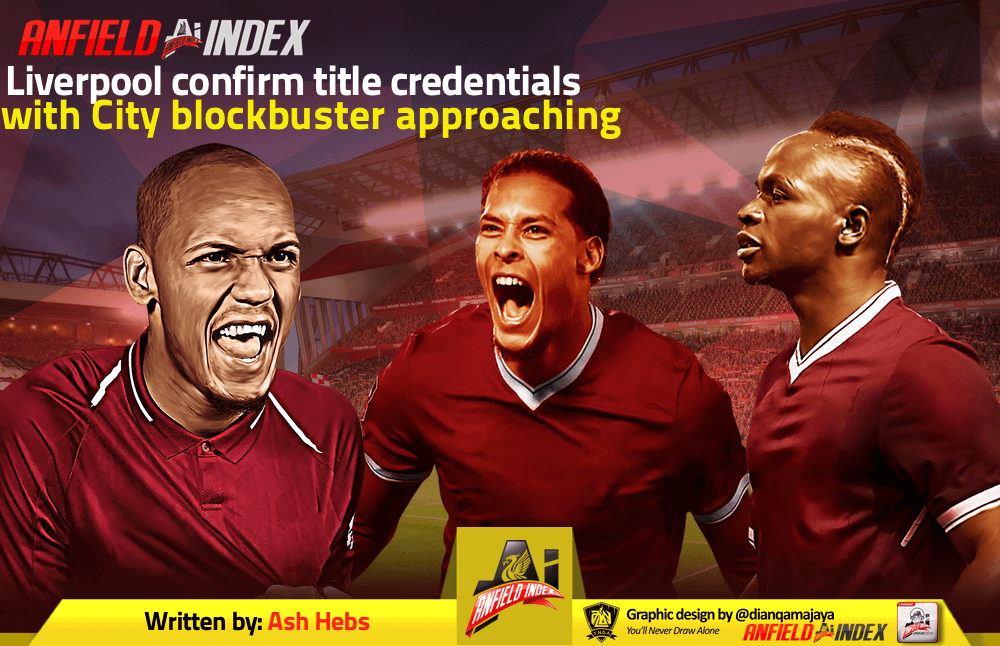 Liverpool confirm title credentials with City blockbuster approaching
The victory against Spurs was a much-needed riposte after the disappointing performance at Old Trafford two weekends ago.
Liverpool stepped up to their mantle as mentality monsters; overcoming a poor start to comfortably dispatch a notoriously tricky rival in Spurs. A massive and much-needed win to maintain 6 points' daylight between Klopp's side and City.
Recent fixtures against Spurs have been slightly turgid affairs. However, on Sunday, Liverpool's tenacity allied with potent attacking flair, came out in full force.

Alexander Arnold and Fabinho, in particular, turned in instrumental showings. Our fullback showcased his full attacking repertoire, as Liverpool focused on destabilising Spurs on their left flank.
Similarly, our midfield maestro, the Brazilian number 6, put in what can only be described as a masterclass in all-round midfield generalship.
Two classy performances in line with what was a generally classy come-back win.
The victory was aided, in part, by a slightly passive approach from Spurs, after taking an early lead. Pochettino spoke after the game about his team dropping too deep, but it's easy to under-estimate the sheer energy and stamina of Klopp's team when it gets the bit between it's teeth.
Simply put, Liverpool are very hard to play against. Add the Anfield effect and the pressure was too much for Spurs to handle. One only needs to see how Manchester United tired after a lot of running (and actually very little attacking quality), for another example of the relentlessness of the European champions.
Tactically, Liverpool were much improved in this game. There was a better distribution of players in our attacking phases of play.
Liverpool at their attacking best are very good at tiring teams by moving the ball from side to side, from one flank to another. That's what we saw here.
The presence of Salah allowed overloads on Spurs' right-hand side. This also freed up the irrepressible Mane on the left flank, to allow the team access to both flanks to stretch Spurs. Henderson acted as a conduit rather than a blocker, allowing Alexander Arnold space and freedom to play.
The overall tactical and mental discipline of the team manifested itself in controlled aggression and an impressive tempo to Liverpool's play. The Reds constantly asking questions of Spurs and testing their keeper.
One never sensed an air of panic about the team, with City breathing down Liverpool's necks after a comfortable victory over Villa earlier in the weekend.
Perhaps the best thing for Liverpool was to go an early goal down. It brought the best qualities out of Klopp's players.
Maybe more importantly, the comebacks and intensity needed to get a result against United and Spurs, stands the team in good stead for the hotly anticipated City game.
Klopp's men never know when they are beaten and they should take a great deal of belief as that showdown draws closer.
To make the result even more satisfying, Liverpool's latest victory came without either of Oxlade Chamberlain or Keita featuring. A sign that the manager and his support team are refining the tactical approach even with the much-maligned functional midfield.
On the evidence of the past weeks, it feels like Liverpool are much better equipped to cope with being league front runners this season. In fact, it is a real shame that City's defensive woes have come at a time when they have had far easier fixtures than Liverpool. A 6 point gap could have potentially been bigger had the fixture list not been so kind on City.
All the same, after 10 games Liverpool find themselves in a terrific place with THAT game looming on the horizon. We would all have taken that at the start of the campaign.
Onwards and upwards…